The house that Nuggets built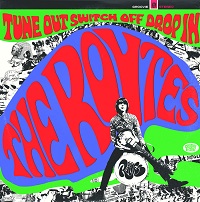 Tune Out Switch Off Drop In - The Routes (Groovie Records)
Echo, vibrato, tremelo, retro-a-go-go. The Routes aren't afraid to wear their influences on their paisley sleeves. From Nuggets-style garage and psych, to surf and swamp, this Japan-based act tread a well-trodden route (sorry!) but they do it with substance and style.
Formed by expat Scotsman Chris Jack and based in Hita City in the mountains of Oita prefecture, The Routes have been making music since 2006 with a variety of line-ups. Jack remains the one constant, and on this album he handles vocals, guitar, bass and organ, leaving the drums to Bryan Styles. "Tune Out Switch Off Drop In" is their seventh album, released on Groovie Records in late December 2019.
The CD version boasts four bonus tracks from their 2018 EP "Driving Round In Circles", featuring Shinichi Nakayama on drums. I hope I'm not being insulting to either drummer when I say it's hard to spot much difference – they're both solid and match their tempos to Jack's tunes. The downside of including the EP is that the CD becomes a 14-track effort and that stretches things a little further than necessary.
The trebly production, constantly effect-heavy guitar and Jack's fairly straightforward and treated vocals make it a bit of a repetitive journey by the end. You could pick any bunch of songs here and have a great time, but on first listen, fourteen in a row left me waiting for it all to be over.
Opening track "The Ricochet" is full of fuzz, delay and reverb, with the switch well and truly thrown to shoegazing psych. It reminded me of The Who's "The Seeker" if you played it on the wrong speed through a tinny transistor radio. At five mid-paced minutes long it's not what I would call the ideal opening cut and it didn't exactly hook me in. I can imagine it working much better live in a sweaty club with a swirling light show. And some audible bass. Tracks two, three and four however ramp up the tempo and are all the better for it. "The King Of Loose Ends" is a Hives-style straightforward garage stomper which pumps out of the speakers and features some wonderful self-deprecating lyrics-
I am the king of loose ends
My dedication it soon ends/Instead of making roads and tracks
I built one hundred cul-de-sacs
"Split Personality" is very reminiscent of the earliest Nuggets songs, with a bright guitar figure and an upbeat feel. The guitar solo takes it up a notch and it's short and to the point.
"Up And Down" is fuzzy jangle with more than a nod to the Jesus and Mary Chain. It's melodic as hell, with a lot of echo on the vocals. I thought it was a grower, with simple but epic lead lines over a solid backbeat and layers of guitar and organ.
"Just How It Feels" is the single and like the opening track it's another interesting, wilful choice to introduce listeners like me who'd not heard them before. It has a grinding, pulsing intro which made me think of the Scientists – a swampy, psych feel with the insistent drums and guitar pushing (almost) too hard. The bass really does stand out on this one, more lead than rhythm. The organ adds a Vanilla Fudge feel to the Blue Cheer pounding soundscape and insistent guitar figure.
The title track is upbeat, a staccato riff and rhythm that reminds me of something but God knows what. My wife's comment was "you can Twist to it" and she's right. You can picture a club full of groovy ghoulies moving to this one. "When You Come Down" is another 5-minute epic, fuzzed out organ overlaid with insistent guitar and more surf lead lines. But the midpace tempo does it no favours – that's personal taste of course. And "You Cried Wolf" should basically be on "Nuggets – this is the point when it really does start sounding like a homage to the Sonics. Having said that, it pumps along and there are far worse things in life than an enthusiastic band sounding like another enthusiastic band.
"I Think I'd Wanna Die" brings some welcome relief – it's less garage and more British Invasion, with relatively clean guitars and a classic mid-60s feel. For once the treble isn't to the forefront and it's all the better for it at this point. The multilayered guitars in the bridge and solo are a treat.
"Thinner Everyday" clocks in at four-and-a-half minutes. Back to mid-paced and grinding, guitar effects and treated vocals but this one hits hard and reminded me a bit of Sydney's The Moffs. No surprises when you look at Chris Jack in his paisley shirt, toting a Vox Teardrop and a Jeff Beck haircut. On the vinyl release, this is the last cut.
Of the bonus tracks, "Driving Round In Circles" is a primitive no-nonsense stomper. "Submit, Obey and Die" is one of my favourite tracks on the whole release – easily the fastest and most driving. This is one I'd love to hear live. "Vendetta" sounds a bit like The Shadows if they'd bumped into Timothy Leary on the way to Keith Relf's house. The final track "Mantohihi Brother" is a swingin' surf instrumental to close things out.
Overall, it's nothing you haven't heard before but for the great majority their energy and enthusiasm shine through. You know they'd be fun live and I'm interested enough to go and check out the back catalogue. A very solid effort with some cracking tunes.



1/2
Tags: garage, nuggets, japan, the routes, Tune Out Switch Off Drop In, chris jack