The quality of mercy is not The Strains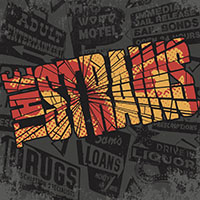 The Strains – The Strains (No Solution Records)
Rock and roll is usually at its best when kept simple and played hard. Detroit's Euro-American outThe Strains know this well and deliver in spades.fit
With a bloodline that includes membership of Dark Carnival, Euro punks Dumbell and The Nitwitz, Cult Heroes and backing bands for Andre Williams and Cub Koda, you should have more than an inkling that it's going to be good. I'm happily here to tell you it's much better than simply good.
Recorded live in the studio with minimal overdubs, "The Strains" is a no-nonsense instant classic. This band's powered by a twin cab, heavy-duty engine room and armed with sawtooth twin guitars and attitude. Paul Grace-Smith spits out a dozen songs full with an anthemic, street savvy edge. These are stories about the streets and their populace. No bullshit.
A lot's been written about the parallels between the rock and roll scenes of Detroit and Sydney, Australia, in the 1970s. The balance of trade was mainly through the evangeliism of expat Michiganite Deniz Tek, and the Motor City brought more to Australia than the other way round.
What grew independently in both places, however, was a manner of playing rock and roll for keeps. Aussies and their counterparts from around Lake Michigan did it harder than just about anyone else. The Strains epitomise that.
Guitarists Grace-Smith and Greasy Carlisi sit on each other's shoulder, trading riffs like pre-gentrification Cass Corridor junkies used to swap needles. Complementary tones and channelled left and right, there's a lot to love. Peter Bankert's bass-lines wrap themselves around Andy Piekutowski's wrought iron drum patterns.
These songs truly rule. From the opener "New World Order" to the closing "I Don't Care About Nothin'", they're bursting with energy and laced with enough melody to make them memorable.
Mainman and driving force Grace-Smith brings his best vocal to the superb "Another Star". The guitars on "Living In Your Past" are fit to strip paint. "Nazi Fotze" (look up the last word) is a putdown to inspire awe, and "Detroit City" is a singalong that's up to the job of extolling the city's musical virtues, as faded as they may be in these techno times.
"Blacked Out Again" is straight from-the-shoulder punk rock that reeks of excess. "The Warning" brings doom. "The Rat Queen" is cautionary while asking for help. "Bottom Of The Ocean" is a mid-tempo killer and the pick of the litter.
If you're a regular Barfly, you really shouldn't need much more of a steer. Here's the Bandcamp link. You don't need to listen long to know you need to plonk down your hard-earned digital coin and play it fucking loud. CD and digital.

3/4
Tags: detroit, dark carnival, nitwitz, punk rock, the strains, cult heroes, cub koda, dumbell