Who? - The Heck (Dirty Water)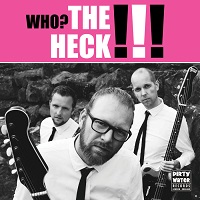 You might ask who they are, but after you wrap your ears around this debut album from The Heck, chances are your next question will be: "Where can I get more?"
The Heck hail from the northern reaches of the Netherlands and are the new garage rock outfit for singer-guitarist Henri Soulman (Sensational Second Cousins, the Miracle Men and De Keefmen) Soulman references the Sonics and The Reigning Sound as his big influences but there's a lot more going on under the hood.
The Heck are a trio and we all know that such a configuration puts a sharp focus on the rhythm section. The fluid, warm bass-work of René Katerbarg and effervescent drumming of Erik Berends are right up to the job. Katerbarg fills any holes in the road while Berends drives the songs from just behind the beat.
As for Soulman - he hollers, stutters and harangues these 12 songs, and then smothers them in fuzzy pop goodness. The guy can play and write a song. Probably at the same time.
Lead track "Waiting In Line" was a physical single and prompted one reviewer to say it moved him so much that his "radar is erect and tingling". You might not want to have Henri's babies just yet, but there's no denying this is a monster of a rocker.
This is music steeped in the backwoods and suburban garages of the '60s but processed with a roving eye. It's not some bunch of blokes The Heck borrow from here and there, adding a little surf, lots of Bo and Chuck and some rough-edged soul. The undulating and snotty "Nothing Will Do" even manages to sneak in some Roky lyrics.
The songs are strong and the playing belies that The Heck have only been around for a year or so.
The bass-line in the instrumental "Panic Attack" is pulled tighter than a fat man's belt, but The Heck does downhearted and soulful, too, on "You Turn Me Loose", where tremolo chording mixes with a sharp lead guitar line behind a rich vocal.
Ultimately, it's harvesting the field of demented and crazed garage punk that yields The Heck their best crops. "You Call It Love", with its galloping bass and toms-heavy beat epitomizes that and the guitar breakdown is enough to keep the band's luthier of choice in work for a week.
If garage rock is your poison, you'll take to this like a member of the Dutch Royal Family attacks a bottle of Jenever. The Heck are Gouda enough for me. It's on LP or available for download here.

Tags: who, dirty water records, the heck, netherlands, henri soulman, de keefmen