BARFLY TOP TENS: Kev "Big Daddy" Cherry of Sydney's Radio 2RRR-FM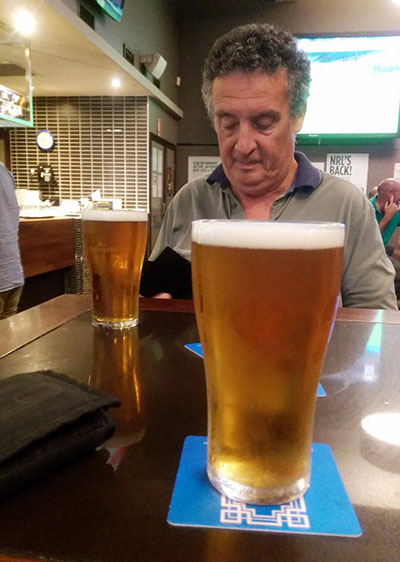 1 . Welcome Aboard – The On and Ons: Catchy, melodic powerpop tunes by former Kings Of The Sun and Screaming Tribesmen guitarist Glenn Morris with bass and harmony vocals by Hoodoo Guru/Stepfords /Wetsuits member Clyde Bramley, performed with energy and great live.
2. Beginning At The End – The Young Docteurs: Thirty or so years in the making and well worth the Wait. If The Young Docteurs had done more recordings they would have been one of the more influential Australian psych/Punk bands of the '80s.
3. Love Is A Gamble - The Steve Wernick Band: Folk rock, country and swing influenced songs well constructed and arranged, performed in a unpretentious, heartfelt way.
4. Johnny Streetlight- Chickenstones: Blues influenced, Aus alternative rock with songs about homelessness, gambling and cheating relationships but performed with upbeat humour. A great band to see live, too.
5. Rx- Loose Pills: Some of Sydney's best powerpop musicians with tight, up beat songs.
6. Service Station Flowers - Joeys Coop: Great songwriting by guitarist Brett Myers and singer Mark Roxburgh performed with Mark's unique vocal style.
7. Urban Guerillas- Guerilla Radio: Best known for songs of political activism and social issues, 'though they also have songs about relationships. Their political songs never sound preachy or dated.
8. March Of The Jackboots- Monkeypig: Christian Ryan wrote all the songs and performs all the instruments in this debut album with strong melodic songs which tackle social issues.
9. Loose Your Enthusiasm – Domino: Cowra based musician who wrote all the songs and performs all the instruments with a bit of lyrical and backing vocal help from his wife Rachel. Some of the songs have a heavy Aus rock type feel to them but are unpretentious and heartfelt.
10. When - Dave Warner's From The Suburbs: Dave Warner is rarely recognised as one of the pioneers of Punk in Australia. "When" is his first album in 35 years, featuring satirical, ironic songs in a variety of styles played by some of Australias best musicians. A great live performer and one of my favourite Australian songwriters.
BONUS: Favourite international releases of the Year - "Americana" by Ray Davies and "You Want It Darker" by Leonard Cohen.
Kevin Cherry hosts Sydney Sounds on 2RRR every Saturday from 5pm
Tags: loose pills, chickenstones, joeys, on and ons, monkeypig, steve wernick, urban guerillas, kevin cherry, dave warner