BARFLY TOP TEN: Buffalo Revisited lead bassist and guitarist with The Cool Charmers, "noted underground journalist" Steve Lorkin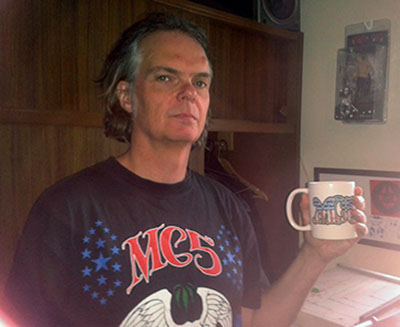 Top 10 not in any order:
1) White Stripes –Vault #33 Icky Thump X
Third Man Records Vault only release, 10 year anniversary edition. Includes a wacko coloured vinyl re-press of the double album plus two bonus albums containing all the non-album b-sides and the full demos housed in a way out box. The demos are furious ! Only released for a few months via Third Man Records.

2) Shy Impostors CD (maxi EP/mini album CD)
Unleashed by those God-loving folks at Citadel Records. Seven demos recorded 1980 and now finally after a loving re-mix by Jason Blackwell sound truly fab. The songs, vocals and rough as guts musicianship by these proto legends are gold. Melodic and dirty.
3) Buffalo Revisited gig at Brewtality Festival in Melbourne
Is it truly an honour for me after being a Buffalo fan since 1974 to be playing with their mighty vocalist Dave Tice with some fellow Buffalo maniacs (Troy and Marcus). And to be playing those great songs (a mind melt to learn btw). We hit our cosmic groove at the Brewtality Festival in Melbourne; more to come for sure.
4) Trans 262/ME262 LP
These Detroit via the respectable Northern Suburbs of Sydney dopeheads were one of my favourite bands back in those glory days of the very early '80s. Finally their full studio recordings get a release by those spiffy folks at Buttercup Records. A truly nice fan release with lots of scrap book worthy crap (with no small help from thyself).
5) Lonelyhearts LP
"Power Pop" is a over used term to describe any '80s turd in a dodgy tie and straight legged trousers. The Lonelyhearts (one word ..very important) in a perfect word would of set the bench mark with their fantastic and emotional lyrics and beefier than your Mama's meat loaf instrumentation
6) Hits at the Bowlo, Marrickville
My favourite Australian band who are under the age of infinity. They play rock and roll like it's a matter of life or death...just like it should be.
7) X at the Factory Theatre, Marrickville
A rare stadium performance by X . Lots of early Ian Krahe era songs in the set which really set the tone for a true career spanning concert. The rhythm section has the attitude and danger of the great X rhythm sections of the past. Bless their cotton socks.
8) Over the Top Rope Wrestling DVD
OK..I'm a huge fan of the 70s Australian wrestling scene. It was brutal and dangerous (which I never realised at the time). The son of wrestler Shiek Wadi Ayoub has put together the first truly great document of that unbelievable era . Well done Libnan Ayoud.
9) Jerry Nolan book - Stranded in the Jungle
I'm about 1/3RD of the way through this (I.E the 2nd Dolls album has just been released). This book is essential to all rock and roll tragics, its more than a story of a ultra cool drummer, it's a history lesson.
10) Radio Birdman . Descent Into The Maelstrom doco
What can I say ??? they are my favourite all time band and I truly admire each and everyone of these blokes. One couldn't help getting a bit teary over the inter band relationships but I guess to be in this band , playing this kind of music back as far as 74/75 you'd have to have a ( what's a polite word?) stern one eyed approach to band business. Hats off, thank you and salute to Team Sequeira. Looking forward to the expanded DVD one of these days.
(11 - because everything should go to 11) You Am I – Dress Me Slowly re-issue
A vinyl reissue Finally! One of my Top 10 all time Australian albums, the songs, musicianship, lyrics are pure gold (just like colour of this limited re-issue.

Reserve bench:
Kim Volkman's book The Devil Wont Take Charity: A true rock and roll dude. His story is on the borderline of disaster and rebellion...get it!
The Jam 1977 (CD/DVD box): Lots of demos, b-sides, non-albums tracks and the first two albums.
Various artists -Warfaring Strangers: Acid Nightmares: 2LP set of late 60s early 70s drug fuelled mayhem...from the same oily cloth as Blue Cheer, MC5 , Hendrix etc.
Grateful Dead - Smiling On A Cloudy Day: Comp of their early psychedelic tracks - which. surprising, only makes up one LP's worth.
Ramones Leave Home Super Deluxe Edition: Brudda overdose...that's a good thing.
Tim Rogers' Detours book - Well, I haven't read it yet but the benchmark is high. Tim is a true clever bastard...respect!.
Tex Perkins book "Tex" - same as the previous.
Marky Ramone's Blitzkreig at the Manning Bar - (15 years with those fun loving brothers Marky has a very good idea on how to present those songs in a live setting. This is as close as anyone will get to the true Ramones sound).
The Church - Man Woman Life Death Infinity CD: A real trippy stoner treat, song-wise a big improvement on their previous release.
Chris Masuak & The Viveiro Wave Riders: The "Brujita" album was Klondike's mightiest effort in a many years...this is the Masuak sound his believers have been to craving to hear...and the gigs with the Sydney chapter were the "real deal".
The Damned at the Metro: Shit venue but the band pinned its empty acoustics, dodgy beer and annoying stairs to the floor for a three-count.
Easybeats "Friday on my Mind" telemovie: Usually these things are fluff but this one was friggin good...out on DVD now.
Tags: Hits, ramones, tex perkins, radio birdman, buffalo revisited, you am i, chris masuak, the lonelyhearts, descent into the maelstrom, kim volkman, marky ramone, ME 262, Trans 262, the damned, the easybeats, steve lorkin