Get a little slice of Matt Ryan's Melbourne rock and roll obsessions in your mailbox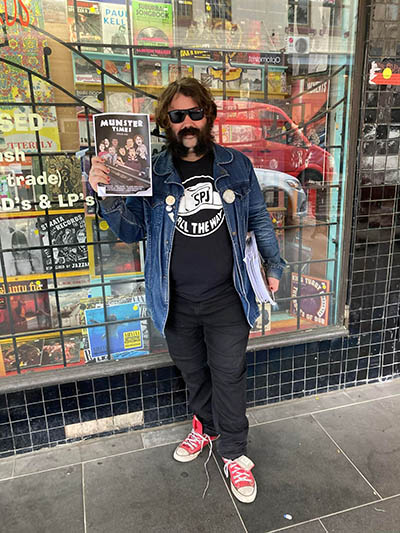 Munster Times Issue 35
Outside Melbourne? Glad you asked, then. Munster Times is a zine covering Australian underground music that's still published in hard copy form - and that fact alone makes it stand out from the crowd.
Its Melbourne publisher and occasional I-94 Bar scribe, Matt Ryan, (right) is a fixture on Melbourne's fertile live music scene. Run the rule over its content and you'll realise it's a compelling "must read" even if you live outside of Victoria's windy/rainy/cold capital city. (OK, my Sydney is showing).
Much of the star billing in this issue goes to people and bands from outside Melbourne – Adam Brzozowski (Woy Woy) of Outtaspace Records, The Dunhill Blues and The Link and Pin Café, Howlin' Threads (Yass and Wollongong) and Dez Dare (Geelong old boy now in the UK). You might call Munster Times location agnostic.
No less than Dave Graney reckons there's a lot of the charm of the old St Kilda in the Times and who are we to argue with a member of the Melbourne Music Mafia? The zine has a homespun quality and is home to the legendary Fred Negro and his Pub comic strip.
For the unaware, Pub has institution status in Melbourne (which is about the only place in Australia that still confers such honours). I like Equal Opportunity, and if you read Pub long enough, you'll find it has something to offend everybody.
Munster Time is A4, mostly black and white and has the odd spelling howler. Good. As long as Matt has no plans to do a Prince of Wales Hotel reno job and expunge any dirt or charm from his own zine's pages, that's fine with us.
The great thing about zines has always been that there were no strict rules. Matt writes about things that interest him. Being a bloke who's buried so deep in the local scene, those interests are going to intersect with those of plenty of other gig pigs. Zines used to be the only way, apart from word-of-mouth, to discover obscure but worthwhile new bands that the street press (R.I.P.) wouldn't touch, so Munster Times still fills a gap in the market.
Back to Issue 35 and it includes Melbourne rock songstress Claire Birchall, '60s recidivists Shutdown 66, a riff about comedian Norm McDonald and a conversation with local riff rockers Bodies, plus an agony aunt column and a smattering of record reviews. You can pick up a copy in any decent Melbourne music venue or music store or you can This email address is being protected from spambots. You need JavaScript enabled to view it. and Paypal him some postage/beer money.



Tags: melbourne, munster times, matt ryan