Unbelievably Bad zine issue 13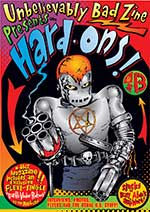 You can't half tell the folks at Unbelievably Bad zine are Hard-Ons fans. So is anyone with a modicum of taste. So this edition of UB should sell its arse off. It's wall-to-wall Hard-Ons. More Hard-Ons, in fact, than the US Navy on shore leave after six months at sea.
It's Issue 13 for UB and the 30th year of being a band for the Hard-Ons. They're knee-deep in re-issues of their back catalogue. They recently did a national tour to mark their anniversary that sold out rooms all around Australia. They're just about to drop another studio album. This tribute - and that's what it is - is timely. Ray, Blackie, new guy Murray and old guy Keish get interviewed, If you think you've heard all the stories before, think again. The Hard-Ons give great interview. Ray does great artwork and it's everywhere you look over these 70-odd pages.
Of course it does't end there. Label operators, managers, Jerry A of Poison Idea, Neil Hamburger and everyone but their soft drink roadie scores a guernsey in the interview department. I'm not sure how longtime manager Tim Pittman missed out but if it's an oversight it's a big one. As if it's not all enough, there's a flex disc of a new Hard-Ons song, "Darth Vader Pretends", to sweeten the deal. It's not a classic on the scale of all things Hard-On but it's a keeper, for sure.
Other diversions are a quick summation of the short but rocking career of The Spunk Bubbles who, let's face it, were big Hard-Ons fans, and the usual crop of short but incisive reviews. If you can't find a copy in a superior record outlet, drop the publishers a line This email address is being protected from spambots. You need JavaScript enabled to view it..




Tags: hard-ons, unbelievably bad, magazine, zine