Paul Conroy (solo); Jack Howard and Nicky Del Ray; The Hybernators; Killerbirds; Green Circles; Seedy Jeezus; Valentine; Garry Gray and the Sixth Circle; Cold Harbour; Kim Salmon (and Michael Stranges)
St Kilda Bowling Club, Melbourne
Saturday, February 8, 2016
Photos: Campbell Manderson
These days St Kilda's new wave has more to do with being seen in the right restaurant or coffee house, and despairing over the ghastly junkies and other derroes (who are ghastly) while privately wishing the government would introduce a sort of human dog-catcher, and flattening as many good-looking buildings as possible in order to put up a showy box with as many hideous modern trappings as possible to disguise the essential nature of the poky little matchbox flats within.
Or so I hear.
Now, as this review is being written for a Sydney-based website, I must also explain what I suspect the Sydneysider believes is the Melburnian Way. No cleaning is done within the house, the mould in the bathroom and adjacent ceilings requires attention (but Jim's Mowing refuse to come anymore), all the decent buildings are crumbling into a sort of gritty porridge in the damp, and all the share houses have possums in the roof and under the house and the possums come up at night through the huge hole in the kitchen floor and raid the fridge. Oh, and Melburnians have no idea what actual heat is.
So even though the Melburnian Way is a mostly a bit of a myth, of course, in some parts of Melbourne, the Melburnian Way is indispensable. However, most musicians, liggers and artists realise (usually by the age of 52) that they hate living in filth and squalor, but that since no-one else is going to do anything about it, they'd better put on an apron.
As you can tell, I have been a guest in some of the most wonderful homes in Melbourne, and also some of the most … indescribable. (If you're thinking I have a down on Melbourne share houses, the most disgusting places I've ever seen have been in Adelaide; thankfully no bodies were stored in any of them, although frankly in a couple it would have been hard to tell).
So. I arrive at the St Kilda Bowling Club to be welcomed by Nick Haines and Michelle Nicol, the organisers and my genial hosts. As with many important folk in the Melbourne music scene (such as Michael Plater, Ash Wednesday, Dave Graney, Clare Moore and Kim Salmon), they're expats fleeing the stifling confines of their South Australian home state; arriving, these migrants have enriched their chosen land in ways as unpredictable as they are wonderful. So apart from Nick and Michelle being a delight, they have also put on a one-day festival (their 16th) celebrating quality Australian music, and their range is as wide as their taste.
Now, I must first apologise to Paul Conroy whose set I simply didn't get to see. I'd hoped to, but I had to wrestle with a Myki public transport card first. Bugger. So far, not the most auspicious start. I was told Paul Conroy was damn good, so check him out here.
Thankfully, I get to see Jack Howard and Nicky Del Ray. Nicky plays a lovely series of simple guitar structures and Jack sings and plays trumpet and flugelhorn. On the face of it, if the names aren't immediately familiar (Jack was in Hunters and Collectors, Nicky in the Corpse Grinders), you'd perhaps be forgiven for screwing up your face and going, 'Huh?'. However, the songs are strong, evocative and tempting, Jack's singing voice (I've only ever heard his do backing vocals with a previous band) is revelatory - it's strong, emotive and makes you want to listen - and as for the lyrics, well … for now let's just say they're bloody good and leave it at that. I was captivated and very impressed. There's a CD out, called "The Passing Parade"; get moving, it's essential. Gei it here.
Being and ignorant Adelaidean, I've never heard of The Hybernators (Antony, guitar; Ross, bass; Pete, drums; and Dicko, lead character). Go here if you're in the same boat.
Where to start describing this band is easy; with Dicko. So full of nervous, awkward energy he seems to be at all times about to split himself in two, you expect each half to hop off toward a pretty girl, at the same time healing himself and sprouting a new half. Clearly the man has been dipped in a petri dish not a million miles from the one which produced Lux Interior, and while the front man is a pleasure to watch, he's nothing without a rock-solid, tight and loose band.
What they do, as an outfit, is a lot harder to do than it looks, and they make it look easy. I confess - I did not enjoy all of their songs. But it doesn't matter because - and this is critical - I was royally entertained and inspired, if not awed. This is a band which could play a wedding, a funeral, the Free Theft for Wharfies Club or the Westpac annual shareholder's meeting with equal aplomb. Christ, fancy calling yourself Dicko. I'd say you'd have to admire his balls, but you might get the wrong idea.
Speaking of the wrong idea, about this time I was goosed for the first time. A sharp, determined pinch was profoundly startling (these days my arse looks like a sack of potatoes, and that's on a good day); as usual (yes, this used to happen more often when I was almost attractive) the female in question triumphantly scuttled away into the sweaty throng. If I'd had a drink I'd have spilled it over the huge chap nearby, but I hadn't, so I didn't, which is a good thing.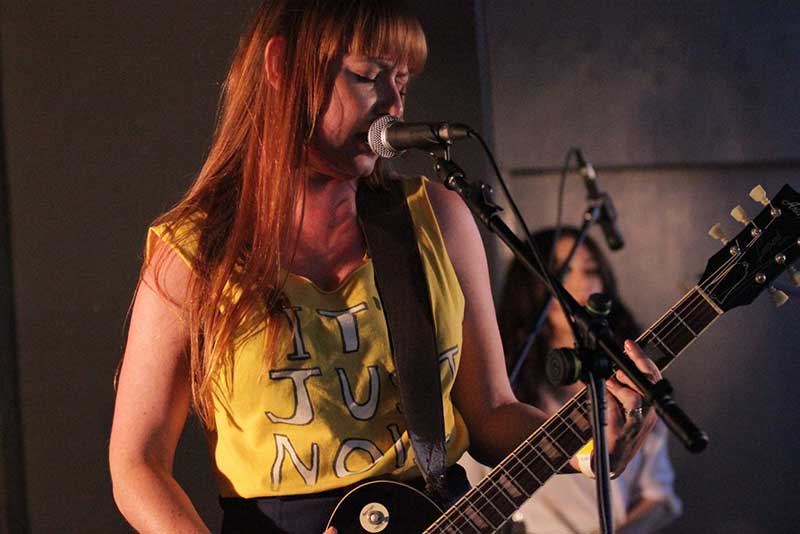 Bindi from Killerbirds. It was their first gig in six years!
Apologies must now go to the Killerbirds as I was talking to someone I haven't seen in far too long and we ended up in one of those nearby restaurants filled with drunks, swimmers and huge plates of barely-nibbled-at seafood. After escaping, I managed to finally catch The Green Circles, an Adelaide outfit I keep trying to catch but find myself always otherwise booked or trapped into some damn fool thing or other.
So I had to go to Melbourne to see an Adelaide band, and if that's not pathetic, I don't know what is. Imagine it's 1964, and you're in London, and you've seen the Yardbirds, the Beatles, Small Faces, the Stones, Johnny Kidd and the Pirates and … yeah, you walk into the Anchor and there they are, The Green Circles. Among the audience are members of all the afore-mentioned bands.
See, The Green Circles belong in your collection because they play like that, and you'll return to over and over, your grandkids yelling at you to turn off that old-man sixties crap. The Green Circles are fucking glorious. Not much to look at (apart from the loud shirts), but you don't bother with that, you're too busy bopping and knocking over large blokes with pints, who are themselves too busy dancing to belt you. All their CDs are essential. All of 'em. Get 'em here.
Now then. Seedy Jeezus. Numerous friends rave about this band. I wanted to see them rather than hear a cd, and I'm very glad I did. Usually comparisons are lazy; the only excuse I'll accept is that it might give me a perspective or an idea of 'where they're coming from' … It never ceases to amaze me how flexible and strange the essential drums-bass-guitar set-up can be; like the Meat Puppets, and the Leather Messiah,
Seedy Jeezus simply refuse to do the same song quite the same way twice. Of course they can, but that would be too damn easy. Also, like any decent jazz musician, the band sink themselves deep into the song, pouring heart and soul into their music. Their Bandcamp is here.
With drummer Mark Sibson taking cues off guitarist Lex Waterreus (there's a switch) and bassist Paul Crick barely glancing at the guitarist or drummer except to exchange banter, you are looking at one fucking hot outfit. Hell, about a fifth of the time Stibson's so bloody excited he's not using the stool, but standing, still hammering and pounding like he's racing a heart attack to the finish line, still making the kick drum work (clearly he has one leg longer than everyone else's).
I've seen some fucking brilliant drummers (Sibson reminds me a bit of Ged (Gerard Presland) who, until recently, was laying audiences to waste in the Dark Clouds) and some extraordinary bands, but the sheer range of Lex's talent, and Mark and Paul's ability to support him, is nothing short of amazing. It's a bit like watching Hendrix - except Lex is nothing like Hendrix.
Valentiine … well, when I was younger I saw young, determined bands which I was too young to realise were on the edge of the precipice to fame and fortune. There was a crackle of expectation, of the future coming to visit. Now, standing in front of Valentiine, I feel that giddy, floor-dropping sensation again. Not that Valentiine are actually brilliant, though they are very good, but there's something about them … imagine being in the front row at an early Polly Harvey gig, or seeing Nirvana tour as they broke worldwide.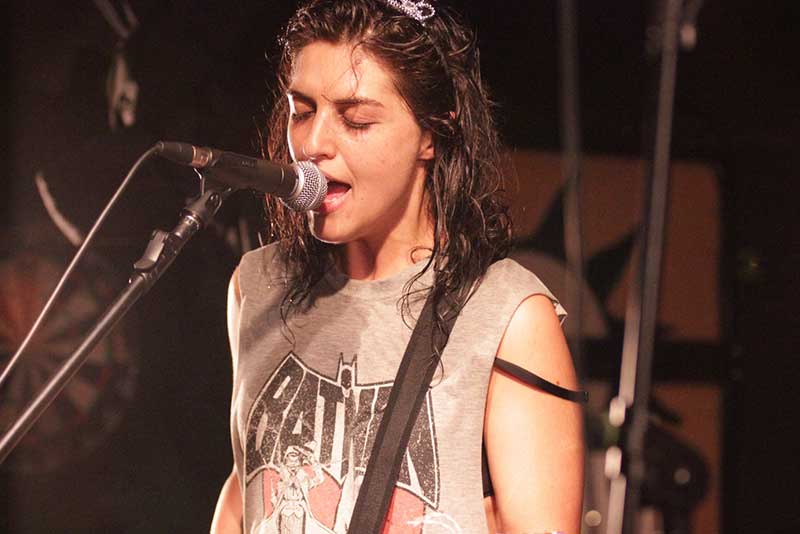 Vanessa from Valentiine: It was their first gig back after their drummer recovered from a smashed ankle.
I guess it's a bit like that. I could say, sure, look at the Valentiine's obvious influences… but when I see Vanessa's battered guitar body, covered with worn stickers, with a new scratchplate and guts, with a deliberately provocative message above the strings, 'I'm a Feminist and' (old farts like me will instantly recall Woody Guthrie's influential 'this machine kills fascists' sticker on his guitar) … the visual effect alone is quite striking.

And the music is good. And delivered with power and conviction, you get caught up with them whether you like it or not. I would expect there to be a good chance this outfit will get snaffled by a major; if not, the majors are asleep as well as deaf. Check them out on Facebook.
Garry Gray and the Sixth Circle have a new CD out which I can't review. But I can tell you what they're like live and get away with it. Gray is one of those performers who just … know how to get your attention without looking for it. He can also hold you, hypnotised, until he's ready to walk back to the stage. From left to right, we have Tex Napalm, a brilliant musician and producer expat from a town called Dorkmund (where factories apparently transform everything wonderful into blocks of concrete and rubber); Graeme David Ward on drums; Rob Wellington on guitar and Angela Howard on bass.
Now a quick note; Spencer P. Jones is also a member, but he's not here tonight and somehow, between them, Tex and Rob are able to pull tonight's performance off. The Sixth Circle are a dominant, cruising, brutal machine of a band; this is their first major performance in public, and we can only hope for many more. Tonight's performance has them concentrating on songs from the lp, together with a cover of "1-2-5", and a version of Garry's other outfit, the Sacred Cowboys' "Nothing Grows in Texas". Get the CD via Facebook, it's top drawer.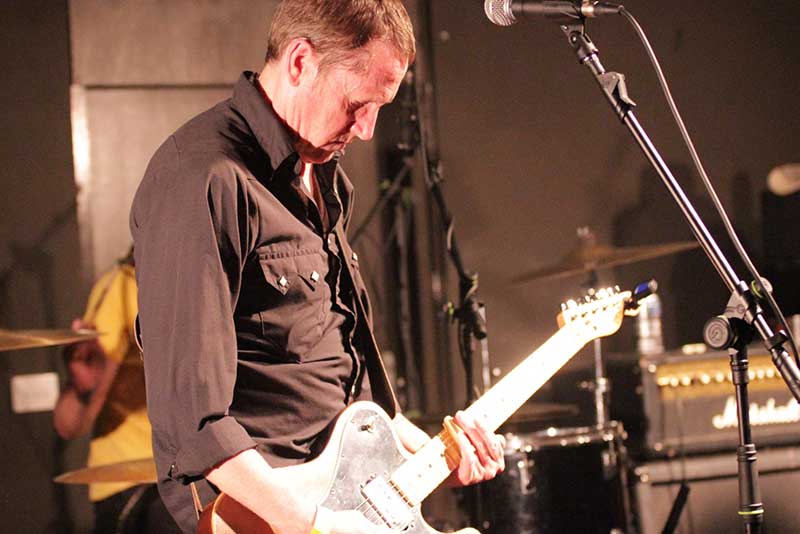 Rusty of Cold Harbour - The band that started the day back in 2010
Cold Harbour are second to last and by now I'm feeling rather crappy. I've got one of those neck/shoulder pain things which is cutting into me. But fuck it, I came a long way to see this. Cold Harbour are a damn fine rock and roll act, apart from being beloved here in Melbourne, it's been ages since they've played - so this is unusual. And they kicked off the first A Day By The Green.
All sorts of characters have come out of the woodwork for this one, and the front row is a dancing mecca. If you don't know Cold Harbour, rectify this hole in your life …
Kim Salmon is the big drawcard, and he's playing some of the songs from the Scientists. Now, Kim really should need no introduction, but frankly, he does.
There's only a few Australian musician/ singers who've emerged from the fertile late '70s scenes who constantly and consistently produce high quality music, the sort that would have the press soiling itself if the musicians were pretty and 18. Kim follows a very strange, unique path in music; he's released LPs which are essentially modern jazz, he's made songs of such magnificence they could've been stolen from Lee Hazelwood, and his actual influence is just so stupidly broad you'd grow a hipster beard while you made preliminary notes for an essay on the subject - and then we'd have to shoot you.
See, there were several variant line-ups of the Scientists, and there were several different stages in the band's progress. I recall seeing the '90s reunion shows, which focussed on the 1980s recordings, and it was so strange seeing some of the earlier songs slotted in among the later … because I saw these songs in context, following avidly the band's monstrous trail. The early '80s outfit I saw … well, I say saw, but I barely looked as I was far too busy dancing like a fuckwit. The mid-to-late '80s outfit I did see, and it was a bit like seeing Moses, Marc Bolan, The Sensational Alex Harvey Band and Deep Purple erupting from the speakers all at once.
So, given that much of these songs originally required two guitars, I wondered exactly how he'd go about things. Would he pull out a crappy old acoustic and go all faux soulful? He and drummer Michael Stranges (he plays in the Salmon/ Peno outfit The Darling Downs) walk in, Stranges looking oddly normal, Salmon in a lariy nylon silver disco shirt and his fingernails painted red. Which match his guitar, it turns out.
Kim's approach to this gig (I presume the conversation may have started: 'Hey, Kim, the Scientists have had an American vinyl reissue, fancy doing some old Scientists songs?') is gutsy to say the least. Basically, he's decided that Michael's key drumming can drive the songs behind him, allowing him free rein to rip and burn through a set zeroing in on the early '80s songs, interspersed with a few of the '79 era, and one or two from the last period at the end of the set.
By now the pain feels rather like I've been strung up, it's very sharp and I feel a bit giddy. It can't be the alcohol as I haven't had any; it can't be the sun because I've been either inside or in the shade. But there's no way I'm missing this.
And, he goes from looking like a pleasant individual you might invite in for a cup of tea and a Donna Summer record to … well, it's like seeing a fantastic, rippling transformation. All of a sudden : very noisy pop star. And his guitar playing, he's one of the few who can make precision sound sloppy, and sloppy sound precise. In other words, Kim has a faculty for making pretty much every note count, every song burst with strength, sinew, muscle, stink and guts.
I never appreciated how poppy this '80s material was; I never appreciated how visceral the poppy '70s material could be. This isn't some bloke trawling a back catalogue, this is a man who delights in his old work as much as his new work, finding new roads to carve, new meaning and new significance every time he plays.
His singing is right on the money too, he decides to tinker with the pronunciation here and there, clipping some words. And he gives, God, does this man give. A guitar monster even metal-heads fear, he smiles at us, warms us, and then crushes us with yet another salvo.
Then he plays a lovely pop song, all spite and spit and shiny car seats, and then we're careering down a highway with Hunter S. Thompson and Ralph Steadman and you know where that leads. To bats! Hundreds of bats in the California sun! and suddenly you're back down to earth, looking around, blinking, as the front row, who've been dancing like they're 24 (they'll regret that tomorrow, it's going to be long Radox baths and no sympathy from the wife) and generally getting as lost in this strange world Kim Salmon conjures up out of… just where, exactly?
Like Spencer P. Jones and Ed Kuepper and Hugo Race, Kim Salmon should be more or less touring nine months in the year, USA, Europe, Asia, USA, Europe and back home in time for the summer, coming up with a constant new brilliant repertoire, as at home with his earlier material as he is with his new.
Speaking of new, Kim has a new CD out soon, "My Script", and if the rumours are true it's bloody good. I gather it's available on pre-order here. Hire Kim Salmon for your bar mitzvah, graduation, 21st, uncle's funeral or, in fact, any party which is bound to be a bit dull and boring.
Feeling the pain far more than I would have believed, I shook a few hands and fled into the night, rediscovering how foul and pointless Saturday night in St Kilda is, with it's endless mess and rudeness and imbecility dressed as intelligence. Police paddy wagons circle as I finally find the sloping alley where the hotel hidden. I slide down toward it, topple upwards to my room where I devour painkillers, shower (I almost decided not to bother undressing) and fell onto the bed, wondering if this was the night Fate was going to Deal Its Mortal Blow.
Thank you to all the organisers and musicians who make A Day by the Green such a special and magnificent day out.