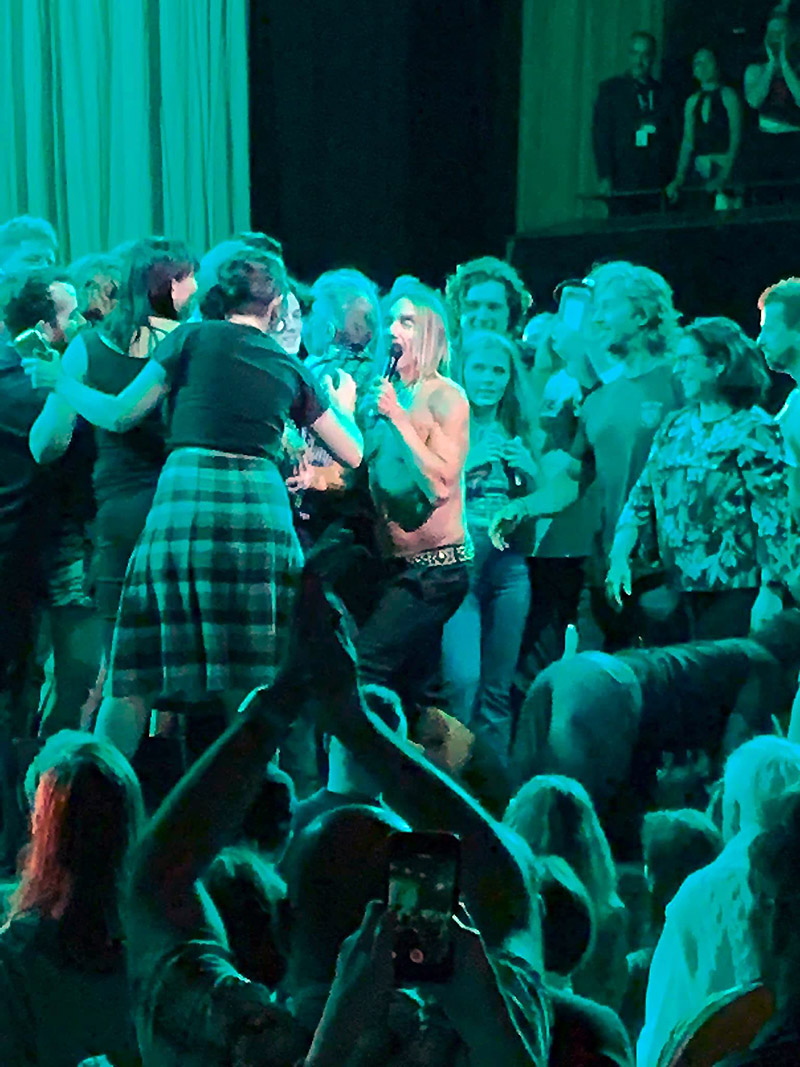 Even the on-the-spot electro-shock jumps and hip-shakes have faded. Nobody begrudges Iggy the occasional squat at the stage lip to commune with fans or an occasional lie down.
But you try and find a more energetic and consummate rock and roll frontman and you'll quickly find he or she doesn't exist.
Iggy's back in Australia for what must be his last visit. Tonight's stand at the Sydney Opera House is one of three sideshows to Bluesfest, his presence on that festival an anomaly in an otherwise numbing procession of mainstream acts. The senior citizen on the bill.
There's no support band at the Opera House tonight. I can't remember the last time I was in this place for a rock and roll act. Stevie Ray Vaughan? I am reliably informed that the sound can be iffy, depending on where you sit. And "sit" is the preferred mode. A local band once got banished from the place for inciting a stage invasion. So "staid" doesn't adequately describe it. For all the tourists that it attracts, the Opera House is like a Royal Easter Show sample bag - it looks great from the outside but it's far too often full of shit.
Orchestral music signals the band onto the stage just a minute or two after the appointed time of 8pm. The recorded sound of dogs. The band launches into "I Wanna Be Your Dog". Many Iggy bands have tried this one but few have succeeded in nailing it like the original. Don't embellish it. Go with the groove. It bites. Hard.
There's a horn section at stage right and they're punctuating "Dog" with stabbing accents. The pair remain on stage all night, adding thoughtfully arranged parts that sit just right without swamping the songs. They add handclaps in some songs.
From "Dog", it's a dizzying stumble through the back catalogue. A sprinkling of Stooges songs but no over reliance. We don't get anything from "Post Pop Depression" and that shouldn't be a surprise, given it was a project built on, and involving, a specific band. We do gratefully receive classics like "Five Foot One", "Some Weird Sin", "Repo Man", "Sixteen" and a flamethrower "Sick Of You" that shakes the Opera House crowd to the core.
And the band! The British boys. Remember how the Iggy of 1972 deigned to play with Poms, calling on the Asheton brothers to join him and James in London? Not so much these days. Having a band based in the UK makes perfect sense with the European festival market a lynchpin of Iggy's live commitments.
That's Bowie sideman Kevin Armstrong on guitar with ex-Madness member Seamus Beaghen on guitar and keys. Old hands at touring with Iggy. Beaghen pulls some marvellous tones and Armstrong is a consummate guitar pro, adding economic solos with the right amount of flair. Mat Hector on drums has power and swing. He hits things and he plays them, too. Ben Ellis, the Clockwork Orange bowler hat-attired bassist, is a human dynamo with a big, earthy tone that fills the room. As players, they're all stellar. As a band, they're a formidable unit that plays the songs as they should be played.
Iggy is in magnificent voice. As has been mentioned, he drags himself around the stage at times, teetering on the edge and only once slipping onto the floor to be with his people. It's not a surprise when he invites his people up on stage for "No Fun", a song whose title is a contradiction in terms on a night like this.
The onetime macrobiotic stoner leading a bunch of Stooges is in his element, coaxing the punters up with just one stage roadie as protection. Iggy loves his people and they love him back. The Ig's only indulgence is an occasional swig from what look like giant-sized crystal goblets on the drum riser. Fine wine or Gatorade? He's earned both.
It's 21 songs spanning an hour-and-45-minutes. Quibble about the set list - I could have done without "Mass Production" - but it does not get much better than what was served up. "Nightclubbing" and "Sixteen:" were rendered as well as the "Post Pop Depression" band. Maybe better.
The Bowie cover was spirited and appropriate, both as a nod to a fallen friend and as in the sense of being self referential. Neither its subject, Iggy, or its writer, Bowie, would be what they became without the influence of each other. And the cover of Nick Cave's "Red Right Hand" was warped and sleazy.
It was, as they say, a night for the ages and you walked away with a sense that Sydney had just said Thanks.
I Wanna Be Your Dog
Gimme Danger
The Passenger
Lust for Life
Skull Ring
I'm Sick of You
Some Weird Sin
Repo Man
Search and Destroy
T.V. Eye
Mass Production
The Jean Genie
1969
No Fun
Down on the Street
Real Cool Time
Nightclubbing
Sixteen
Five Foot One
Real Wild Child (Wild One)
Red Right Hand