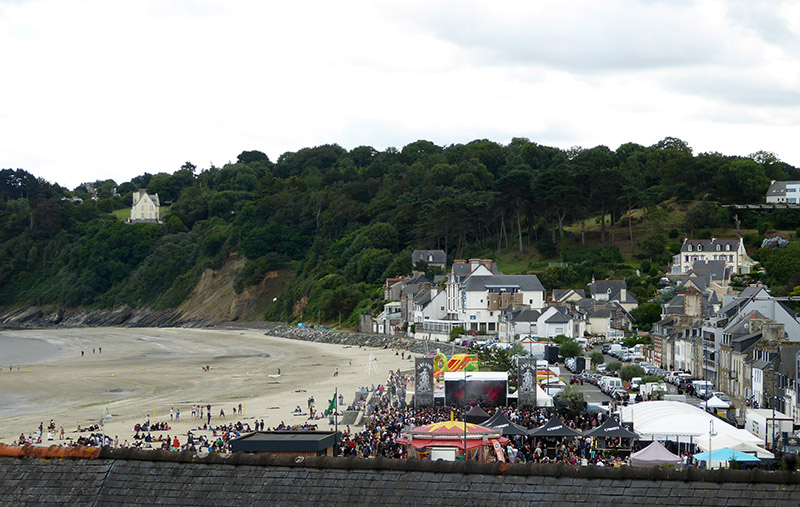 Binic Folks Blues Festival
Brittany, France
July 28-30, 2017

It turns out that Binic is a small seaside town in Brittany, with a population of almost 4000, and it hosts a free rock festival every summer. It's called the Binic Folks Blues Festival (BFBF), but leans much more towards loud rock'n'roll of the kind beloved by i94bar.com readers than folk or blues. It runs for three days, and people come from far and wide - this year there were about 50,000 over the Friday, Saturday and Sunday of July 28-30.

Salter played BFBF in 2013, and HITS were there in 2016 - both earned a special place in the hearts of the Binic audience, and vice versa. The festival's promoters have always had an ear for great Australian music - this year, Brisbane's SixFtHick were on the bill, as well as the Corbett brothers' bands Shifting Sands and Gentle Ben & His Shimmering Hands. Melbourne's amazing Cash Savage & The Last Drinks and Los Dominados played, as well as a host of great artists from France, Italy, the USA and elsewhere.
Most bands play two of the three days, and quite a few play all three, so you don't have to worry too much about schedule clashes if you're there for the duration. It's only a few minutes' walk between the three stages - one right on the harbour-front, one next to the beach and one in the car park next to the town hall.
Given the size of Binic itself, there's not much hotel accommodation - but camping is only 10 euros a night and there are free shuttle buses from the nearby and much larger city of St Brieuc.
You can bring your own booze and food - but relatively few people do so, as there are tents selling local beer, wine and cider as well as bars and restaurants along the harbour, and most people choose to support the free festival and the local businesses.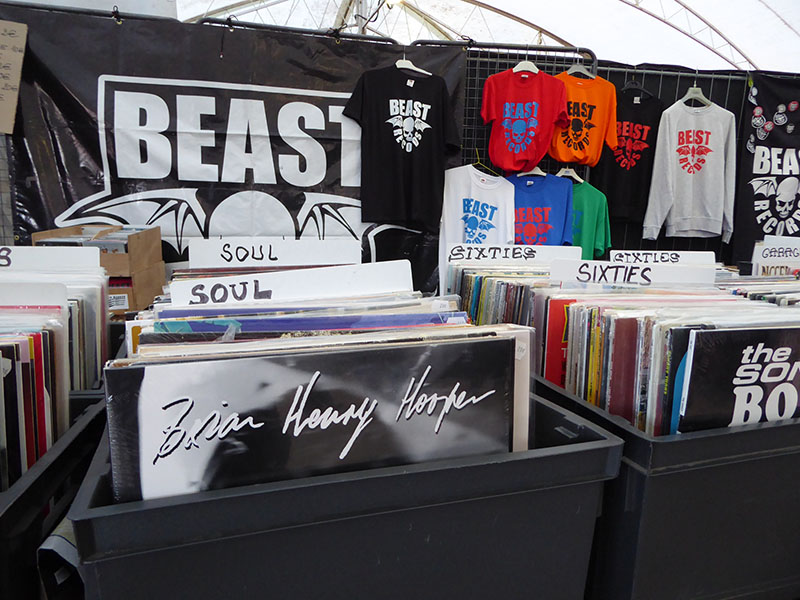 There's also one of the best record stores I've found in years in the merch tent, run by the good people from Beast Records (who have released a truckload of great Australian stuff over the years). It's only a few minutes' walk between the three stages, and with its harbour and wide beach Binic is never less than beautiful.
The atmosphere is enthusiastic and incredibly friendly - if you're Australian, you'll probably be asked which band you play in, and they'll buy you a beer even if you don't. Sure, people get drunk, but there's never any trouble (moshing yes, fighting no). In short, it's as close to perfect as a festival gets.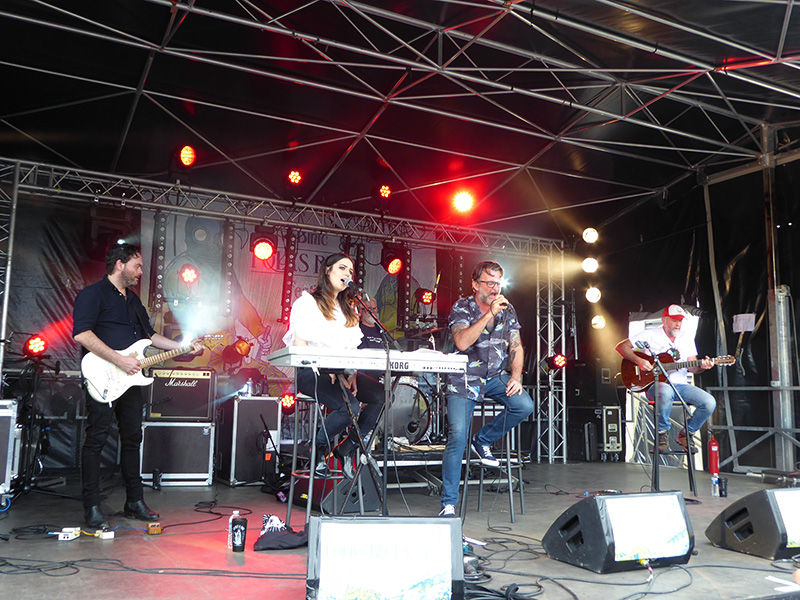 Shifting Sands settling in
We arrived on Friday afternoon, right on time for Shifting Sands, led by singer Geoff Corbett of SixFtHick. "This morning I went to the harbour and hired a canoe, and when I had paddled out as far as I could go, I wrote this song," he says, introducing "Girl in the Sinking Canoe", sitting on a bar stool on stage and swigging from a bottle of whisky.
They're a suave outfit, and keyboardist Izzy Mellor's vocals provide a great counterpoint to Corbett's more gruff Gainsbourg croon, especially on "Boyfriend". Corbett may be seated and shirted, but his performance is still compelling, and the appreciative but small start-of-the-festival crowd make more noise than they're entitled to.
Next up on the same stage are The Flashers, a Breton band who barely look old enough to drink but fly out of the gates with some frantic garage pop that suggests some great record collections between the members. They lose a bit of momentum a few songs in, but that's nothing that time and some more songwriting won't fix.
Thomas Schoeffler Jr is a folk/honky-tonk-blues one-man band in the Scott H Biram mould, with a stentorian voice and the ability to captivate a good-sized crowd from the main stage with a huge sound. Then it's over to the harbourside stage for SixFtHick, who are on fine form and bring out some mohawked moshers.
But it's only day one of the festival, and most of their members are playing in more than one band each day of BFBF, so while they're not holding anything back musically, it's apparent that they are (sensibly) saving just a little of their energy for the madness that will ensue.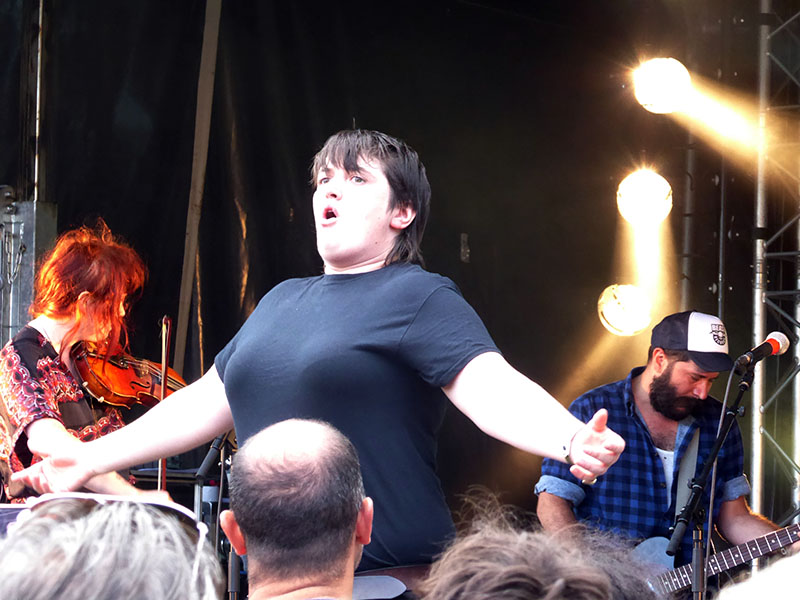 Cash Savage going for it
Melbourne's Cash Savage & The Last Drinks are headlining the main stage near the beach at 11pm on Friday, and by then the festivalgoers are out in force. It's the first chance I've had to see her play, and it's great that she plays a full 90-minute set that covers much of her recorded output.
Saturday begins (for us - late start) with Los Dominados. They're already known to many through their own output on Beast Records, and even more people are aware of singer-bassist Helen Cattanach's time in Spencer P Jones' Escape Committee (Jones is here in spirit, if not in body - he's a hero to many in the crowd and comes up in conversation often over the course of the weekend).
Los Doms aren't the most extroverted performers on the bill, but their songs are rock solid and the Bretons lap it up - one French website of high repute voted them the best band of the weekend.
On the main stage the Italian band Lame are failing to live up to their name quite spectacularly - the two guitarists conjure up squalls of sonic glory while the drummer flails away with gleeful abandon, and I'm kicking myself for missing them on a smaller stage the night before. 'Hologram' from their excellent most recent EP Cities (on Beast Records of course) is rigidly propulsive, with cacophonous guitar overdrive and energy levels that bring a smile to the face of anyone within hearing distance.
Shifting Sands are back for their second appearance, and even more seaworthy than yesterday. We move over to see Escobar, a French two-piece guitar/drums outfit that eschew the cliches of so many recent acts of that kind, generating much more volume and intensity than they have any right to.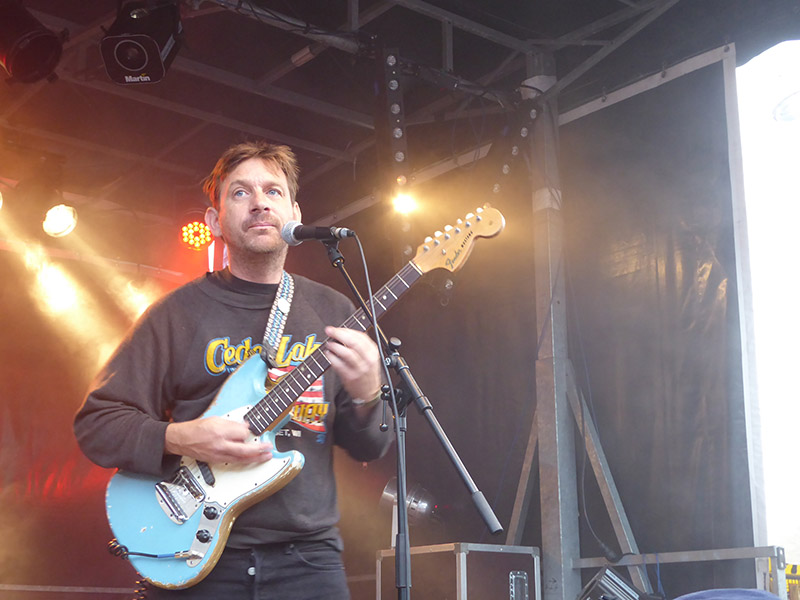 Sonny and The Sunsets
Then it's time for Sonny & The Sunsets, with their highly literate surf quirk-pop. Sonny Smith may not be the world's most expressive vocalist, but he more than makes up for it with his nuanced but powerful guitar playing, despite breaking a string about four songs in. "Too Young to Burn" is unfeasibly popular with some exuberant but genuinely enthusiastic youthful French girls down the front - I would like to think he played 'Lovin on an Older Gal' in response, but it was probably on the setlist anyhow. "Void" is a real highlight, with much more punch live than on record.
SixFtHick return, with Geoff Corbett announcing A) that it's his brother Ben's birthday, and B) that US singer-guitarist Tim Presley is a no-show, so Gentle Ben & His Shimmering Hands will be closing the evening on the harbourside stage. The Hick proceed to pummel themselves, the speakers and the crowd harder than the day before, and their show overlaps with Cash Savage's second appearance - which is more concentrated and intense than Friday's.

After she finishes, there's not much time for Gentle Ben and Co - including SixFtHick guitarist Dan Baebler and bassist Tony Giacca, who switch instrumental roles in the Shimmering Hands - to make a quick wardrobe change and a 700-metre dash between stages. No 25x5-style waiting around for these guys.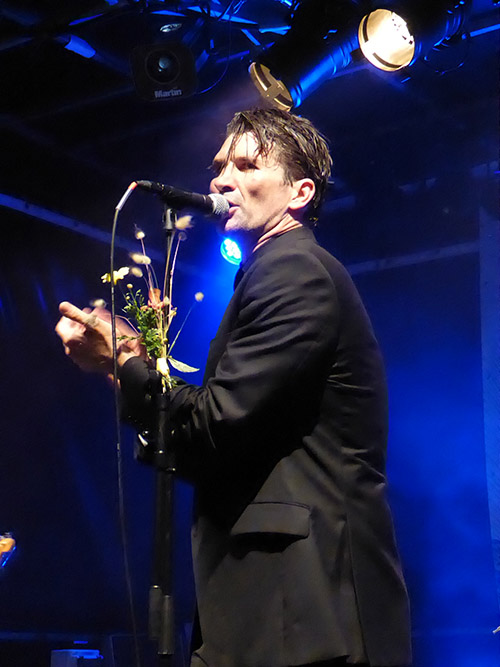 Gentle Ben. His hands are Shimmering.
The crowd know it's Ben Corbett's birthday, and regale him with a version of the time-honoured song, and a few songs later members of assorted other bands, festival techs and bar staff join him on stage for a group hug and song. Then it's down to the business of the Latino airs and raucous rhythms of Ben and his Hands - a hell of a way to bring the curtain down on a birthday, although I have it on good authority the revels continued well into the wee hours. 'Regret It'? Not likely.
Sunday we take a stroll up the hills at the back of the town for the fine view, and then I wander out to the harbour's breakwater to take in the rest of Binic. Time to get (almost) front and centre for SixFtHick's last BFBF outing on the main stage - and the crew have taken particular care to make sure the sound is perfect and extremely loud.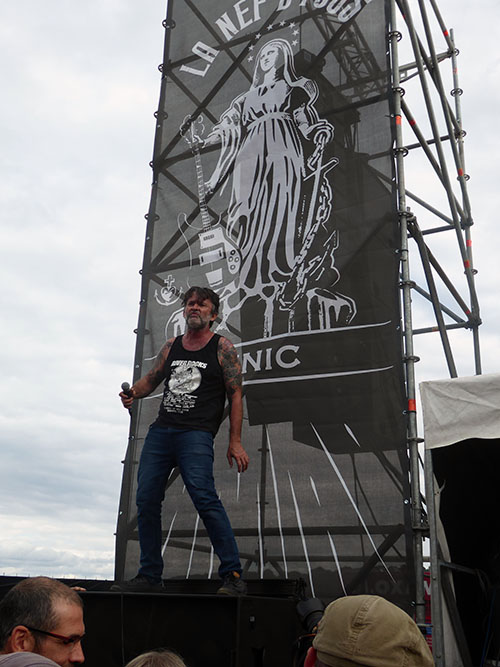 Geoff Corbett playing out on the wing for SixFtHick
When they begin it's nothing short of thunderous, and the Corbett brothers - as always, completely committed to their performance - begin the crowdwalking, crowdsurfing, stack-climbing, shirt-rending, bloodletting physical demonstrativeness that makes them a live band a deaf person could enjoy. There's an extra intensity to the set, their last of the festival and last of the tour Europe (although Shifting Sands are still touring at the time of writing), and Baebler, Giacca and drummer Fred Noonan are simply pulverising.

Then it's also Cash Savage & The Last Drinks' last show in Europe (this year at least), which is nothing short of a triumph. There's barely any room to move in the area in front of the town hall stage, and the crowd give her the best ovation I've seen in many years. "Let Go" showcases the many talents of the truly exceptional Last Drinks, and a devastating version of the always-remarkable "Run With the Dogs" has many grown adults in joyous tears.

Despite the tight scheduling, the crowd won't be dissuaded and the stage manager does the sensible thing and gives them time for an encore. Based on the response it's likely Cash Savage will be recognised in Brittany for many years to come - although rumours from the organisers' tent have it that she and the Last Drinks will be back in 2018.
Gentle Ben & His Shimmering Hands are soon at it again, Ben Corbett looking more bruised than the previous night, and they are also bade a more than fond farewell by the crowd. The same goes for Sonny & The Sunsets on the main stage, and they are followed by King Khan & The Shrines (all nine of them).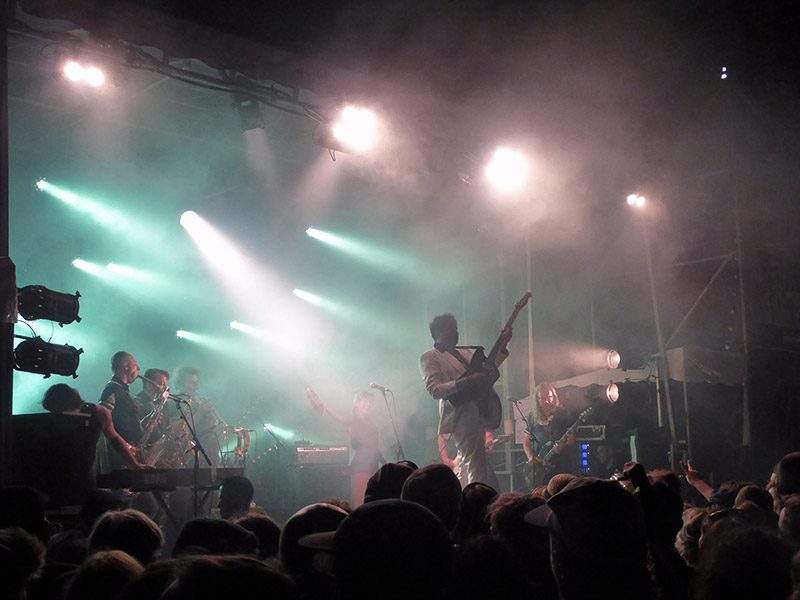 King Khan and His Shrines
The Shrines give King Khan his traditional extended introductory fanfare, and they're off, also blurring the lines between stage and mosh pit with elan. They're as good a band of musicians as they are a show band, although personally I've enjoyed club shows by them in the past more (perhaps just fatigue on my part). They're well aware of the many Australian connections to this festival, and "Know Your Product" is a fitting first encore - appreciated by Australians and French alike.

By the time it all ends I'm of the opinion that this could well be the best outdoor rock festival in the world - the kind you go to regardless of who is playing simply because it gets everything right, especially the programme. I may have seen a few bands that didn't catch my attention enough to stop me at that particular stage, but none of them were below par.
I'm based in Europe these days, so Binic isn't too far to travel - next year's festival is already pencilled in. But if you're planning a trip to Europe from Australia in the northern hemisphere summer, you really should arrange your schedule around Binic Folks Blues in late July/early August. You will NOT regret it.