Bald Faced Stag, Leichhardt, NSW, Australia
Saturday, September 27, 2014
It's a measure of the impact that the Lime Spiders had on the Australian music scene in the 1980s that so many fund-raisers have sprouted in quick succession.
The Spiders started life in suburban scout halls as a '60s acid punk cover band, moving into inner-city pubs after being inspired by the second wave of '80s Sydney outfits like the Other Side and grew from there. A merging of the core band with the engine room of competitors The Most set them properly on their way, after the double seven-inch EP on Green Records (recorded with the proceeds of a Battle of the Bands win) had brought them to attention. It was the landmark "Slave Girl" 45 on Citadel that cemented their place.
If "Slave Girl" had been their only legacy it would have been a monstrous one. It stayed in the then-influential independent charts for more than a year and opened suburban ears (including these) to a whole wide world of wild fuzz-tone sounds.
The Spiders went through many line-up changes, toured the world and morphed into a killer hard rock outfit that's only played sporadically in recent years. They're tonight's headliners with a rotating cast of stand-in singers slated to deputise for Mick Blood.
You won't read many reviews of gigs that the I-94 Bar organises on these pages because we don't like being accused of pushing our own commercial barrow, no matter how meagre the financial rewards. But in this instance we'll make an exception. Not only was it a fund-raiser, it was so much unadulterated fun.
Before you ask, assembling a line-up wasn't a challenge. Bands were falling over each other to play. The running order had to be slightly tweaked to allow for some people's availability, but it was an ego-free zone.
Many of the inclusions were no-brainers. Hard-Ons weren't able to make it because they were in Europe – so Ray Ahn sent some artwork to be auctioned instead. Spurs For Jesus were late drop-outs because a band member had a medical issue. Leadfinger were asked to jump on board and did so without hesitation.
The early bands played half-hour sets with longer brackets only coming later in the night. A shared backline (courtesy of Joe Breen and Tiffany palmer from the Sydney Rock n Roll Markets) allowed for fast changeovers. It was the best way to accommodate so many bands and keep the pace flowing.
Big Charlie had the unenviable job of opening the afternoon, head-to-head with the footy, and did so with distinction. Mick Blood's mate, Chris Stebbing, fronts this seasoned four-piece who play a bracket of beefed-up bubblegum songs. The treatment is certainly not lightweight and it's a great way to kick-off and it's well received by a small but receptive crowd.
77 Sunset Strippers do the Punk Rock Jukebox thing very well. Opener "Hindu Gods of Love" is indicative of the flavour of their set list. Singer Ripley Hood was destined to do double-duty (more on that soon) but didn't hold back. Special mention to former child prodigy Max Trew who is now a fully-grown killer on the kit.
Hey! Charger were playing just their second show in 17 years. An effervescent outlet for the songwriting of renowned "band joiner" Bill Gibson (The Eastern Dark, Lemonheads and an endless list of et als including current home Loose Pills), he's joined by fellow former New Christs Big Al Creed on guitar and Pete Kelly on drums.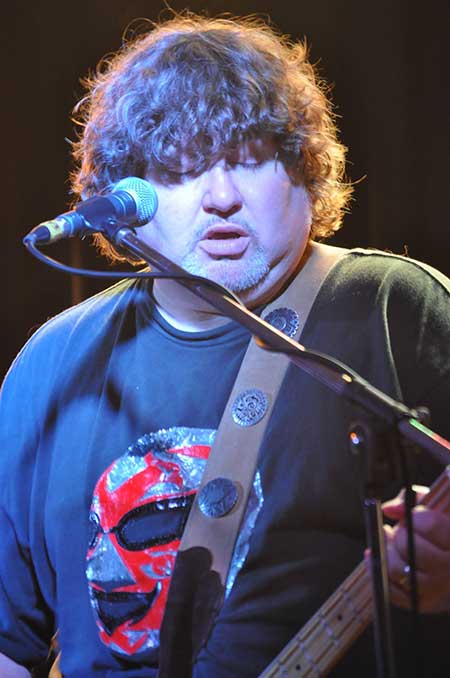 Bill Gibson fronting Hey! Charger. Steve Whelan photo
Al Creed's measured and tightly-coiled soloing matched with Gibson's melodic vocal and Kelly's propulsive drumming made for a killer set of punkish pop gems. This line-up spat out an EP in the '90s and should get back into a studio for more recording pronto.
25th Floor hadn't paid homage to Patti Smith for a year so she must have been wondering where they were. Their mix takes a couple of songs to sort itself (the soundie probably had to Ask The Angels for help) out but the band clicks into gear nicely.
The Dubrovniks were a band with an immaculate inner-city pedigree that pushed them over to major label territory, doing the business in Europe but never becoming the Australian household names that they probably deserved to be. Led by the killer vocals of Chris Flynn, they had a hell of a lot of talent but faced stiff competition.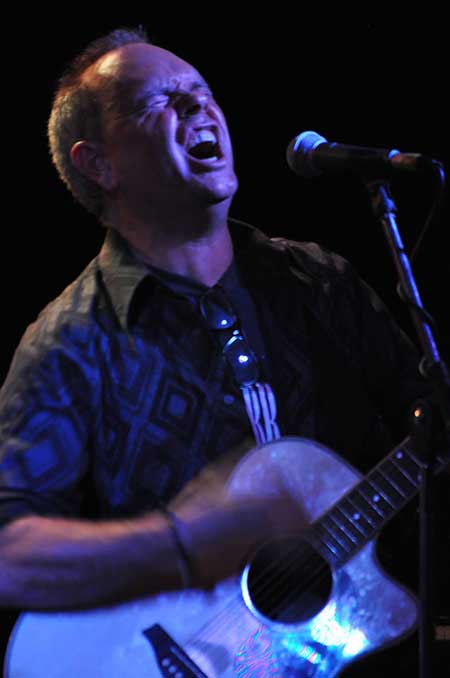 Chris Flynn. Steve Whelan photo
Tonight finds them in acoustic (read: drummer-less) form with Flynn, Boris Sudjovic, Peter Simpson and Glenn Armstrong on a guitar each and sharing lead vocals. In terms of this bill, the change of pace works a treat. "Cry Baby Killer" and "Christine" especially deliver in spades. I just hope Boris shared those beer tickets.
Mick Blood visits the gig and hangs around for a while. Loud noise is an issue for him and he tires easily so it's a fleeting stop. He makes it known he appreciates everything that's being done.
There were at least two people in the audience who hadn't seen The Amazing Woolloomoolosers before. I'm surprised. One of Sydney's premier inner-city party bands in the '80s and all-round nice guys, they're still staking that turf in the '00s. Neither major surgery or sudden redundancy can stop them. Fuelled by the twin vocals of Peter Ward and Melissa Keizer, they deliver a timeless set of '60s radio pop standards that's duly lapped up.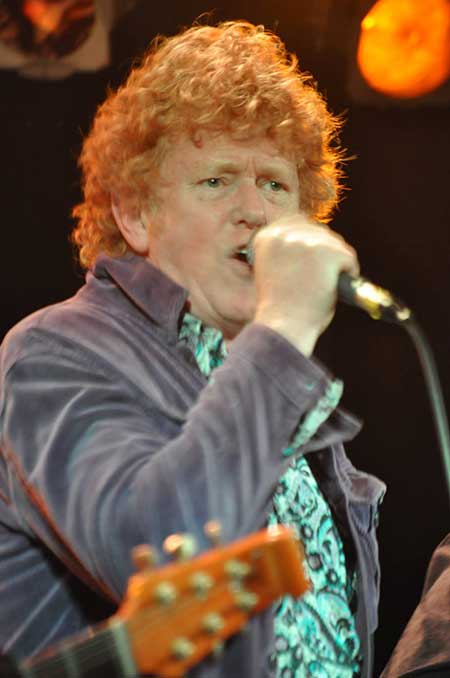 Peter Ward. Steve Wheln photo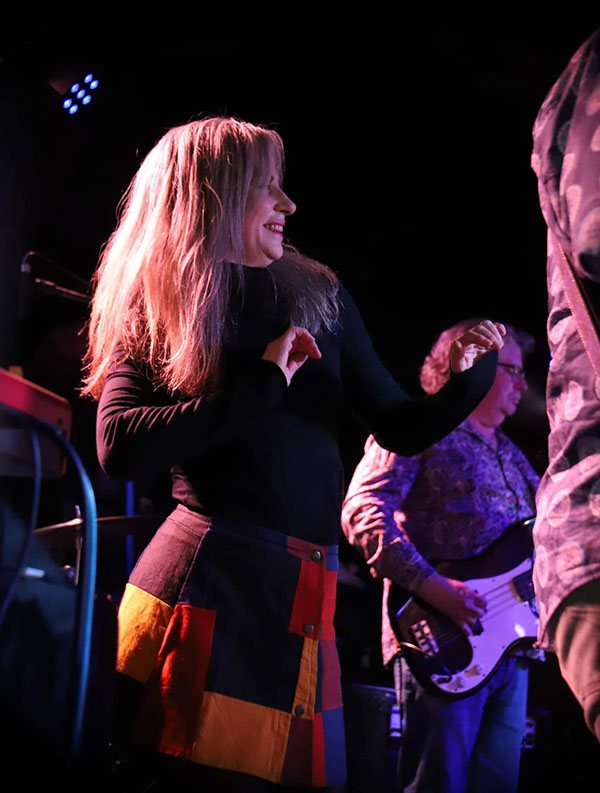 Melissa Keizer. Steve Whelan photo
With the proportion of cover bands versus mostly original bands standing at 4-1, Leadfinger re-calibrates the ledger in favour of the latyter, cranking the volume a notch and turning in a set that's one of the defining moments of the event.

Leading the way on guitar and vocals, Stewart Cunningham is still better known for being in the Proton Energy Pills, Brother Brick, the Yes-Men, Challenger 7 and Asteroid B612 than his latest band. That's in spite of ample touring (notably with Deniz Tek.) For that reason alone it was great to see Leadfinger going through their paces to devastating effect in front of a large Sydney crowd. Stew thought the performance could have been better but was in a minority of one. Neil Matthews (The VeeBees) is standing-in on drums but the band loses nothing.
"Rock and Roll Marie" shakes it up like confetti in a shitstorm while the cover of "Ghost Ships" makes Springsteen's look like the lame take it is. Chris Bailey mightn't make much money off it but he'd probably enjoy seeing Leadfinger (the man)'s guitar foil Michael Boyle carving it up on the solo.
Boyle and Cunningham go into overdrive for a closing "City Slang", one of rock and roll's best songs done justice. Stew dedicates it to the late Jay Curley, a former bandmate. When the smoke clears, more than a few people are left wondering what hit them.
The truth can now be told: The band billed as But Jacques The Fish? was advertised that way because it was going to be an "almost" version of the Celibate Rifles. Dave Morris lives on the Far North NSW Coast and doesn't get to Sydney often. Without warning, Dave Morris is sighted in the building. Dunno about you but that works for me.
It probably worked for you too, if you were there. By now, the room is packed. The House Full sign is up and there are no more tickets being sold.
There are two truths in life. One is that the Rifles are the most self-effacing and casual band to ever step onto a Sydney stage. The other is that they always deliver. They're only allocated a half-hour but each of those 30 minutes is worth bottling. "Wonderful Life" ticks and explodes like a timebomb off the back of those meshing Kent Steedman and Morris guitars, while the second cover of "Hindu Gods" of the day builds on the greatness of the first.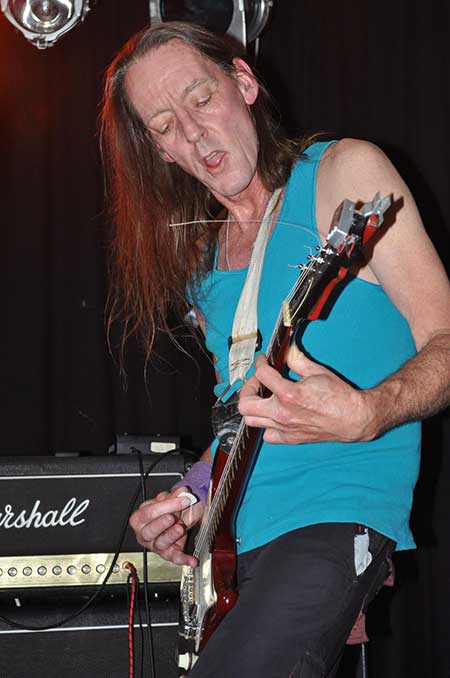 Dave Morris completes the matched set. Steve Whelan photo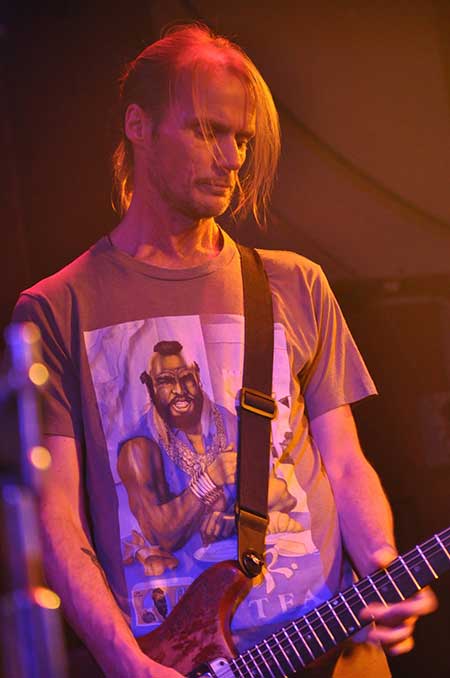 Kelvin The Elf aka Kent Steedman. Steve Whelan photo
It's a set that reinforces the lethal nature of the band's most recent records (even if they're no longer all that recent) through songs like "Kev the Head" and the timeless power they summon up on their earliest, under-produced stuff like "Anthem." Another of many high-water marks.
The much-awaited return from Pismo Beach by the Psychotic Turnbuckles is heralded by one of the most articulate, witty and literate introductions by an MC that you're ever likely to see. The band will get my dry cleaning bill later this week. It will be substantial because rotten tomatoes are such a bitch to get out.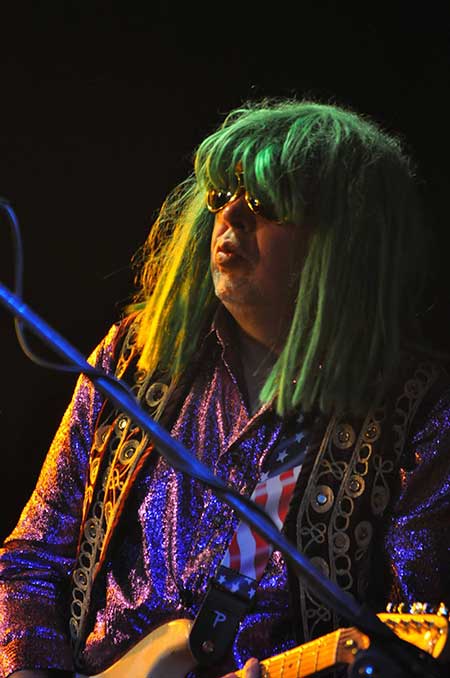 The Grand Wizard considers his chording. Steve Whelan photo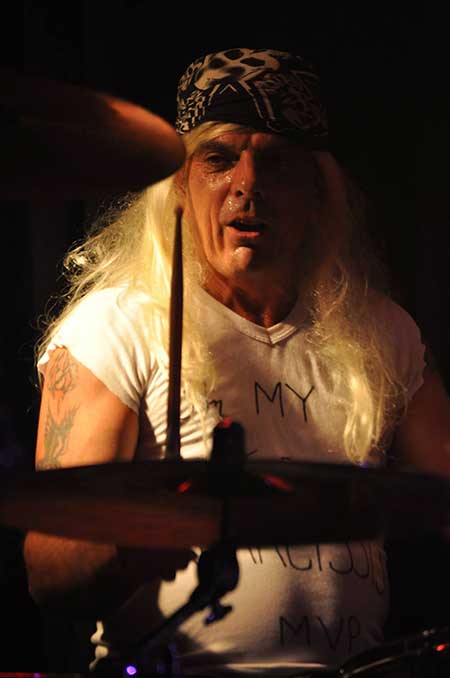 You wish you could pull chicks like Gorgeous Karl Domah. Steve Whelan photo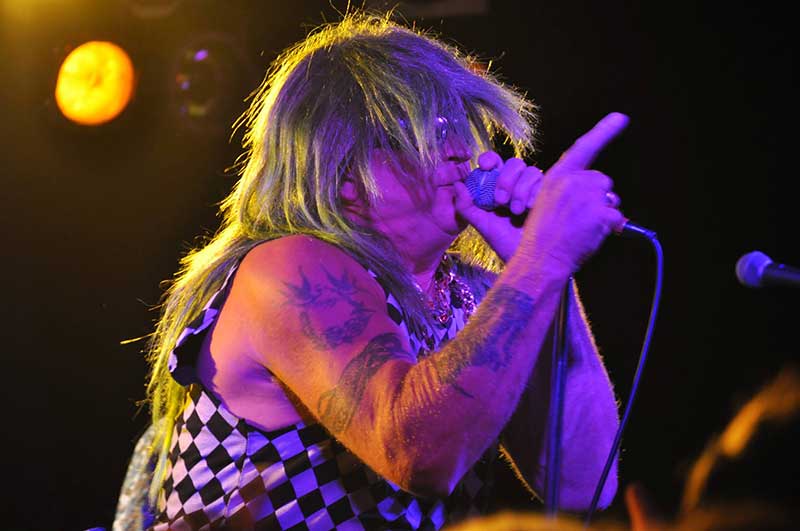 Jesse the Intruder. Steve Whelan photo
We get a set that's big on the hits and constructed to be a crowd-pleaser. It's dogged by technical problems but no-one seems to mind. All the buttons are pushed. We are taken us down to Pismo Beach and dumped abruptly on the shore.
By the time the Lime Spiders are due on stage the big question is: Who's filling in for Mick? The answer is: A Variety of People, starting with his nephew Rob Blood who plugs in his guitar to also temporarily displace Dave Sparks for a blistering "Action Woman." It's an early peak and the set stays there.
Bill Gibson is up early on the mic with a mighty "My Favourite Room" one of the night's stand-outs; Dave Tozer of The Overtones slays "Volatile." Mick's mate Paul Arthur (aka Slunter) gets up for a sing. Damien Stebbing from Tony Bambach's other band, Cousin Betty, plugs in and has a blast. Ripley Hood, backing up from the 77 Sunset Strippers, vocalises for the bulk of the set, which is slanted towards early stuff - like the magic "1-2-5" by The Haunted. Rip delivers a credible "Slave Girl" and is so overtaken by events that at one stage he ends up on the floor, doing The Cockroach. I thought he was playing a Spider.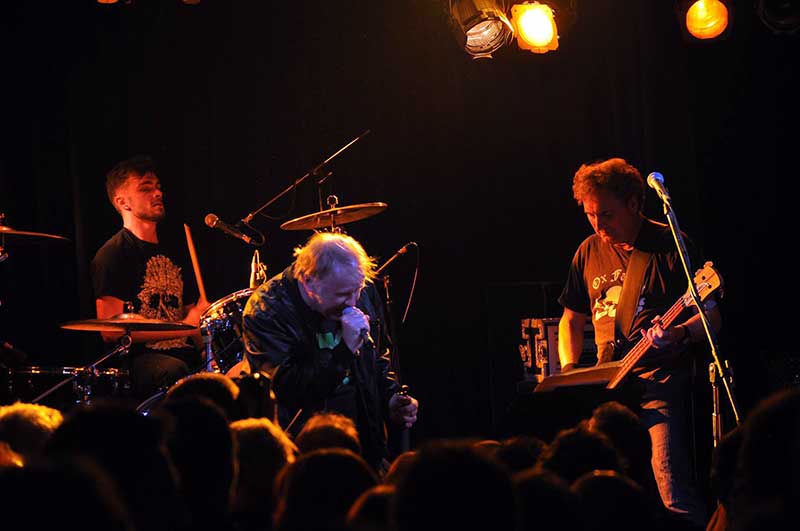 Dave Tozer gets volatile with the Spiders. Steve Whelan photo
The Lime Spiders themselves are pure power. They played a party to warm up but haven't done a full show since last year. One punter who's continually calling for "He's Waiting" is acknowledged by drummer Tom Corben. He's given his just reward with a storming version of the stuttering Sonics classic. Full marks to the younger Corben who, by the way, has become a drummer par excellence.
He couldn't become anything but in this company. Dave Sparks and Ged Corben on guitars are a murderously good pairing. Mick Blood's chainsaw vocal is impossible to replace, of course, and the band members find it surreal not to have him front-and-centre.
It's a show that anyone who was there will remember for years and put a lid on one of the best line-ups to have graced Sydney stages in 2014. Most importantly, the abacus is still ticking over but it will kick a barrow-load of folding stuff into the coffers of Support Act, the musician's charity paying the essential bills for Mick's recovery journey.