Buzzcocks and Moulting Vultures in Adelaide
It's the night before Anzac Day and all through the house/Every bugger is rushing to get ready to go to a gig.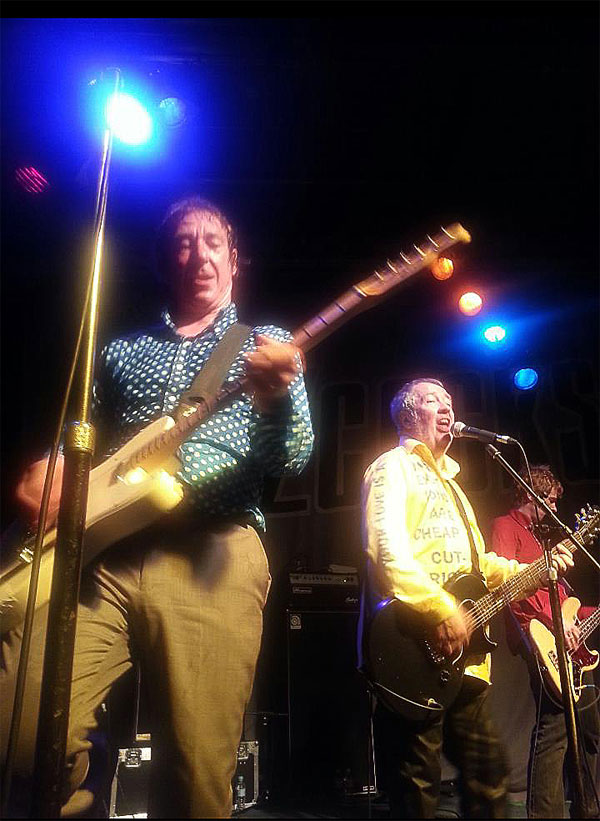 Tom WayArmy photo

Fowlers Live, Adelaide - Thursday, April 24, 2013

Coming in to town I notice the large number of people heading to other shows. There's a 'Gala local cinema night' and the ladies are frocked up; we pass one couple where she's in one of those posh shiny frocks baggy in all the wrong places and the bloke's wearing a dinner suit with sneakers. There's a large crowd, some dressed like they're off to church, others in their lariest, tightest jeans, telling each other about some bloke I've never heard of called Bryan Adams, who's playing the Entertainment Centre. When I say large crowd, I also mean that quite a few of these punters are, well, large. And the jeans are quite, quite tight. So far, this is not a night for irony.
So ho, to Fowlers Live, formerly a very large part of the Lions Foods factory on North Terrace. For several years after its rediscovery and lease by optimistic hippy-types, the vast complex played housed Festival Fringes. Eventually, of course, the mighty dollar intruded and most of the land is now taken up with robot, sorry, student accommodation; few students venture inside though they can certainly hear it. Fowlers itself resembles the inside of a factory because that's what it is. The bogs are outside onto the gantry and hope you're sober enough not to tumble down the rather steep stairs.
Next to the bogs is a locked black door. Behind lurk bands.
And the support tonight is the Molting Vultures, who bring an endless shimmering, summer of '65 to us, all pounding toms and scorching organ, two tuff guitars and two singers with striking, Entertainment Centre-packing voices. The drummer is damn fine. Loads of thunderous, different rhythms. Well-thought-out stuff. The rhythm section (Luke and Suzy) are a mighty backbone.
There were a few early sound problems (but the Buzzcocks had two big ones later). The Vultures play covers you kinda remember, and songs of their own which fit right in. Eschewing the dirty fetishy r'n'r beloved of "Nuggets" fans, the Vultures bring an air of freshness and excitement to a Wednesday night half-crowd. They have several cds out, and they're worth investigating. Party music. They have the usual social media - go search.
For the last song, the guitarist/singer (Nick, I think) sheds his guitar, the drummer pulls it on and they haul up another drummer. Now, their lead singer has a fine voice. But this Nick guy has a great voice too. And he does a better job on "Looking At You" than I saw at the same place when DKT-MC5 toured. So, because (and only because) they did this, I express the suggestion that it would be interesting to see the Vultures with a different guitarist - and both singers working off each other.
Now, immortalised in Little Britain; "Buzzcocks, it's a band, silly, not a sexual device."
Now that, as they say, is a matter of opinion.
The Buzzcocks are, as far as I can see, one of two original bands from London's 1976 music revolution tagged either punk or new wave which still play live as a continuous force. The Buzzcocks were instantly (and incorrectly) tagged punk yet all they'd done, like the other band (Wire, who took a more deliberate and enigmatic path), was to reinvent music according to what they wanted. The aspect of punk was just an effective portmanteau, rather like the blues was to the Stones.
Like the early Stones, the Buzzcocks' intent was straightforward. They stripped out rock's schlock romanticism, its reliance on gaudy frills, ditched its esoteric, grandiose pomp (think Queen, Yes, Roxy, Elton...) in favour of clean, simple lines, clear communication and modern structures and, to some extent along the way learning to play in public. They also had a stark, infectious way of presenting (and so reinventing) themselves. Their initial impact (1976-1978) reminds me a little of the shock of the modernists, not just the art movement but (notwithstanding Tom Wolfe's From Bauhaus to Our House) the architectural as well.
Original Buzzcock Howard Devoto split from the Buzzcocks quite early on because everyone realised that there was a significant difference in intent which would cause too many problems. Devoto went on to Magazine, who recently toured again.
But you know all this, I'm sure.
The real story of the Buzzcocks has yet to be told. They're one of the most significant handful of bands from that era (the others are Siouxsie and the Banshees, Wire, the Clash and the Sex Pistols - no, sorry, not the Damned). There should be books about them, documentaries. If I were lucky enough to do either I'd probably look at their current touring lifestyle with how they now live at home, and contrast that again with how it all started for them. I'd skip the reunion years - the meat of the matter lies in the contrast between what they are now and what they were then. Remember, this is the band who popularised the DIY/ Independent/ Indie thing.
It's been 32 years since the first, 'classic' incarnation split up. In that time they released three studio LPs and a long LP of singles, had a few hits and toured the western world to not enough fans turning up. It wasn't that the world wasn't ready, but that the world had its head somewhere else.
Since 1989 they've released three studio lps, a live dvd and cd, a 3-disc singles compilation and have finished another studio lp 'on the back burner' for now, apparently. Their internet site is their name, but also look for secretpublic. Both Mr Shelley and Mr Diggle have their own cds out as well. There wasn't enough industry-directed buzz about the Buzzcocks' new lps so, short of the band having a hit or a few more popular songs in tv and films, they seem destined to do as they have been doing for the last twenty years or more.
Touring venues all about the same size and not being able to break out into a broader market. God, how'd you deal with it, eh? Is it success or is it failure? Significant yet ... where are the rewards promised by the rock gods who stalk the world's arenas? The love and loyalty of their fans is astounding in an age where bands starting out beg their friends to come and see them and pay pubs to play in front of disinterested punters.
In another world, Bryan Adams would be enduring the sticky concrete of Fowlers and the Buzzcocks would be packing the Entertainment Centre.
Of course, there's the upside. It's not about career expansion. Can't be. The Buzzcocks are beloved by the crowds who see them. The crowd - young and old - all sing along with every song, no mean feat for a band who never had a single in the top forty here in Australia. There are big smiles and mostly happy faces all around me. I mean, there's more wrinkles here than on the scrotums of an over-sixties gentlemen's swimming marathon in July, and when the band come on you can practically hear the smiles as all the wrinkly faces scrunch up like everyone in the room is opening a packet of Smith's barbecue chips.
It's really quite an experience. Every time I've seen the Buzzcocks (since 1992, at the Old Lion) I've come away with a whopping headache because I've had a huge constant smile on my face for over and hour and a half and the muscles in the back of my head just aren't used to it.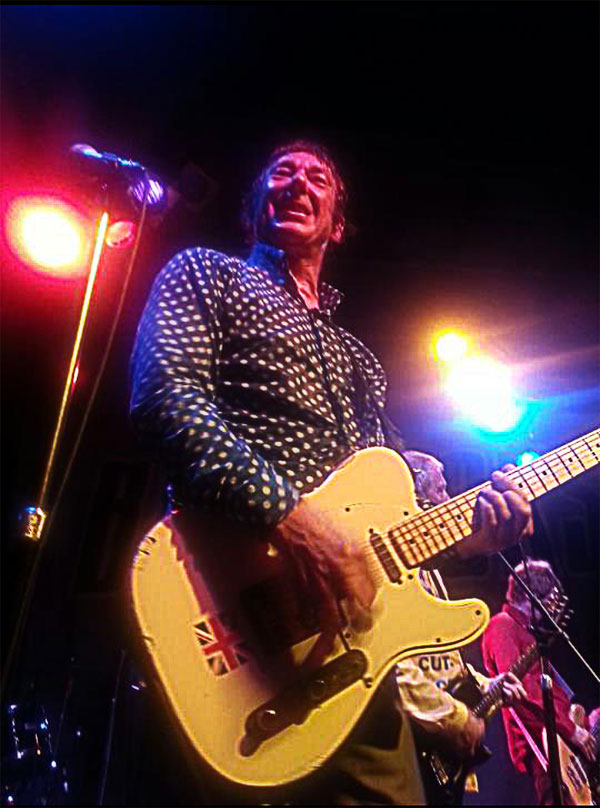 Tom WayArmy photo
Ok, so they come on and they're fantastic. They're incredibly tight, never needing to look at what each is doing, just know the other person is always there. The rhythm section are hardly workmanlike, though they might appear it; they're there to support the two stars and they maintain a respectful, huge presence. Equally, Chris Remmington (since 2008) and Danny Farrant (since 2006) love what they're doing. Hell, Remmington even stands and moves like original bassist - and Remmington and Farrant have both been playing with the Buzzcocks longer than the second original line-up lasted.
That's what you want me to say and it's true, but there's so much more going on. The guts of the band are Steve Diggle and Pete Shelley. I'm right near the former and the number of characters bellowing 'Diggle' made me dizzily wonder when the bugger was going to pull out his big red car. Mr Diggle a great guitarist, by the by. A lot of uh, axemen, think that they've got to pull excruciated faces like they're straining in the bog while playing, and that each song is an excuse to find a solo.
I've seen Mr Diggle play the same songs in the most skronky way, all closely within the song's original structures, and his ability to improvise and work within each song is remarkable - they ain't just tooling out the usual. Every gig I've seen them do, he alters what he plays in a subtle yet striking way, finding even more and even more within the confines of the songs. And his energy level is remarkable, jumps, bunny hops, Pete Townsend swings, chirpy grins, winks and total audience engagement. It's really rather bloody wonderful. He's showboating, of course, but since he doesn't take himself seriously and he's obviously having a great time it's utterly infectious - which is damn fine for a bloke in his late 5ts. When he leans over into the crowd there are the usual grabs by hopeful uhm, rock chicks, and one wit licks Mr Diggle's battered wretchedly torn shoe, looking up mock-adoringly.
By contrast, Mr Shelley is the understated man who diffidently retreats to the back of the stage. His vocal delivery is its usual sexy, yearning self; perfect in a young man discovering the joys and pitfalls of love, his humour shining. Today, the man himself looks like he's been putting on far too much weight over the last ten years, and I feel sorry and sad because if it doesn't stop it's probably going to kill him. I could carry on about how we'd lose one of the great songwriters of the late 20C, but that's too selfish for words. The man's a human being, and, for all the love the crowd show (think about it, how extraordinary is it that the Buzzcocks have received such consistent adulation at such a small, low and grubby level over the last 25 years?) we seem not to notice the real emotions in his songs, how he may well be singing his own pain in songs he wrote 35 years ago. If he's not, I'm damn glad - but of course sometimes performance blurs and blunders into reality.
And we're here for the songs, of course, and Mr Shelley's clever words and extraordinary delivery which catapult us back to that delicious, devastating pain and confusion of our first loves. Nowadays, of course, we're slumped in armchairs in front of the box when we're not slaving away at some job or other; but back then the world was new and filled with impossible possibilities. Rather wonderful that not only is this something of a nostalgic peer back, but young people who stumble upon Buzzcocks lps recognise that sense of yearning, bleeding love teetering on life's razor blade. Ahem. But you know what I mean, there's nothing like the immediacy of youth and Mr Shelley captures it all in a glorious, crystalline fast-burning blur.
See, there's two songwriters here, Mr Diggle and Mr Shelley, and their fondness for one another is a joy to behold. They closed up several times, smiling and joking, and the way they look at each other, the way one looks at the other when the other's back is turned, not only is it incredibly touching, it's almost an intrusion for us to see them like this. That they still enjoy playing is evident, and you can see they still get caught up in the excitement of the songs and the crowds.
And they come to an end and not enough people really bellow for an encore, we know they'll come back out. And they do. Mr Diggle gets to improvise lyrically and musically on Harmony in My Head, tonight working off, I think, the recent Islamic terrorist bombing in Boston (though the implications are far wider); my favourite lines were his repetition of the quote, 'Judge not/ lest ye be judged'. And mea culpa, I'm afraid. Interestingly, this is the only track they play from the 'difficult third lp' phase, which, oh, go and find out for yourselves.
The crowd included a large number of Adelaide band members past and present; for example, Stooges cover band Raw Power were represented by Bob Lehermayr and John Scott (better known for Mark of Cain); and even a childhood chum of mine, proving that I did have friends when I was young.
The setlist was:
Boredom/ Fast Cars/ I Don't Mind/ Autonomy/ Get On Our Own/ Whatever Happened to..?/ When Love Turns Around/ Girl From the Chainstore/ Sick City/ Fiction Romance/ Moving Away from the Pulsebeat/ Nothing Left/ Noise Annoys/ Breakdown/ You Say You Don't Love Me/ Promises/ Love You More/ What Do I Get ///// Harmony in My Head/ Ever Fallen In Love/ Orgasm Addict/ Oh Shit
And they were on for 85 minutes. Hands were reaching up all around, girls wanting one thing of Mr Diggle and gentlemen happy just to slap or shake hands, apart from one gentleman of my acquaintance who mischievously pinched Mr Diggle's bottom. Then Mr Shelley came over to our section, his face wreathed in smiles, shook our hands, and then Mr Remmington and Mr Farrant came over and got the same rapturous treatment.
After talking to a few friends I walked out, soaked in sweat and awe, onto North Terrace. The tram was jammed with dry, unrumpled people who looked like they'd just been to church or a tshirt shop. Two, in their new Bryan Adams tour tshirts, looked like they should consider losing quite a barrow-load of weight. One pulled out a flyer for their local pizza shop and dialed. They ordered two pizzas, garlic bread and some sticky sweets and drinks.
So maybe things are better the way they are after all, although I still would love the Buzzcocks to have the fame and fortune which goes with their adulation. They really do deserve it.
Like I said, this was not a night for irony.
Tags: live, buzzcocks, robert, brokenmouth, moulting, vultures