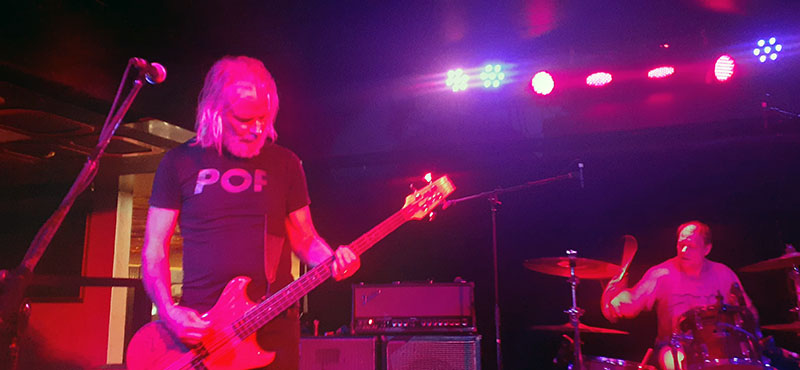 Examplehead powering on.
feedtime are Rick Johnson on guitar and vocals., Allen Larkin on bass and vocals and Tom Sturm on drums.
feedtime originally formed as a duo in 1979 with Rick on guitar and Allen on bass. Various drummers formed a trio until 1982, till the arrival of Tom Sturm on drums. With this line-up, from 1985, they released their albums feedtime (1985), Shovel (1987), Cooper-S (1988) and Suction (1989). The band broke up and reformed over the years, with the albums, Billy (1996) and Gas (2017) being released over this period.
Examplehead formed in 1985 with Greg Gardner on vocals, Jason Matheson on bass, Terry Van Stee on drums and Lionel Gardner on guitar. This line-up remained active till 1990, producing two albums "aheadofstyle" and "Powertools". Reforming as a trio in 2020, with the passing of the late Greg Gardner, they continue to play.
The atmosphere tonight at this sold-out concert was buzzing and, as usual, nothing like looking over the bowling greens and seeing planes flying in to land at Sydney Airport with a cold beer in hand. The night started relatively early with a sound check from Examplehead which drew me inside.
The unusual thing about tonight was feedtime doing two sets, one at the beginning and one at the end, with Examplehead playing a set in between. From the moment feedtime took to the stage, there was no denying that they were as powerful , dangerous and foreboding as I remembered them from their albums back in the '80s. Pumping through songs like a semi trailer on auto pilot, the chemistry between the members was a joy to behold.
I could have watched Tom Sturm play drums all-night with his circular motion of drumming, giving the illusion of an unrelenting machine on overdrive. Stand out tracks, for me, were "Fractured" and "Shovel".
Examplehead were impressive in the fact that they played that great '80s pub band (the good ones) style of music. More melodic but no more compromising than feedtime, they seamlessly played the middle slot with passion and power.
I'm not familiar with their music (except for a track on the "Trousers in Action" EP) but they kept the crowd enthralled for the duration of their performance. Check this band out, if you have not already, if you want a slice of authentic 80s alternative rock.
A great night, if not slightly marred by an over enthusiastic punter, who proceeded to punch me in the back during the last set of feedtime. I turned around and saw this guy squaring up to me and then turned around and proceeded to watch the band again. A couple of more punches and then it stopped. I turn around and he is getting, literally, dragged away by security. Big thanks to these guys for defusing what could have been an unnecessary situation.
All in all, feedtime have not allowed the years to soften them or compromise their style which is and always has been unrelenting, raw and dark. Such a pleasure to finally see these guys live.