John Dowler's Vanity Project
Lomond Hotel
East Brunswick, Victoria
February 2, 2019
It's a hard jangle perhaps best heard on the very first Dots record - the very first Paul Kelly record – the long-forgotten self-released 7" EP from 1979 highlighted by perfect rock'n'roll tracks "Lowdown", "I See Red" and "Recognition". In the Dots' instance, it was a hard jangle born of Bob Dylan and the Byrds – "Mr Tamborine Man" - galvanised by the toughness of the Velvet Underground, Television and the Stones. In that line-up of the Dots it was forged by two guitarists, Chris Worrall and Chris Langman. And prior to the Dots, Langman had played in a band with John Dowler called Spare Change.
Spare Change had covered the Velvets, Bob Dylan, Flamin' Groovies, MC5, Sparks, John Cale and Mott the Hoople and a then-new folk-rock singer-songwriter Bruce Springsteen when they started in the early-mid '70s in Adelaide. It was Spare Change's house Hoddle St house - just along from the clock on the silo and the part of Punt Road that's "High on the hill / Looking over the bridge / To the MCG" – that Paul Kelly landed in when he first moved to Melbourne in 1977.
It was John Dowler's record collection that Kelly immersed himself ahead of forming the Dots, and it was Spare Change with whom Kelly cut his first (unreleased) recordings. And it was Langman and Dowler's short lived Glory Boys who first recorded the Kelly/Langman tune "Leaps & Bounds" in 1980, although their version remains unreleased.
Having helped create it, and having worked with it for more than 40 years, I reckon John Dowler rightfully owns the Melbourne hard jangle now.
Dowler is best known as the frontman of late '70s power pop purveyors Young Modern, with whom he first perfected a hard jangle, even if he was in Adelaide at the time; and early-mid '80s folk rockers the Zimmermen, who had the mid-80s alternative hit "Don't Go The Sydney" on Au-go-go. The Zimmermen featured another former Dot, and gave up two key members, guitarist Steve Connoley and drummer Michael Barclay, to Pelly Kelly's Coloured girls.
Since the Zimmermen, Dowler has maintained a low musical profile, but he's usually had something going. His latest combo, the John Dowler Vanity Project, started in 2014. They play every couple of months or so in small inner city Melbourne pubs. They've evolved into a fantastic group; on the evidence of this show, quite possibly Dowler's finest.
Key to the band are the two guitarists Mark McCartney and Justin Bowd. Mark first played with Dowler some years in a regrouping of the Glory Boys, and has also worked with the likes of Mick Thomas and Barb Waters. When it's time for "Don't Go to Sydney" he picks up an electric 12-string - something that was lacking from the original - and helps make this group's version the definitive one.
Justin has played with Jim Kane and with Middle Age Fanclub, and has contributed a handful of fine tunes to the new group. The two guitarists play Gretsch's and play as loudly as a small room with allow, cutting the jangle with some some grunt and noise. Drummer Michael Stranges, who has worked with Kim Salmon, provides simple but perfect harmony vocals, drives with a light touch and punctuates perfectly, and new bass player Stephen O'Prey underpins things sweetly, helping keep everything aloft; he's busy but never over plays. Dowler's voice, wry and mellifluous, has aged incredibly well, and I reckon he's always sung better live than on record.
It's a hot night, and the sweat starts flowing quickly, although Dowler is suit-coated as usual and quips: "As I said to many a school principal, I don't do summer uniforms". Despite the heat, they're in for the long haul tonight, playing three sets.
But two hours of music gives the band a chance to fully shows off their wares, and they have a lot of material. Dowler has spent time going through his archives, and part of the band's mission seems to be bringing back to life some of his older gems.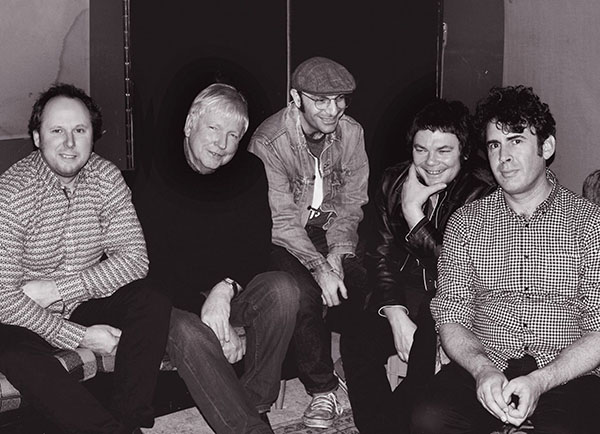 John Dowler (second from left) and The Vanity Project in th studio seting.
And that doesn't just mean "Don't Go To Sydney". Previously unreleased tunes like a stormy decades-old co-write with Chris Langman called "I Blame You" and what maybe John's theme song "My Face" – a fabulous pop tune dating back to start of the '80s (I first heard Everybody's So Glad play it on Christmas Eve 1981) - turned up on the band's debut album "Splendid Isolation" on Half A Cow a couple of years ago.
The phenomenal Velvet Underground-inspired "Ballad of Good & Evil" - a lost Paul Kelly/Chris Langman tune first recorded by the Glory Boys in 1980 but unreleased until its inclusion on the "(When the Sun Sets Over) Carlton" comp, and performed by the new band with a guitar-driven instrumental coda that would do the Dream Syndicate or Yo La Tengo proud - is dusted off as the centrepiece of the band's first set. "The Next Voice You Hear" - which Dowler came across on an old cassette - makes its debut tonight and features tightly wound riffing before kicking into a hooky chorus. It's more Reed than McGuinn.
"Let's Get Rich together", an arch art rocker from Spare Change's "Lonely Suits" album, also gets a dust off and is given a full-blooded treatmeant that brings a smile to the face of Spare Change drummer Graeme Perry, who is in the audience tonight. Perry has a history with that song - he and Spare Change guitarist Bob Kretchmer took it with them from Spare Change to Parachute to Eric Gradman's Man & Machine, who ruled inner city Melbourne in '79. It's a heritage piece and tonight it sounds as great if not better than as ever.
Speaking of art rock, the band has worked up an amazing and unexpected version of "Time For A Change", a Phil Judd tune from Split Enz's 1974 album "Mental Notes". With guitars replacing the spare piano accompaniment of the original, and McCartney unwinding a wicked fragmented solo, it's not immediately recognizable. There are echos of John's Big Star album "Sister Lovers" maybe, although it's not quite that damaged, and John maintains the sardonic indifferenve - it's more or less his default setting anyway - of Tim Finn in the original.
Versions of the Beach Boys "That's Not Me" and the Left Banke's "She May Call You Up Tonight" are also fine – the Beach Boys tune might lose a bit from the raw bass/drums/guitar instrumentation, but the Left Banke cover is the perfect power pop package – and they make over Richard Thompson's brooding but melodic "Sibella" into something more warm blooded.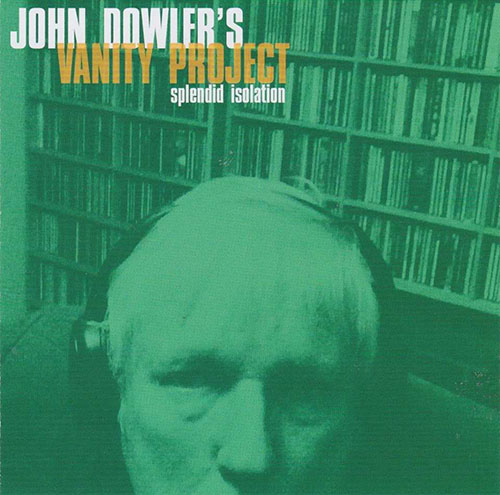 Dowler being Dowler - an obsessive music fan who has dug deeper and deeper over the years - the Vanity Project pull out other unexpected covers as well. "Don't Blame It On your Wife", a very odd but beautifully melodic track (which curiously suggests buying one's wife a tractor…) from the 1967 album from the Appletree Theatre (a John Lennon fave apparently), sounded fine on the Vanity Project's album and now sounds 100% better live. I'm hoping the even odder "The Appian Way", from Mothers of Invention bass player Jeff Simmons' 1969 solo album, makes it to the next one.
Dowler loves the arcane, so when he throws in a version of the Beatles "Taxman" you wonder why, until you realise the band is as tough as nails on the familiar lick and they've as good as made it their own.
A bunch of new/yet to be recorded tunes suggest the hard jangle will be sounding even better when the band check into the studio in April to record their second album. (Justin's "Free of Wine" is a beauty, and you can check out an 2015 performance of the meaty and beaty "Give Me Some More" - probably as close as they get to straight power pop - below.)
If you're in Melbourne and you like stuff like Lou Reed, the Byrds, Television (and Richard Lloyd's solo stuff) and Yo La Tengo I suggest you search these guys out. Interstate and overseas readers could check out the band's album on Half A Cow - it's a fabulous listen, even if the recording doesn't quite capture the full body warmth of the current band's sound. More guitar next time please guys!
Follow them on facebook here and check out Soundcloud page, which includes recordings from across Dowler's career, including an early Spare Change demo of "Caroline" by Doug Yule's Velvet Underground here. Buy the latest album here.

Read David Laing's archived interrview with John Dowler