Memories are made of this sort of Sedition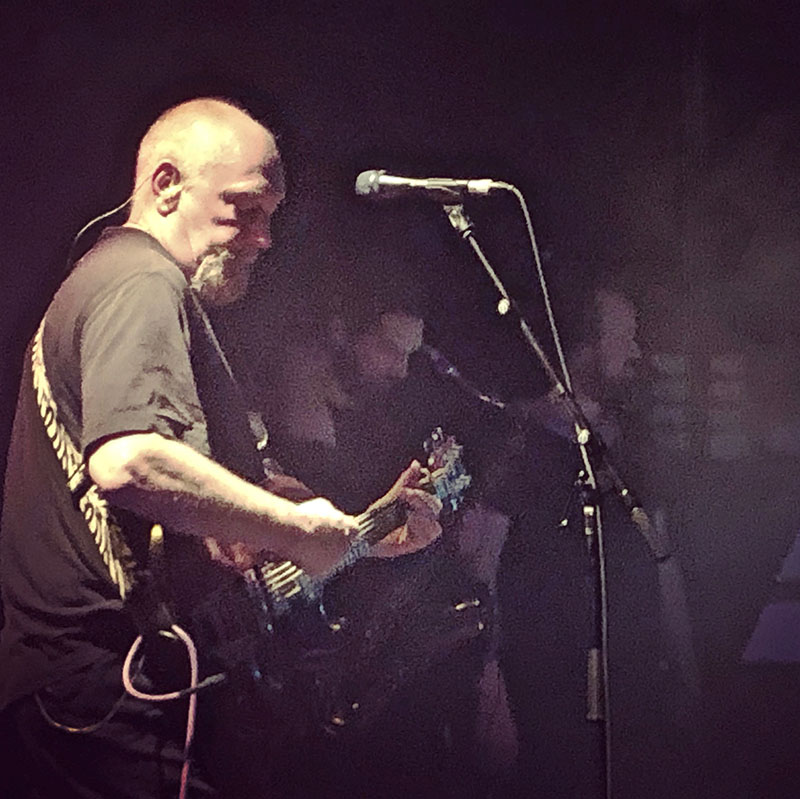 Ed Kuepper leads his Aints! through their final show for a while.
Sedition 2019
The Aints!
The Flaming Hands
Shy Impostors
The Professors
Paddington RSL, Sydney
Saturday, August 31 2019
It could have been an exercise in nostalgia for its own sake. It was anything but.
On paper, a bunch of bands digging into their own back pages is a fraught exercise. Things can never be what they once were; voices age and players who were at one time singularly focused on the musical here and now inevitably drift on or find new interests. Some pass on. Others fall out with each other.
Each of these bands come from a special time and a place that can't be re-captured. Each was leaning, to some degree, on their back catalogues tonight. All were doing their best to be true to their own legacy without getting hung up on it.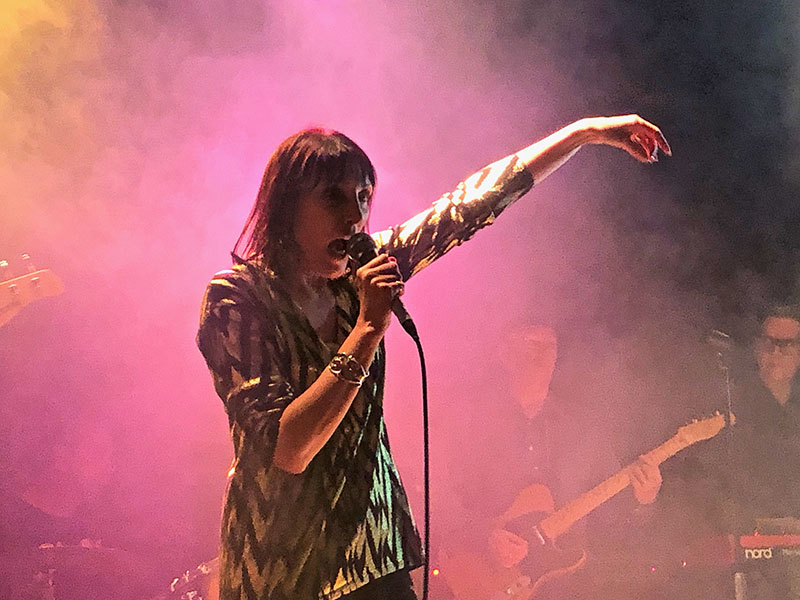 Julie Mostyn-Gilbert of the Flaming Hands. Cub Calloway and John Hoey peer through the smoke.
The occasion is the Sedition 2019 festival, a mix of visual arts, film and music to celebrate inner Sydney of the 1970s when subversion and resistance was thick in the air. Feel Presents were the only promoters that could have pulled this bill together.
Come Saturday night, Paddington RSL is sold-out sign and its downstairs bar is buzzing. Old soldiers from the trenches of the Sydney Trade Union Club and other battlegrounds are embracing. Dr Rock has his Coopers Ale at hand and a box of killer singles with which to DJ. He complains that there's just not enough time to spin them all…
First up are The Professors and their legacy is one of that of a DIY band that grew out of the Oxford Fun House and created their own scene. By necessity their set is largely covers. With one posthumous 45 to their name, their recorded legacy is slim. But nobody lets that stand between them and a good time.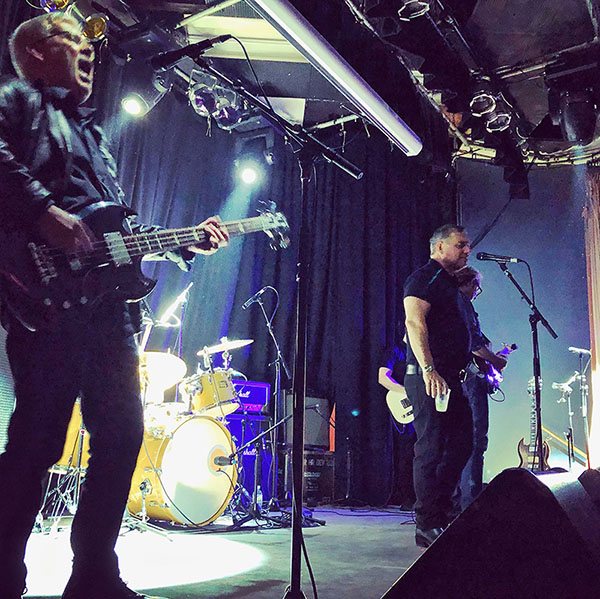 The Professors.
The core of the band is intact, although it takes two guitarists to fill in for the unavailable Bruce Tindale. Gerard Corben and Scots session guy Barry McGuirk aren't bad options to pull off your bench and they imbue the set with real bite.
Frontman Stephen Vineberg is on song and his enthusiastic dancing seems to inspire pockets of similar responses from the fast-swelling audience. Rhythm section Stephen Burrell (bass) and Joe Breen are the unsung heroes tonight, keeping the motor running. A "California Sun" - with customised lyrics for these gentrified, Sydney times - is a winner. "Go Out Tonight" (the single) caps an energised half-hour.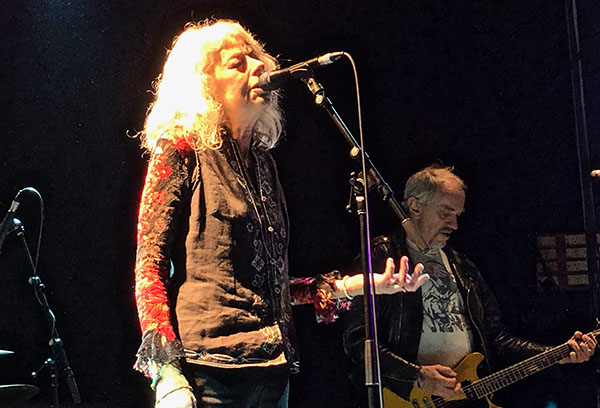 Shy Impostors' Penny Ward and Richard Burgman.
You can guess most of the Shy Imposters set. "At The Barrier" b/w "Seein' Double" was the Phantom single. Citadel has released the rest of their recordings on an EP. Knowing what's coming doesn't make the prospect of seeing them any less exciting. Far-flung killer players with a wonderful frontwoman in Penny Ward.
Shy Impostors give us the lean set of tough and touching rock and roll that we expected. Bassist Peter Oxley is doing double duty tonight, anchoring The Aints!, while guitarist Richard Burgman (also on loan from the Sunnyboys) takes the chance to remind everybody what a great guitarist he is in his own right. There is a surprise – a very amped-up take on the Kinks' "Till The End of the Day" with Burgman's spiky guitar especially prominent.
It's a near-faultless set with no pretension. Echoes of the first reunion show at Enmore - in support of the refreshed, contemporary Sunnyboys. On this occasion, MVP must have been Michael Charles with his killer kick drum. If this show was on the basis of three rehearsals (one without Penny) you have to ask what would be possible, given time and headspace, in the event of them wanting to record new material.
There's one more surprise. Considering the influence she provided to female-fronted bands of a certain era (and presumably to Penny Ward in particular), the closing cover of Patti Smith's "Ask The Angels" is apt.
By now, the proportion of dancers to watchers has moved up a considerable notch. There's a lot of love in the room for the bands and each other. It's that sort of night.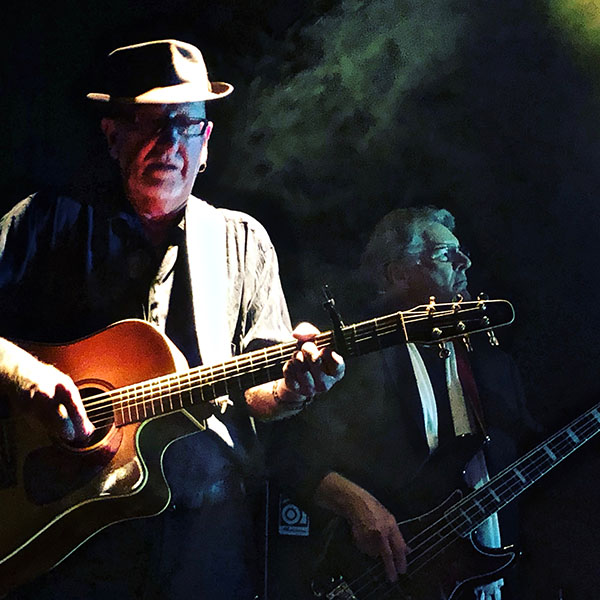 Jeff Sullivan and Warwick Gilbert.
Flaming Hands are and always will be Julie Mostyn and Jeff Sullivan. Jeff wrote the songs (and continues to do so) and Julie provides them a voice. It's great to see both sharing a stage and working with a stellar cast of players.
Given his connection to the vocalist, Warwick Gilbert was always a moral to be on bass (hey, it saves cab fares), and ex-Models member Barton Price (drums) was another logical inclusion, given the quality of his playing and presence in the band at its last outing 18 months earlier. Cub Callaway (guitar), John Hoey (keys) and Phil Hall (sax) makes it something of a 1980s inner-Sydney super group. Or a class reunion.
The set list is a crowd pleaser with some old arrangements tweaked and a new composition or two included. "Sins of The Father" is one really strong Sullivan addition. "Wild Boys" opens. "Love Execution" and "Go or Stay" make for a stunning close. Nothing wrong with what came in-between. "It's Just That I Miss You" (a shared song with The Passengers) still aches with passion and yearning and "The Edge" sounds so much better played organically and bereft of excessive studio production.
Julie's voice – yeah, well, what's to say? It's every bit as powerful as it was back in the day.
The Aints! are The Aints! They've had lots of coverage at The Bar and the set was another strong one, split between "old" material and "new" old material. This was likely to be their last appearance for a while, with Ed Kuepper focusing on other things for a time.
Their set was inevitably a chance for many of the players in the supports to mix with their friends and family outside the confines of the main auditorium – no disrespect intended to the headliner. The band room remained comfortably full.
"River Deep, Mountain High" is now owned by The Aints! but (again) it's the surging, primal "Nights in Venice" that steals the show. Kuepper doesn't as much shred as torture his strings and Paul Larsen near pounds his kit through the stage and into the lower-level of the club.
The smoke clears. The lights go up. The bouncers demand we clear out. So 800-plus happy people do go gently into the night. Still buzzing.
Tags: sunnyboys, richard burgman, peter oxley, flaming hands, shy impostors, penny ward, the aints, the professors, sedition 2019, feel presents