That's when vibe ends, first up we hear Jesus Lizard have cancelled, ok shit happens, but when so many hardcore fans had bought tickets and were travelling interstate just see the band, and there was no talk of refunds, annoyed some. Then the change of venue due to poor ticket sales, the whole ATP festival vibe was now settling into a joke. And within two weeks to go no word of tickets being sent out, flying down to Melbs appeared to be a shambolic mess. We did have a "mystery band" as a replacement for the Lizard that was it. We did have the history of replacement venues The Palais and The Prince of Wales.
Hey, it was still St Kilda: so first stop was midday beers at the Espy. It still could be good we convinced ourselves. After we line up, we enter the Palais; another beer; and we stroll in, as we are told there is no booze in the venue... then the announcements start. I am feeling like I am at a revisit of Johnny Cash at San Quentin as I felt they were going call out our prison numbers. No dancing. Stay in your seats. Fuck, the Fun Nazis are at work here. Should we go to the pub? Naw, we head into the empty venue, make our way to the nose bleed section (who knows why we got allocated those shit seats) but in the darkness we look down and UV Race are well into their set.
I liked UV RACE, but I think I like the UV Race's record collection more, in which, I am sure I would find Pere Ubu, early Devo and B-52s. Short jabbing two-minute blasts, with X-Ray-Spex saxophone from Georgia Rose over the classic snotty garage barre-chord garage anti-guitar. Vocalist Marcus Rechsteiner bellowed "I'm fat" with frantic pace, and with unpretentious hollow: UV Race would be a hoot in tiny venue.

I spose the organisers had a sense of humour to replace JESUS LIZARD with THE TWERPS, as the "mystery band" all the hardcore who travelled far, in a field interstate were to hit with their near perfect indie pop and jingle-jangle. One part Velvets, with one part Go-Betweens, and many parts Flying Nun. They never reached overwhelming heights: and they are certainly polite and sincere. I can see them being the darlings of community, and US collage radio, with the Fitzroy hipsters clutching their latest vinyl release. That said it is classic four-chord pop, strong melodic vocals buy Martin Frawley and understated classic mustang twang with hooky guitar lines, and "Dreaming" being a highlight in the Twerps are well-tried territory.
St Kilda was home to Rowland S. Howard so the settingseemed fitting. Pop Crimes was a tribute played by, and organized by those close to him, in the life of the enigmatic, hugely talented and sensitive Rowland. And by all reports it was one of the Melbourne gigs of the year a few months ago. I had heard many "Ed you should have been theres" and it was the convincing factor why I was in Melbourne now. This time we make our way into the now almost full venue with smuggled Coke bottles in hand, heavily spiked with Gentleman Jack, as Genevieve McGuckin takes her position behind her keyboard and Harry Howard straps on his bass. There is feeling of celebration and nervousness.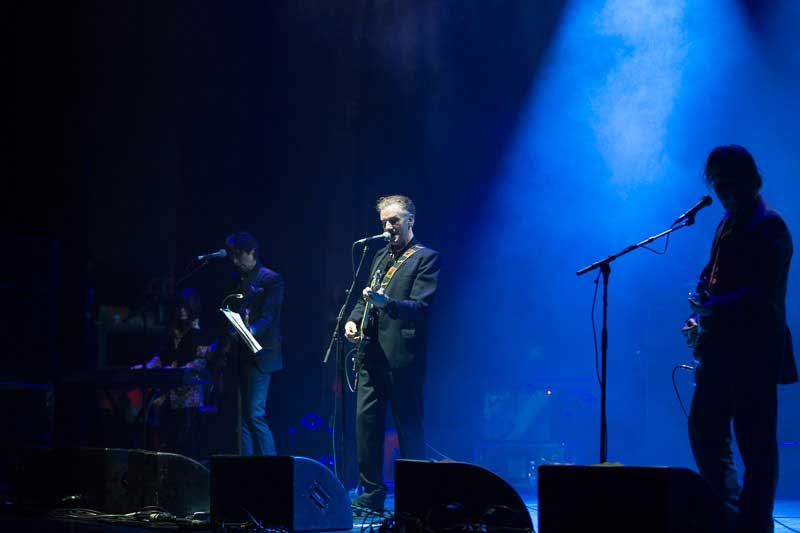 Mick Harvey leads the tribute to Rowland.
A band shamelessly ignored at the time, It is essentially These Immortal Souls in full flight with Conrad Standish taking on the vocals on "King of Karlifornia". The swirling and the haunting quality of the band, with McGuckin's sense of darkness, timing and harmony with her keyboard lines that reclaims their St Kilda for the band, in which had sensibility of shadows of Berlin. Harry follows on with lead vocals on "My One Eyes Daughter" and we are given beautiful sense nervousness; it is finally when Mick Harvey finally takes the mike the applause erupts as he takes the vocal for "So The Story Ends". "Marry Me" was the first haunting single off TMS and is perfection and almost leaves depth of Gothic tinged wonder sung by Joanne C. Finally the last the first part featuring the songs of the TIS with "Crowned" with elegantly sung by S.P Shilo.
Mick Harvey and friends pay tribute.
We all felt privileged so far, as Mick Harvey explains that we are to concentrate on Rowland's last two solo albums. Unfortunately despite the last albums being what I felt as such a renaissance in Rowland's career, I was never able to see him live during this period with exception with a solo show. I desperately wanted hear these songs with a full band and production. I was not to be disappointed. Brian Hooper saunters on stage and takes up the bass, Mick replaces Craig Williamson on drums, and we have Timothy Howden sitting back with his violin. The band launch into "Pop Crimes" with Harry back on vocals, then followed into a by a lush version of "Dead Radio" as the violin souring, with Harry now on acoustic guitar with another change in vocalists with Joanne Standish. The highlight of this part of the set is the finally with Harry Howard truly channeling his brother with songs played with a subtle, yet with this ethereal and almost subversive quality ending with "Autoluminescent" and "Golden Age of Bloodshed."
My only criticism was the fact that there was no "Shivers"; I can understand why they wanted to ignore Rowland's signature tune, to be understated and less obvious, yet it was his most covered song. Written 36 years ago, maybe it was too obvious. Pop Crimes indeed was a fitting tribute, and there were many kids here that were being introduced to his music for the first time. It was majestic, at times haunting and sensitive.
Not sure when I first listened to Marquee Moon. It was period of intense discovery - there was so much new music - at a time when every cent was spent buying vinyl. I am not sure, even, If I knew the motivation behind why I bought the album. The cover did not give much away - four really skinny blokes sorta looking New Wave. They could have been The Cars, or even Simple Minds. It was not not; they were timeless. The album, in fact, had been out for many years. They were mysterious. It was like Dylan, it was like Lou with the New York phrasing, but it was the urgency, they were had a sense of garage rawness and small clubs. And those guitars. It was the interplay. Guitar lines that you hummed, and started swirling in your head for weeks with one listen. It sorta sounded a bit like Dick Dale surf guitar, maybe a nod to Mike Bloomfield, but it (and they) sounded nothing like that. It was the way Verlaine played; his approach to scales, playing along the single strings like a violin player. I feel in love with the chime of Fender Jazzmasters, I fell in love with Sunburst Jazzmasters. Now I was at ATP and I was here to see Television.
Tom Verlaine wanders on stage, tunes up, no real acknowledgement of the 3,000 people waiting patiently. The whole concept of treating the album as this holy religious artifact 35 years after its release does seem so far removed from the pure sensibilities of the anti-rock star, at the time, and the urgency of the CBGB vibe. Was this not a reaction to the growth of Dark Side of the Moon, or the pompous Yes albums? Maybe not but I feel it may had crossed Verlaine's mind.
They launch into "See No Evil" and I am now completely in bliss, they are here. It is them. The sound is clear, with guitars cutting across with distinction; with an energy that is not quite captured on the album. Tom's vocals are little down in the mix, but that distinctive phrasing was present and his voice live was actually even stronger than on record. Then, an extended version of Venus, I stand up, attempting to move closer. Now wanting to get a better view of the guitars; there are no Jazzmasters. Jimmy Rip, the Billy-goat bearded Richard Lloyd replacement, is playing a Telecaster and Tom some obscure Strat-looking customized guitar. The Vox AC30s are the real deal.
The opening riffs of "Marquee Moon" begin and against an explosion of applause, builds into a 17-minute workout, soaring, floating away and lands back in perfect precision. "Torn Curtain" is less successful, loose, sloppy falling into a Spaghetti Western workout, and it somehow just manages to finish without falling apart. The problem is that the original album is less than 40 minutes and Television are on Stage for an hour. Which pushes the boundaries of the workouts and with gaps between songs tune ups and silence. The band soars a few times, delivers, but never explodes. Certainly compared to the Sydney Enmore show the following week where we get a much more comprehensive and diverse set and an insight into the Verlaine of 2013. I was satisfied, however, and saw the limitations with this type of performance of only presenting one album. Hey we finally saw Television. It was so cool.
I was a little hesitant about The Scientists, unsure what was to turn up and believing it was the 1979 lineup - but then I was told otherwise. To add to this, I was somewhat disappointed by Kim Salmon's lacklustre performance a couple days previously at The Tote. That disappointment was replaced by the theatre being shattered by the pure monster beast of the early '80s lineup in full flight.
As the tracks of "Blood Red River" flowed, it was the band that for me represented so much time spent at the Strawberry Hill and the Trade Union Club 30 years ago. The guitars screamed, pushing the Vox AC30s into complete fuzzed-out overdrive. Highlights of the set spat with their take no prisoners attack, as Kim bellowed, spitting the words, placing his Tele down and stamping his ground with his harp on "When The Worlds Collide", the obscure single that was a give-away at the Trade, and building up and into intensity, to be followed by "You Only Live Twice". Tony Thewlis steps in with big muff fuzz of the opening of "We Had Love" as Kim straps on his guitar again. As soon as Boris Sujdovic and Leanne Chock kick in, the almost full to capacity Palais erupts, sending the Fun Nazis into a flurry, running around attempting to get people back into their seats. Finally "Swampland' finishs the set and The Scientists walk off knowing they conquered ATP.
The band always had soul, yes the obvious clichés in the press releases that calling them the fathers of grunge and the Seattle sound. The reality are that they were snotty Perth punks who listen hours of Television, Ramones and New York Dolls records and dramatically evolved. For me, it has had the hint of the darkness of the Delta: Tony Joe White and the early blues swamp Beefheart that really have given them a timeless quality, with they attacked and played with volume and intensity of the Stooges. Here it is, 30 years since The Scientists supported The Angels at Parramatta Leagues Club, confronting the pub rock boogie audience with how they defined rock 'n' roll. Now they're hailed as one of Australia's most Influential bands, but at the time The Scientists were met with a barrage of cans and bottles. Defiantly, they refused to leave, and they won. Thirty years later nothing has changed, except the audience reaction.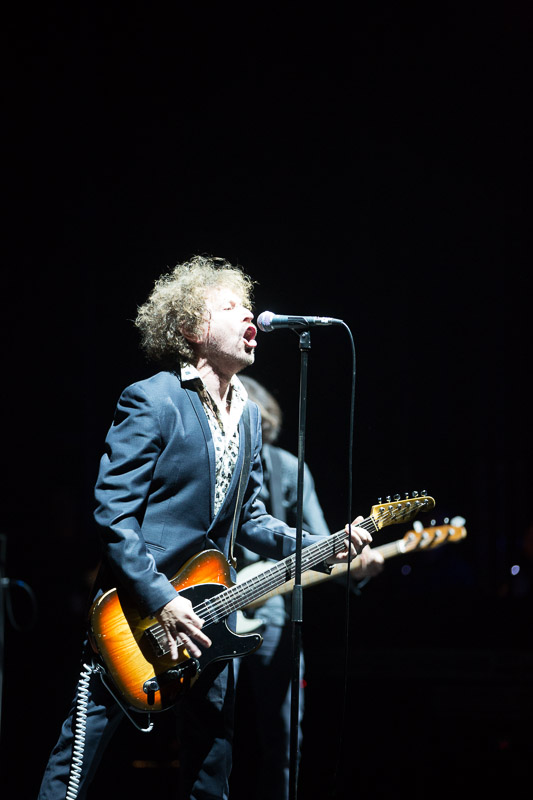 Kim Salmon fronts The Scientists.
OK, I must confess; I am not a Fuck Buttons fan, I have seen them once four years ago - a pair of Poms making ordinary electronic noise - and walked I away then, nothing new: time to have some food with my coolest Melbs music friend (and like schoolkids, go over what we had seen.) We make our way back in time for The Breeders. The venue is now is completely packed.
I really liked The Last Splash as an album and The Pixies were drifting into banality towards the last year. I was reminded of first side project album POD; it was minimalist and fresh and the album told us how a fair whack of The Pixies' creative drive was in fact Kim Deal. The Last Splash came after the Pixies broke up: the album sure was pop, quirky, rocked at times, but remain with an absurdist bent. I always liked them live at the time. I was reminded of how the identical twins, the Deal sisters, adored performing and loved their fans, greeting them with beaming smiles and waves. So it goes with Josephine Whigs as they walk on the stage and launch into "New Year"
The quirky sound, and Casiotone intro, of "Cannonball" explodes, and it's the song that that is received best all day. Maybe it's too early in set for their best song, but they are playing the album in order. There is lots of between song banter, at times inaudible, but the Deal sisters are so likeable with their polished humility. This tells me they are in fine form, as I remembered them. My main criticism of running through an album (as I mentioned earlier) is that it's making these LPs into a Holy Grail retro item for the hipsters. This music should be about reaction, rooted in punk, and a redsponse to the music that is pompous, that lost sight of the song. Albums full of fillers and clueless mid-'70s pretention.
Maybe The Breeders were in fact an alternative band? The alternative was now becoming the mainstream by 1993. Maybe it was reaction to the boy-o lumberjack wearing Sub Pop male dominated driven sounds of a few years previous. It was their Dr Who '60s Moog sounds, a nod to Krautrock, with their creative short blasts of cool attitude that is mingled with some killer tracks, all classic hooks with thrashings of melody which makes the album still sound relevant now. The highlights are "Divine Hammer" "Invisible Man" and "Saints." The band pleased their fans and made for a lighter breakaway from the day. We needed to dance, wave our sparklers in air and hug at the end of their set.
The Fun Nazis are now beside themselves, frothing at their mouths, with wearing their uniforms with pride. At first we are dancing in the aisle, but we are moved in on. We stand to the side and then we are moved on again towards the nose bleed section. I watch on as those who are just simply enjoying the show are being abused and yelled at by the staff of The Palais. Yes, it is a heritage building, but this is not fun, not cool. Not the best memory of my Melbourne All Tomorrows Party experience. Maybe the promoters worked so hard, and much of this was out their control, but I am off to the after show party, and we are finally getting out of San Quentin.