The Buzzcocks live in Australia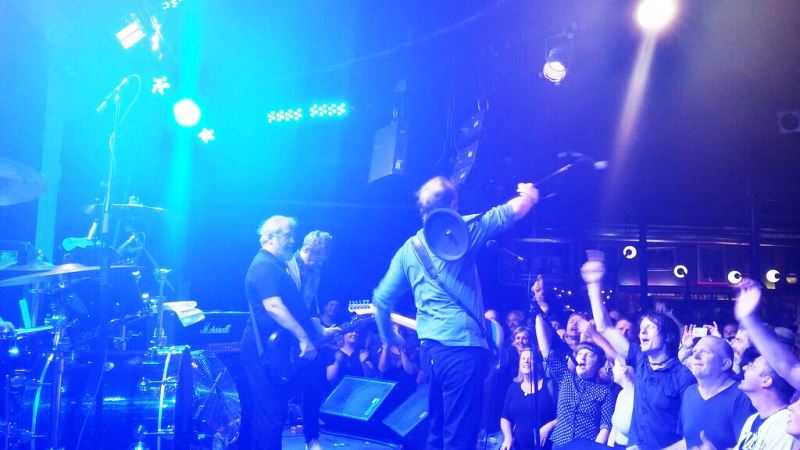 Nick Spaulding photo
Everyone, it seems, has seen The Buzzcocks. Usually many times. Why?
The old songs always bring a smile or a rueful thrash as we contemplate our ghastly mistakes in love, and our splattergun rage at … the way things are. Dammit.
Buzzcocks + Subtract-S
The Gov, Adelaide
March 22, 2016
Photos by Nick Spaulding
Here's a quote from an interview with Pete Shelley by Andrew Shaw that might shed some light:
"I mean, sometimes on a personal level they're about guys. But really, the universality of the songs is the reason why people take them to their heart. I didn't actually write gender specificness into the lyrics, so people can apply it to any relationship they have. It's always been my feeling that the feelings you have for the people and the affection and even the lust is something that isn't really tied down to gender.
It's a bit more fluid… It isn't an attempt to be autobiographical. For me it's something that people can see themselves in. And people say they are in a relationship and it's not going to plan and the song says to them what they want to say. It's a useful thing to have around."
But we start tonight with a band beloved of many here in Adelaide, Subtract-S.
Wonder no more: go here where their five EPs (five!) will cost you shrapnel and they're a damn fine, jolly time. Tonight, Subtract-S have only have 30 minutes, at the wrong end of a mid-week gig and punters are still rolling up as they start. Within two songs, the front is packed, the bar forgotten and people are smiling as well as dancing, and more punters scramble in and head down the front where the fun and the personal interaction is.
Subtract-S - well, I won't bore you with who their influences might be. Quite honestly, Subtract-S are beloved for a reason. They get people moving, up off their seat and they spill their drinks, go back to the bar for more and spill those too.
Heartbreaker Tom on three (count 'em) keyboards and vocals, Sam on liquid bass and vocals, Paul on pacy, ripping rhythm guitar and Iain on well-thought-out drums (boy is he good: any other drummer would not quite know how to do anything other than bang along; he lifts the band into a different dimension).
Subtract-S are tight beyond what you have any right to expect, and like the Buzzcocks they're four blokes making a wonderful racket. Subtract-S make you want to run out into the night and hug and kiss strangers.
(For Adelaide readers, you have no choice: They're next playing on Saturday April 2 at The Little Bang Brewing Company Launch - 8a Union Street, Stepney - followed by a gig on the 9th at Worldsend. Then Subtract-S and Heartbreakin' Tomway Army have a split residency alternate Fridays at the Grace Emily in May. You know what to do, ruin those dancin' shoes. Mind you bring your lipstick. And, possibly, your dipstick.)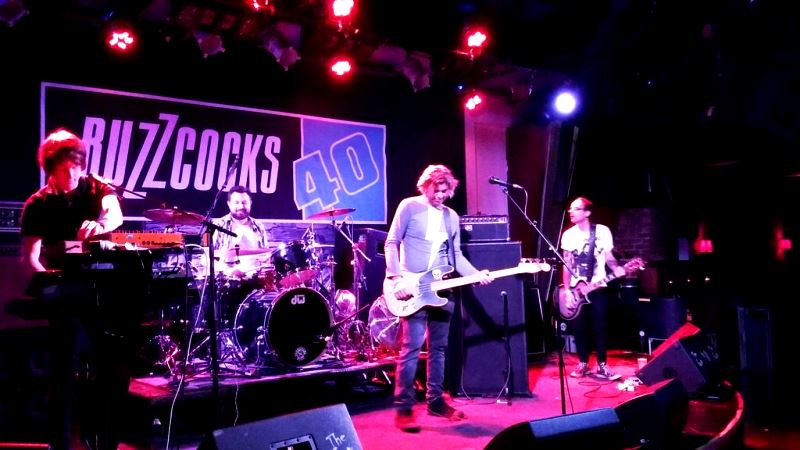 Subtract-S doing their support job. Nick Spaulding photo
So, ho to the Buzzcocks ('it's a buzz, cock!') . As any fule no, from the astonishing "Spiral Scratch EP, the first three LPs and the swag of singles (culminating in the trio in 1980) are the last word in modern brit Mod love songs, elegantly penned by a man who is homosexual. It's rather wonderful that The Canon is so beloved by so many, and such a broad range of people.

That said, their last six albums have not been seized upon by either the underground (the last two being "Flat Pack Philosophy" and "The Way") or the overground, so perhaps it's time they released a "Best of" the last half-dozen albums, along with a single or two and a few lost rehearsals. Canons are fine, but people have a life after The Canon; while I enjoy listening to the band's early BBC sessions, I'd rather listen to "The Way" or "Trade Test Transmissions".
We're seeing The Buzzcocks at the tail end of their 40th anniversary world tour; one more gig after us and they can go home. I've seen them better than tonight, no question; and I've seen them worse. Their last gig here was a series of breakneck gallops through albums, all completely note-perfect. They worked damned hard at that.

I've seen gigs where Diggle was able to shove his classic guitar lines through a skronking, squealing blender and it was wonderful - and I've lost a bit of my hearing because of it. Xuriously, after tonight my ears ring far, far more than they did after seeing Sunn0))). I've seen Buzzcocks gigs filled with love, I've seen one gig where the audience loved them until they played a few songs "from after 1980" which caused everything handy to be flung at the band.
Every time I've seen the Buzzcocks they have been unbelievably tight and every time I've seen them there is a minimum of fuckwits slamming into everyone down the front (if I hear the moronic excuse "But it's a post-punk gig!", I will not be responsible. I mean, if I wanted my neck broken and my bottom surreptitiously fondled, I'd have joined a rugby team …)
Although a few drongos do show up, they are swiftly escorted away by firm, no-nonsense bouncers and there's a maximum of smiling happy faces. It's the songs, like I said earlier. They mean a lot. We can relate. We've all been there, and Shelley's eloquent, everyday expression of exactly what we feel … yeah, these songs are important.
Tonight, despite showing signs of tiredness, the Buzzcocks push out a damn fine show - with the emphasis more on their earlier songs than any particular LP. There are two songs from their last album "The Way". Tonight they're playing a game with themselves, tinkering with The Canon; all that 'note-perfect' stuff must've been tiring. When a band can still find new life and love in their songs (Hell, especially when two are aged in their 60s, for fuck's sake), that's the hallmark of a great band.
Look… The Hoodoo Gurus would struggle to bend their songs into this kind of shape, and still have the crowd howling love and singing along like trained baboons; "Harmony in My Head" was particularly delirious bang-along; "Nothing Left" and "It's Not You" were grand, skronking, squealing and assaultive workouts.
Steve Diggle is his usual lunatic self, out-Pete Townsending Pete Townsend (the Buzzcocks were the one band lumped in with UK punk/ new wave which had more in common with the Mod movement than, as far as I am concerned, than any other band of that period - and no, The Jam were faux Mod, template Mod, but the Buzzcocks embraced the modern world far more credibly than The Jam … I mean, when you read about Pete Shelley learning to program computers to make music in the mid-7ts you realise … Oh, alright fuck off, then).
Pete Shelley is his usual deadpan self, often patiently and fondly watching on (he doesn't seem to handle as many of the vocal duties as he used to, sadly, and I assume his glorious, soaring, vulnerable tone must be hard to maintain night after night). Chris Remmington (bass since 2008) is his usual bass-player self, flip and tight and concentrated, Danny Farrant (drums since 2006) is his usual flatten-us-all-beneath-a-good-old-British-hammering.
Danny is a fucking wonder, by the way, you wouldn't dare go out with him for a night on the town, he'd be still dancing at 7 am (without whizz) while you'd (and me'd) have collapsed in a doorway four clubs ago (with whizz).
(ED: Whizz is speed, if you don't know.)
What the hell makes this band work? It shouldn't, not really. The striking thing about them as a band is the collection of characters. A frantic show-off guitarist on our right, cheery and cheeky and over sixty (face it, punk is 40, which means … we're all fucking hideous and old) with precisely two pedals while a tubby chap with a real-ale quaffer's silver beard and a battered black guitar with no pedals whatsoever, a sharp-looking chap on bass and a the afore-mentioned cheery maniac behind the kit.
They look like the blokes behind-the-scenes at some sort of advertising firm; but rather than think suits and sad expressions … think Eddy and Patsy times two with guitars bass and drums, more guts, more brains and more imagination.
I've been listening to and watching the Buzzcocks since my friend Paul bought the first issue of "Spiral Scratch" and delightedly told me he'd deciphered a particularly difficult couplet; 'who do you think you're trying to arouse/ Get you hand out of my trousers' from 'Boredom'. I recall being awed when I heard the EP, and it's still a favourite. I know many of the crowd here tonight; we have a spatter of Adelaide's familiar performers are here, such as Dick Dale (with a GG Allin patch on his jacket) and Bob Lehermeyer, who decided for reasons best known to himself to lick Diggle's shoe.
Here's the set (as written):
Boredom/ Fast Cars/ Totally From the Heart/ I Don't Mind/ Strange Machines/ Whatever Happened To?/ Autonomy/ Chain Store/ Pulsebeat/ Nothing Left/ Sick City/ It's Not You/ Love You More/ Promises/ Noise Annoys/ You Say You Don't Love Me/ Time's Up/// [encore] What Do I Get?/ Orgasm Addict/ Ever Fallen In Love/ Harmony in My Head
There was no second encore, but hands reached out to touch them and the band shook hands with everyone they could reach, listened patiently as their shirts were hauled on and vital messages bellowed. Danny dashed back and grabbed his iphone and filmed the crowd bellowing and carrying on like a densely packed crowd of apes on Banana Day.
The dancefloor took quite some time to clear as friends found each other and love was exchanged.
Buzzocks on the Web

Buzzcocks store

Tags: punk, live, buzzcocks, subtract-s, 40th