The Metro, Sydney
October 21, 2015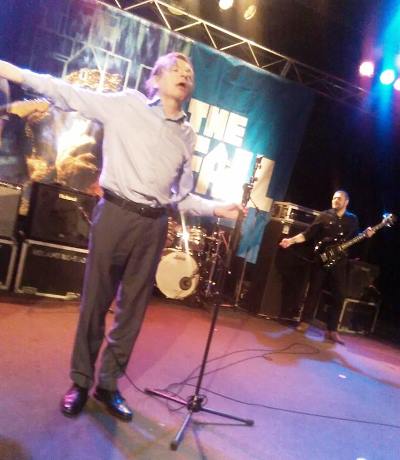 That said, why don't promoters ever get off their arses and do research on bands that suit the headliner? Sydney has some real underground bands with the same sensibilities of chaos and "fuck you" as The Fall. I'm thinking the sinister and sneering Nice Folk or chaotic garage merchants like Vaporised would have been more in line with the night.
The Fall have now existed for just on 40 years and have yielded significant productivity with an output of 31 albums. By the late '70s they'd evolved into being a chaotic soundscape from the psych-outs, mixed with pure garage rock sensibilities, accompanying the endless sermons of the Mark E Smith.
Yes, Mark E you rude, detached enigmatic wordsmith. Lyrically, I put him somewhere between John Cooper Clarke (another Manchester son) with Orwellian social observations and aura of a sneering and demented Ray Davies.
If the doors hadn't been ripped apart with the acceptance of new raw music in England in 1976, I could not think of another time that Smith could have emerged in the world of rock n roll. He still would become a significant social observer and poet of merit, in any case.
It was 2010 in Melbourne last time I saw the band. The penny had dropped, I really got it. I understood The Fall. They've never been fully captured on record. They took an eternity to come on stage, pumping banal muzak through the PA (everything from from One Direction to Shakin' Stevens.) The Fall is the remedy for all the shit in the world like "The Voice". The idea of those wannabes and hopefuls of that dreary show being on Team Mark E Smith – well, I will go to the grave with that thought.
Just think: Shambolically performing encores from his dressing room while the band plays on...blundering around the stage around entangled in leads…deliberately resetting the volume and tone on the bass and guitar and bass amps and then walking over and adding bum notes to his partners' new wave keyboards...They Fall are infamous for having moments of chaos caused by Mark's determination to prevent the band from becoming just another group. He wants to be the non-rock star, to be in an anti-group. The teetering havoc is part of their thing. That is, treading the fine line between shambles and brilliance.
Here, I was prepared to witness what I believed was favourite gig of 2012, hoping that can it be repeated five years later. After a very, very long break the band finally shuffles on the stage, one by one. This line up is longest-serving and the tightest. Bassplayer Dave Spurr and drummer Keiron Melling are machine like: almost heavy metal compared to previous line ups. Hard arsed, workman-like and relentless and never over-playing, and leaving room for Pete Gateway's solid and effective guitar lines that are made up of solid chord work with the occasional punk-like, three-note solo.
The first song is performed again with no Mark E Smith in sight: Performing in the dressing room, finally he emerges - and The Metro erupts
Keyboard player and vocalist Elena Poulou was left to her own devices this show. Mark E usually enjoys standing over her, interfering by adding his own notes to the quirky synth lines to produce almost primal Kraut Rock sound envelopes and then adjusting the backline amps. The Fall must be a pain to mix.
It was probably because Mark E has a new toy to keep him occupied and satisfy his obsession with tonal settings and volume. There is small vocal PA on stage, miked-up. It's the sort used by countless garage bands as a practice amp. This gives the vocals the edge and as the show goes on, Marks return to adjusting his settings. Interesting.
Most of the set was taken from the latest album "Sub Lingual Tablet" and it's quintessential Fall, this time with the relentless garage band swagger and psychedelic shakeouts. It has Mark's characteristic sneer and caustic observations.
Clocking in just on 50 minutes they leave the stage and return for some eruptive encores. The second is without an appearance by Mark, then it is all over. Did I feel short changed? Well, yes, knowing this could be the last time I will see them. This time I felt they lacked the intensity and a planned assault on the audience. That said, The Fall was still more interesting and worthwhile seeing than 99 percent of everything else that's out there.
Yes, the performance clocked in at just hour. It was classic Fall, enthralling, challenging and at all times original.