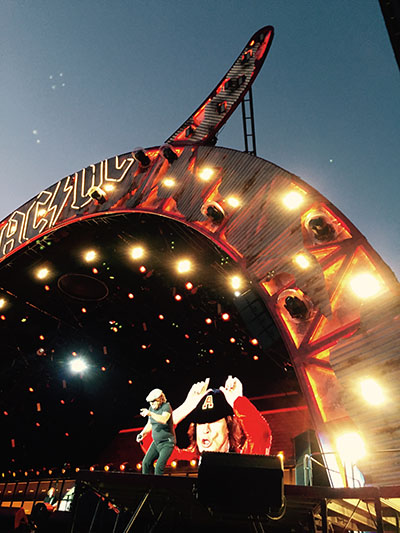 AC/DC + The Hives + The Kingswoods
Adelaide Oval,
November 21, 2015
Photos by Mandy Tzaras
It was a nice sunny day with plenty of breeze to keep us cool during the three hour wait in the long queue to get inside and claim our spot. Just us and a few thousand others, legions of fans in their flags, horns and colours …
AC/DC were due to come on around 8.15 and the crowd grew steadily more excited. The beers and Jim Beams were flowing freely as the sound of the crowd escalated. The smell of hot-dogs and salt'n'pepper squid from the vendor's vans made our mouths water but we didn't dare move in case we lost our spot.
The gates were due to open at 5.15 and - after security made a few announcements and replaced our bottles and cans with infant-like plastic cups - we made our way in, determined to get ourselves a prime spot, which we did…smack in the front row.
It was all too much for one little chap of about six whose fond father had him right up at the front … the little chap vomited, the fond father looked much less fond and took him away. They both made it back in time for the show to begin.
Melbourne band The Kingswoods were first. Some long haired characters with a short haired dude for a singer. They had my feet rocking and I enjoyed them, but I found myself thinking there were four different musicians here, each going in a different direction. Each song was distinctively different from the other, and I wondered what they were actually trying to say. They seemed a bit … mismatched.
When they find the one direction, then they can be one, rather than many. I was given the heads up that the lead singer has a nasty reputation for hawking up huge spits on stage, and sure enough he did. This put me off. Not very good for the next band coming on either.
The Hives, a Swedish band, were up next looking like they'd just stepped out of a film clip or a doctor's surgery in white jackets, ties and black pants. The Hives put on a big show, they had complete command of the huge stage. Their guitarist, Nick Arson, leapt around as he played like a demon, inciting the crowd, on his knees, throwing picks into the crowd, a cross between Wilko and Chuck Berry jamming in a garage.
Lead singer, Pelle Almquist reminded me of Stevie Wright in his tight jacket and long blond hair … and also of Iggy Pop. The Hives were really, really good, super-confident, spectacular in fact. They told us many, many times who they were, and they deserve your attention: "I've been told I'm an arsehole! What am I? An arsehole!" Great fun. I'll be going to see them when they come back on their own. "Hate To Say I Told You So" but the Hives had us itching…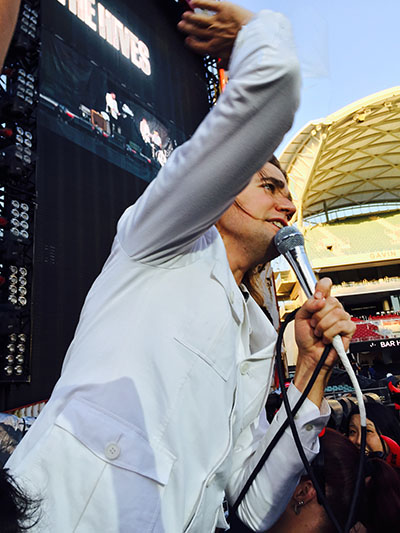 AC/DC came on at 8.05, clearly keen to get at us, starting with "Rock Or Bust".
Here's the rest of the set, some of which was new to me.
Shoot to Thrill/ Hell Ain't a Bad Place to Be/ Back in Black/ Play Ball/ Dirty Deeds Done Dirt Cheap/ Thunderstruck/ High Voltage/ Rock'n'Roll Train/ Hells Bells/ Baptism by Fire/ You Shook Me All Night Long/ Sin City/ Shot Down in Flames/ Have a Drink on Me/ T.N.T./ Whole Lotta Rosie/ Let There Be Rock (huge Angus guitar solo)
The encore was "Highway to Hell" and "For Those About To Rock We Salute You."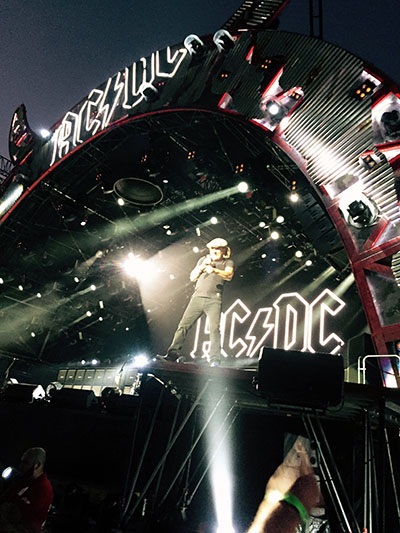 The crowd roared yet were really quite well-behaved. There was no major violence, no moshpit, no stage-diving. The band weren't cocky or arrogant, they were down-to-earth, energetic, and quite humble. Even with all the lights and sounds and huge bell and all the rest, I got the feeling they weren't out to impress, just to remind us of who they were. And why we love them. They're living legends, but I did wonder at one point just how long the legend would go on for.
I loved "Highway to Hell", that really got to me. The huge video screen behind the band was showing spectacular flames, and heat came from the side of the stage in gusts encircling our bodies.
"Dirty Deeds" was great, one of my favourites, watching Angus' face and his cheeky little grins and expressions, they're the thing that makes the difference between hearing the band and seeing them. He did this throughout the show, with his trademark legwork, and I'm sure he noticed my Chris Masuak T-shirt as well. He was thinking as he was playing and he stopped for a second as he looked in my direction, and his expression changed, he seemed to be looking at my T-shirt, then he seemed to recognise what it was, grinned like the pirate on the shirt, and hopped away, still playing. The man never stops.
I really liked "Have a Drink on Me" - I'd never heard it. Compelling. At that moment I didn't have a drink and really wanted one.
"Let There Be Rock" had what seemed like a 20-minute guitar solo from Angus. He walked, still playing, from one end of the stage to the other, every corner he could reach. I was especially moved to see him on the walkway, surrounded by a sea of people, everyone of them loving him, playing his heart out. It was so moving, I think partly because he occupies the role of a little boy, and he is so so pale, so fragile, that seeing someone so exposed just … well, I had to wipe aside a few tears. That was the best part of the show. Angus was even playing the guitar with his tie.
It was surreal for me really, the last time I'd been here was the Rolling Stones, icons and idols from my youth, and we were miles away from them, and yet here I was in the front row, only five metres from AC/DC. The light show was spectacular, the sound was gigantic and, although Bon Scott is long dead, his power and influence on this band remains like a ghostly hand on the tiller. Brian Johnson is a superb performer, he and Angus went out of their way to engage the crowd with spectacular amounts of energy.
There was a cannon salute to herald the end of the show, and the fireworks began, silver paper shimmered down over the entire oval creating a magical lightshow. We were rapt. We'd been in hell, yet they made a good place out of hell. The last words Brian said were: "We salute you, Adelaide!" but I say: "We salute you, AC/DC. Let there be rock!"