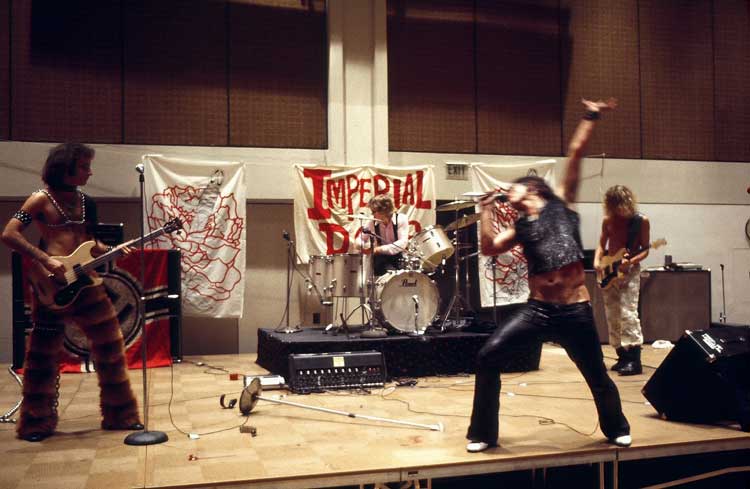 In recent years, as I've hit an age where time fucking flies by, and an entire decade has passed by in what feels like no more than a couple of years, it's struck me that all this talk of pre-punk punk rock is kinda misleading. I mean, when I was younger, I used to imagine there was this huge period in the mid-70s where nothing was happening, apart from a few bands dotted around the globe who remembered the Stooges, MC5, Velvets and Dolls. But really the gap between the Stooges disintegrating and the Sex Pistols forming was what - not even a couple of years? The New York Dolls were still around when the Ramones formed for Chrissakes. There was no great chasm between the progenitors and their progeny - they came back to back.
Ed Kuepper has said that the early Saints actually saw the Dolls as contemporaries, which supports the point. There wasn't really this long period in which nothing was happening like I'd always imagined - it was more a case of the cool stuff was happening throughout, and no one was really paying attention. To the progenitors or their progeny. And as soon as people did start paying attention to this stuff, everything accelerated to the point that punk quickly became post-punk and the whole '70s rock thing was looked upon with scorn. So the 'pre-punk' punk bands aren't 'pre-' anything in my mind now, they're more like the final flashes of high-energy rock in the '70s. If haircuts and clothes were anything to go by, all these so called pre-punk bands were definitely a continuation of something old rather than the start of something new (except for Television, and they definitely were something new).
Which is not to belittle any of the bands that are usually called 'pre-punk'. These guys are heroes in my mind. Picking up on a 'movement' (if you could call it that) that was in its death throes, that had proved commercially disastrous and ineffective (at the time) as an agent of social change - that took real dedication.
There's a pig-headedness and bloody-mindedness about all these bands that I love - and I'm obviously talking about the Imperial Dogs here, as well as Kid Galahad & The Eternals (aka the Saints), Radio Birdman, Rocket From The Tombs, the Hollywood Brats, the London SS (anyone got any tapes?), the Dogs (who were doing Groovies, Velvets and Kinks covers in France as early as '73 I believe), Simply Saucer and others. Indeed this bloody-mindedness was probably what was so inspiring to the handful of people who actually witnessed these bands, and why they've been dubbed 'pre-punk' in the first place. So my whole point here may be kinda moot anyway...
Whatever. What this is all ultimately leading to is a brief review of the fantastic new DVD by the Imperial Dogs entitled "Live! In Long Beach (October 30, 1974)", and a "chat" with their lead singer Don Waller.
Debuting in LA in March '74 (although they'd previously played out under a couple of different names - all is outlined below), these guys had a head start on the very like-minded Radio Birdman (but not on Deniz Tek's outfit TV Jones or Rob Younger's and Warwick Gilbert's Stooges/MC5/Dolls covers outfit The Rats). They were directly inspired by witnessing Iggy & the Stooges ' legendary run at the Whisky.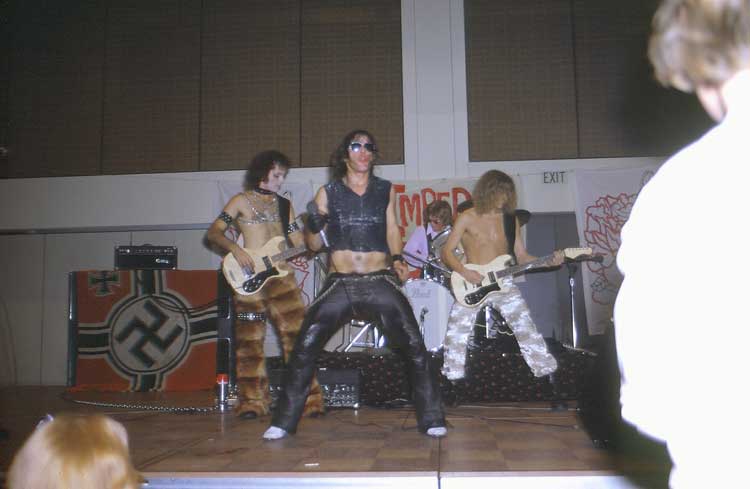 Best known historically as the band that wrote the lead track on the Blue Oyster Cult's "Agents of Fortune" album "This Ain't The Summer of Love" (in truth the Cult only took the title - and theme - and the "This ain't the Garden of Eden" line, but that was more than enough to garner Waller a co-write credit), they never recorded in a proper studio and never released a record in their lifetime. They've previously been the subject only of a posthumous 7" on Back Door Man Records in '77 and LP on my own Dog Meat label in '89. This DVD, featuring an entire show shot on early bow videotape and stored in Waller's cupboard for a third of a century, is their first release in the digital age, and it's mind-blowing great.
Sounding better than the previous vinyl releases, this is glorious stuff that brings to mind not only Iggy & co, but also "Love It To Death"-era Alice Cooper and Ron Asheton and Dennis Thompson's band The New Order, who these guys later became pals with. It has a metallic edge, but is stripped to the bone, and guitarist Paul Therrio has a killer and very pure (effects free) tone. In its own way it's maybe as dated as The New Order (whose 'Rock 'n' Roll Soldiers' was covered by Birdman and adopted by Birdman splinter group The Hitmen as their own anthem), but I have no problem with that at all. That just means their music really encapsulates the time and place of its creation.

Indeed, the Imperial Dogs sound exactly like they look, and as the color shots here show; this was a very '70s looking and wild looking band. You lose some of that with the b&w footage, but that's more than made up for by seeing these guys - Waller, in particular, who is an animal - in action. What may be surprising more than anything to anyone who hasn't heard these guys before though is the quality of the songs, which are all great - jam-packed with killer riffs, big hooks and vivid, cool and funny lyrics. If these guys had recorded at the time, their album would definitely be one of the iconic releases of the era.
Even if you don't think you care enough to buy a DVD by these guys, be aware that this is effectively the only way you're going to get these tunes, so just think of it as CD with added visuals. If you don't have some elaborate home entertainment system just whack it on your computer or even on your TV and turn it up loud. If you like any of the music that this site covers, this is something you really have to hear.
I've been fortunate enough to know Imperial Dogs mainman Don Waller for something like 20 years now, since I first spoke to him to find out if there were any tapes in the cupboard that I could assemble for a release on Dog Meat. We lost contact for a long period of time, but thanks to the Internet we met again, and thanks to the benefits of work-sponsored travel I finally hooked up with the man in LA a few years ago.
The following 'interview', conducted via email, covers a lot of fascinating ground, and includes references to the greatest rock'n'roll fanzine of all time, Phast Phreddie Patterson's "Back Door Man", which Don was a major contributor to. Enjoy what follows, and check out the Imperial Dogs online at their website and their Facebook. There's also a MySpace for Back Door Man magazine here.
DL: So, Don, how did you and your buds discover the Stooges and all that stuff? Initially the band was more Stonesy - yeah?
DW: We read about the Stooges (in Rolling Stone, Creem, Rock Scene, Hit Parader, Phonograph Record Magazine, Los Angeles magazine, etc.) 'round about the time their first album came out. I saw the infamous Cincinnati Rock Festival footage of the Stooges when it first aired on TV. But, of course, we never heard them on the radio.
We started listening to their albums 'round about 1973, probably when "Raw Power" first came out. I've got old set-lists where we're doing "Search And Destroy" and the Detroit (featuring Mitch Ryder) arrangement of the Velvet Underground/Lou Reed's "Rock And Roll" and the MC5's "Sister Anne" in early 1973. We started looking for the first two (Stooges) albums and found 'em in cut-out bins for anywhere from 99 to 49 cents. I remember Phast Phreddie buying up every copy he could find and selling 'em or giving 'em to people he thought needed to hear 'em or would really appreciate 'em.
Same with the MC5 and the Velvet Underground -- although I distinctly remember hearing "Heroin" on the radio exactly ONCE ('cause how could you forget something like that?), who we'd read about in Creem, etc. Parenthetically, the first issue of Creem I ever saw was the one with the Frut on the cover. I still have that. Paul Therrio and I and a vanload of our pals all went to see Alice Cooper -- and we were glad to see that Howlin' Wolf was one of the opening acts! -- at the Hollywood Palladium just after Killer came out. And, of course, the glitter/glam-era with Bowie was happening, so all these acts were caught in that updraft which gave them more exposure in the press, if not on the radio.
But it was seeing the "Raw Power"-lineup of Iggy Pop & The Stooges live at the Whiskey-a-Go-Go in 1973 that really changed the way we thought about things. I personally saw nine shows, including both of the opening nights of the two different week-long stands they did.
But we were always seriously intent on being a "high-energy rock and roll band." When me, Paul, Tim, Bill, and rhythm guitarist/Paul's surf buddy, fellow North Torrance high school alumnus Ron Vaselenko (Bill's the only one from Carson) first got together as Sugar Boy in 1972, we played -- in addition to our own songs (and we always did our own material from Day One) -- the Blue Oyster Cult's "Cities On Flame With Rock And Roll" and the Move's "Hello Suzie" alongside the Stones' "Gimme Shelter," the Faces' "Had Me A Real Good Time" (and the Small Faces' "Afterglow"), the Yardbirds' "For Your Love," Eddie Cochrane's "C'mon Everybody," Chuck Berry's "Down The Road Apiece," Earl King/Jimi Hendrix's "Come On," the Sandpebbles/Black Pearl's "Forget It," Randy Newman/Crazy Horse's "Gone Dead Train," and Bob Dylan/Them's "It's All Over Now, Baby Blue."
But, yeah, we also did stuff like Muddy Waters' "Don't Go No Further," the Climax Blues Band's "Reap What I've Sowed," Savoy Brown's "Flood In Houston" and "Tell Mama," Fleetwood Mac's "Black Magic Woman," Z.Z. Top's "Bedroom Thang," and Free's "I'll Be Creepin'." After all, Paul could play slide guitar and harp, so we made use of that. And yeah, we wore a lot of flash clothes (I had a rust-colored, double-breasted velvet suit)and carried on like a cross between the Stones and the Faces -- although we used a bullwhip on one of our original tunes and did a nasty straw hat and cane routine on "Hello Suzie."
By the beginning of 1973, we got sick and tired of the constant Stones comparisons (and the rhythm guitarist), renamed ourselves White Light, and got rid of the bluesy material. That's when we started doing all those Stooges, Velvets, and MC5 tunes that I just mentioned alongside the Who's "Baba O' Riley," the Kinks' "'Till The End Of The Day," David Bowie's "Suffragette City," and Fleetwood Mac's "Station Man."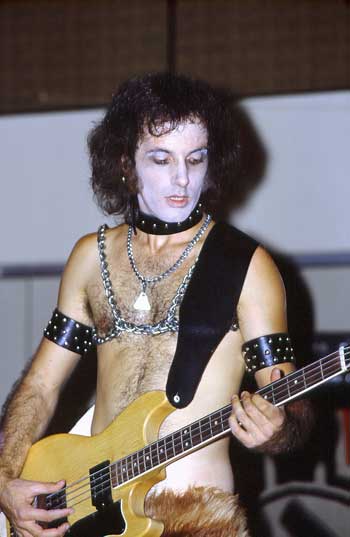 Around this time, we saw the New York Dolls play their first L.A. shows at the Whiskey. (You can see Paul and I and Tom Gardner and some of the rest of our pals standing on the street waiting to get into the club in that Bob Gruen documentary.) We liked their records, but thought they were incredibly sloppy live and weren't likely to convert the unconverted. And we'd also seen the BOC, Slade, Mott The Hoople, and Aerosmith (as well as the Stones, the Who, the Kinks, the Faces, the J. Geils Band, Black Oak Arkansas, Alice Cooper, etc.) by this time, too. But the Stooges were a different story.
They really inspired us to reduce everything to its most primal level. Of course, Paul's very musical, so we were really trying to combine that straight-ahead rock thing with stuff that was more interesting/challenging for the band to play. We always listened to a lot of R&B, soul, jazz, blues, power-pop, girl groups, '50s and '60s rock and we were way into the Lenny Kaye's Nuggets compilation and stuff like the Pretty Things' "Come See Me" and the Lollipop Shoppe's "You Must Be A Witch." The sound and the act got darker -- we got really into the Doors as obvious Stooges antecedents (and, taking off from the Yardbirds, playing sheer sound as opposed to notes) -- and more violent to combat the sheer indifference and catcalls from at least half the members of every audience to whom we ever played.
DL: I assume you couldn't have been were aware of the other similarly inclined bands on the planet at the time - Rocket From The Tombs in Cleveland, the nascent Birdman in Sydney, the Dogs in France etc etc. Was there a sense of isolation in playing this music at the time?
DW: Absolutely a sense of isolation. We had no idea that anyone else anywhere was doing anything like this. We used to religiously read Phonograph Record Magazine's yearly round-up of local scenes and, of course, whatever was happening in New York got widely covered in Rock Scene, etc. (I remember mail-ordering the Droogs' first single after seeing it written up in Phonograph Record Magazine; Mark Shipper's compilation/reissue of that Sonics' Explosives album, too. Still got 'em, of course.)
Bear in mind that we became the Imperial Dogs in late-1973 and played our first gig (at Gazarri's) on March 28, 1974. Had Rocket From The Tombs or Radio Birdman or the Paris-based Dogs (who?) even played any gigs? We saw the New York Dolls' last L.A. gig at the Hollywood Palladium (that "death of glitter" show as it's now known, although it doesn't say that anywhere on the poster for the gig, which I still own), which was just a couple weeks before we did the show at Long Beach that's captured on the DVD. I started going to concerts in 1969 and as far as I know the Velvets and the MC5 never played L.A. after 1970 'cause I would've gone to see 'em.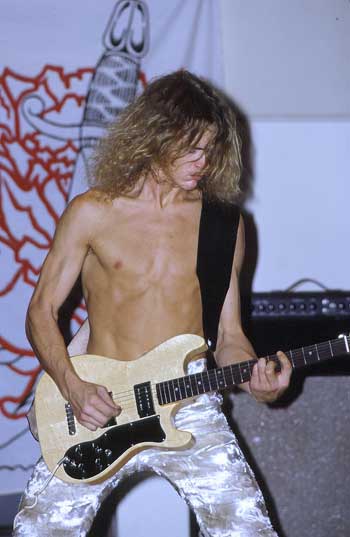 Unless someone put a record out, like Patti Smith's "Piss Factory" or Television's "Little Johnny Jewel," there was no way to know about these people until they started getting coverage in the press. I'd say all these pockets that we now know about were operating in a vacuum back then. And that L.A. was especially bad because there were no clubs to play. You either had to play Top 40 covers or have a record contract to play the Starwood, the Whiskey was shut down 'cause of a fire, the Roxy was doing theatre productions like "El Grande De Coca-Cola," the Troubadour was all folkies and country-rock, and we'd been kicked out of Gazarri's.
And fanzines? By the time we started seeing "Who Put The Bomp?" (the British Invasion issue) and Phast Phreddie writes in about the Imperial Dogs in early '75, we'd already broken up. There was NOTHING. And L.A. was worse than anywhere 'cause the record business was making so much money on Led Zeppelin and Yes or Genesis and the Eagles and all that singer-songwriter shit that they didn't care. They looked at the Stooges, Velvets, MC5 etc. as failures, so -- 'cause they're really just a bunch of lemmings -- why would they wanna get involved with something that wasn't gonna sell?
DL: You became buddies with Ron Asheton and the New Order guys, and even got asked to join the Killer Kane band. This was all after the Imperial Dogs spilt I guess? Where do you think you could have taken it if you'd stayed together?
DW: Yeah, when both Ron Asheton and Dennis Thompson as well as Arthur Kane and Blackie Lawless asked me to join New Order and Killer Kane, respectively that was after the Imperial Dogs had broken up.
If we could've kept the original Imperial Dogs line-up together long enough to play alongside the Runaways or the Hollywood Stars or even on any of the really early Weirdos, Zeros, Germs, Nerves, Zippers, shows, there's no question we could've become bigger in terms of getting gigs, finding more receptive audiences, making indie records, even touring. (Our music and our show -- documented on the DVD or the Dog Meat LP -- speak for themselves.) But real mainstream "rock star" success? I think that's unlikely. Look how long it took the Clash to make an impact in America. And great as they are, the Ramones and the Cramps were never more than large cult-jams. Iggy survived as a cult-jam because he's just so extreme, he's a showman, and he's the originator.
Besides, if we'd have made it on the level that we'd wanted to, we'd probably all be dead by now. Look, we're all alive, we all still drink and smoke and dance the hootchie-coo and nobody became a religious nut, so we're all doin' all right.
DL: Iggy and Steve Tyler heard your songs. The Blue Oyster Cult took "This Ain't The Summer Of Love", although they didn't have the balls to take the actual song, which is killer. In a dream world, who would be covering/recording which of your songs?
DW: In a dream world, there'd be dozens of covers of every one of our songs. I'd be more than happy to see 'n' hear that. I think "The Bad And The Beautiful" (which isn't on the DVD 'cause we hadn't written it yet) is the most commercial/straightforward thing we ever wrote, although "Just Kids" (which is on the DVD) is more of a power-pop song a la the MC5's "Shakin' Street" or the real early Who, and is eminently coverable as well. And if anyone has the huevos to cover our original version of "This Ain't The Summer Of Love," good on 'em.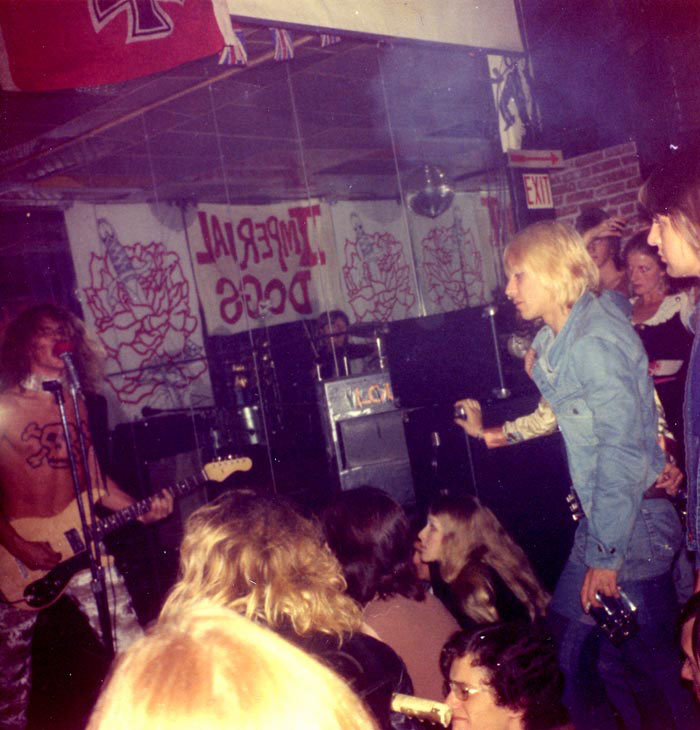 Iggy watches - er, is in the same room as - The Imperial Dogs at L.A. club Rodney's.
Of course, I wish Iggy would've cut "The Bad And The Beautiful" and Aerosmith would've cut "Contradictions." But getting one of your songs covered by someone else is a sign of great respect -- especially when everyone around any "artist" is telling 'em that "you're not going to be collecting the songwriting and publishing royalties on a song you didn't write" -- so I'm just happy to get these songs out there so that people are more aware of 'em. I'll let the people decide which ones they want to honor. I don't think an artist is the best judge of his or her own work.
DL: Who made those pants that Paul your guitarist and Tim your bassplayer wore? Were they made of carpet, or did they just look like they were made of carpet?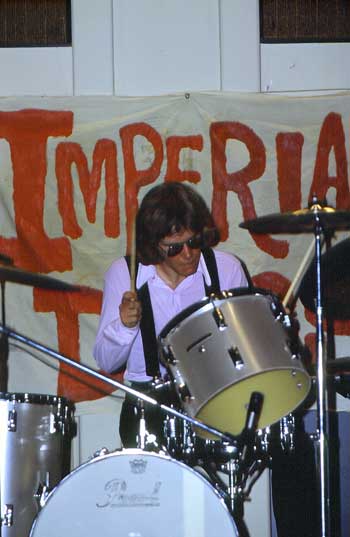 DW: Ah, yes, the clothes. We wanted to look different than everybody else (most bands looked just like the members of the audience at that Long Beach gig). We were always flashy. After I ripped the crotch out of my studded jeans at Gazarri's, I added black leather pants to my black leather jacket in homage to Gene Vincent and Jim Morrison. We made those dagger 'n' rose banners, all the chains and the studded leather straps, etc. ourselves.
As for Paul and Tim's pants, we went down to the fabric store and bought fabric by the yard. Paul chose some silver, crushed velvet, very plush. Tim picked out this fake fur stuff. I don't know what people were supposed to use that fake fur for -- maybe a bedspread? Maybe a bathroom rug? Anyway, we took these fabrics to this hippy chick seamstress -- I think her name was Melinda; she lived over in north Redondo Beach -- who was a friend of a friend and she made those trousers to measure. She was great.
DL: Was the band over by the time "Back Door Man" started? how did that start and what was your involvement? something that was reflected in the mag, and in the band, was a love of metal as well as a punk rock spirit - two things that became separated as punk become codified. Your take on all that is...?

DW: The Imperial Dogs broke up about the same time as the first issue of Back Door Man hit the streets. There's an "obituary" in the second issue.
"BDM" started when Phast Phreddie (from north Torrance, although he went to a co-ed Catholic high school on the other side of town, so we didn't really meet him until 1973) phoned me and said he was gonna start a magazine called Back Door Man and did I want to write for it? I said, hell, yeah! And let's get D.D. Faye (Carson) and Tom Gardner (West Torrance) and Bob Meyers ( North Torrance) and Don Underwood (Inglewood) to write for it 'cause I knew they could all write and had opinions galore. (We met Don when Phast and I taught a class at UCLA's extension program called "The Loud, The Hard, And The Fast" -- I'd been a student there.) Phast did most of typing, etc. on that first issue himself with some help from D.D. I drew some logos and some ads for the second (I think we started using Presstype then) third, and fourth.
But when Phast came back from the printer -- we used to all get together and collate and staple the issues; make a party of it -- with the fourth issue with Patti Smith at age 8 on the back cover and all that hand-drawn psychedelic bullshit swirling around it WITHOUT TELLING US THAT HE'D DONE THIS, me and other people took over the layout and caption/headline-writing. Don and Liz Underwood (his wife, who was our photographer) quit after the fifth issue. Phast found Gregg Turner, who was from North Hollywood in the San Fernando Valley, and invited him to join the staff for issue six. (Former Imperial Dogs bass player Tim Hilger was on staff for a couple issues in mostly a business role.) By issue eight, we'd become a collective, as in "Back Door Man is Phast Phreddie, Don Waller, Tom Gardner, D.D. Faye, Bob Meyers, and Gregg Turner."
When we discovered that although Phast was in charge of distributing the 'zine, hundreds of copies of issue eight had never made it out of his bedroom (he was still living at his parents' at the time), Tom and I quit in disgust. That's why the only thing that Tom and I had to do with issue nine was be part of the group interview with Cyril Jordan of the Flamin' Groovies.
In the meantime, these crazed gay women who were employed as typesetters got in touch with Phast and said, "Your magazine's great, but it looks like shit -- we can make it better." So that's when Beth Talbert, Carol Williams, and Lorraine Suzuki came on board as "physical graffiti." Carol also did some writing over the next several issues.
Once Tom and I saw issue nine, we had a lot of problems with some of the content and the look, so we rejoined. Every BDM from issue 10 to 15, the layouts and captions/headlines/one-line joke reviews at the back of the 'zine, etc. were done by me, Tom, and Bob Meyers -- with input from everyone else, of course. Beth, Carol and Lorraine taught us a lot. And the issues began to look progressively better. By issue 15 they were full members.
All staff members were involved in all editorial -- where we argued viciously about who was gonna write about what -- and business meetings. I did the line editing on certain pieces (Phast on the Runaways history and his coverage of that Foghat-headlined blues show in New York). I'm proudest of the layout for D.D.'s coverage of the Sex Pistols concert in San Francisco. We just shot her original typed manuscript with all the edits handwritten into the copy and ran that on the reverse of that Johnny Rotten fold-out.
It also should be noted that Gregg Turner, Tom Gardner and myself were the partners in the spin-off Back Door Man Records label. We each put up $100 to release the first single by the Pop!, rolled that over into the second single by the Pop!, then the Zippers' single, then the Imperial Dogs' posthumous single ('"This Ain't The Summer Of Lover" b/w "I'm Waiting For The Man"). Then we folded the label and 'cause Gregg had been doing everything except deciding what to release and designing the sleeves, he went on to do that album by the Pop! that was issued on Automatic Records. Tom and I each got our $100 back and that was that.
We covered a lot of different types of music and non-musical subjects in Back Door Man. Blues, reggae, TV, pornography, alcohol, performance artist Chris Burden. We just wrote about what we liked. Once Slash appeared -- putting the Screamers on the cover even though they hadn't played one gig! -- and became the biggest little small-town newspaper in Hollywood with their punk-only (but also reggae) aesthetic, the lines between scenes began to be drawn over haircuts, pop sensibilities, etc. This only got worse after Greg Shaw put out that "power-pop" issue of "Bomp".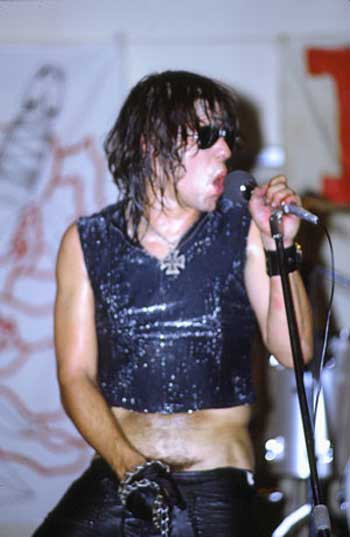 As far as metal goes, we at "BDM" only liked certain bands. We thought a lot of that stuff was stupid and unoriginal. We liked the power and the raucous (rock-ass)ness, but first of all we liked well-crafted songs and creative, memorable riffs. We weren't fans of all those dungeons 'n' dragons and kozmik, acid-damaged lyrics.
In the early days, the scene was so small it was far more inclusive and welcoming. The 200-500 people who were at the Masque benefit shows was the sum total of the scene. (And Slash put everyone of 'em in their magazine.) As certain bands that sounded a certain way were favored for major label deals, the rancor intensified.
Besides, we were already a little older than a lot of the punk fans and you can't not know what you know. We knew way more about the history of rock music and we weren't about to throw the past out with the baby's bathwater. In the early days, punk and metal were separate worlds. Most metalheads weren't into punk, but as Black Flag and all the South Bay bands started doing their thing (and all those bands had metal roots) and taking it to the suburbs and the rest of America, there was a lot more cross-pollination of styles. By the time all those hair-metal bands came around in the late-'80s, they were all dressing like the New York Dolls and they'd certainly heard some punk-rock records. Witness Guns 'N Roses. And I think speed-metal has a lot to do with punk-rock's influence, too.
And it's worth nothing that almost none of the original L.A./Hollywood punk-rock bands sounded like one another. That codified style came later, from the suburban punk-rock bands.
I think all that sort of in-fighting is stupid. The suburban punks used their safety in numbers at punk-rock shows to get back at the jocks and the assholes who harassed them everywhere else and made everyone who didn't have the right haircut or clothes feel less than welcome. As the level of violence went up, female attendance plummeted.
I feel vindicated by our aesthetic choices. Look at the stuff we covered vs. what, say, Slash covered and tell me which records are you more likely to listen to today? I think the punk attitude -- and remember that what we now call "garage-rock" used to be called "punk-rock" until the Ramones-derived stuff got so much bigger than the sound of the Nuggets-type bands -- was just getting back to what rock 'n' roll music is supposed to be about. Like Iggy Pop & The Stooges.
DL: What do you listen to these days?
DW: Heh. Mostly a lot of super-obscure funk and soul 45s. Funk in particular is like garage-rock. There were 16 tons of local funk and soul records made and many of them are just as good as the hits. Some killer playing, particularly the drumming, on those discs.
If by newer music, I'd say I like the Drive-By Truckers (more when they had three guitarists). And the new Dave Alvin & The Guilty Women record is great as is that Baseball Project record that Steve Wynn, Scott McCaughey, Linda Pittman and Peter Buck did about a year ago.
I like this new band out of Bristol, England called the Heavy, the early TV On The Radio records, the White Stripes, the Raconteurs "Steady As She Goes," Gnarls Barkley's "Crazy," Wilco (I think the new band with Nels Cline on board is their best lineup yet), the Flaming Lips, Bettye LaVette, Bob Dylan, Elvis Costello, the Fountains Of Wayne, DJ Shadow & Cut Chemist, Dengue Fever, Mark Lanegan, Greg Dulli, PJ Harvey (I'm a big fan, but not of all of her albums), the Queens Of The Stone Age, the Foo Fighters. And it was great to see the Sonics play here recently.
Truth is, I haven't been writing about new music for most of the past two years 'cause there's just nowhere to write about it AND GET PAID. I've made my living as a mostly freelance journalist for 32 years (with couple full-time stints at trade publications in there), writing about everything from books, comedy, films, TV, food, cooking, and music old and new. But that's just getting tougher than it ever was. I've always said that "writing about popular music is like playing piano in a whorehouse -- you're not the featured attraction -- but now all the whorehouses are closing down." So, although I still go out to see music, I don't do it as often as I used to 'cause I can't afford the bar tab if I'm not getting paid to write about the show.
I mean, I spent most of 2008 writing about television. Of course, I still write everything from bios, press releases, and liner notes to stories on vintage acts and historical pieces, but I don't review too many records, so I don't listen to everything as voraciously as I used to. If I hear something when I'm out or over at someone's house and it's good, I know it and I dig it. But I don't think I'm missing out on too much. B-sides, anything "old" that you haven't heard before is new, right?