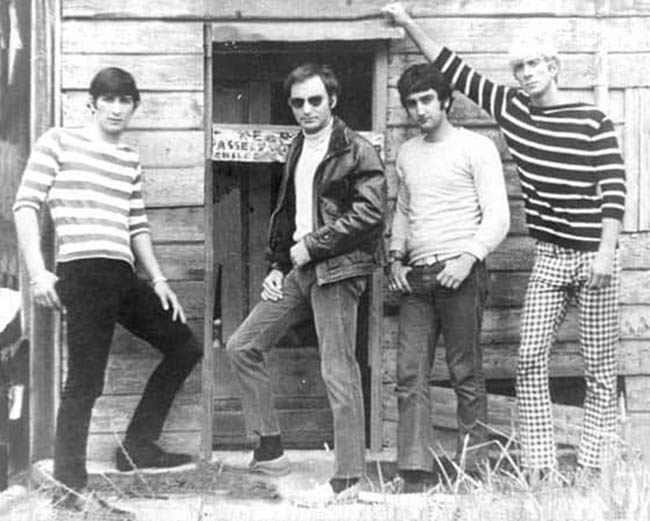 For years, Hood ran Atlantic, a successful recording studio in the Sydney suburb of Earlwood. Bassist Bosco Bosanac moved into country music and then ran a music equipment store in Sydney.
The band reformed sporadically in the 1980s and beyond, featured playing "Bombora" at the Sydney 2000 Olympics opening ceremony and released a string of studio albums featuring old and new material, with contemporary era guitarist Martin Cilia.
In 2007, The Atlantics joined The Beach Boys on the Australian leg of their world tour, and in between sound check and showtime I squeezed them into a boisterous Galleon café in Melbourne for coffee and questions. By then, The Atlantics were Cilia (guitar), Hood (drums), Bosanac (bass) and Jim Skiathitis (guitar).
I read you guys pawned everything you had to buy your first amplifier. Was the amplifier worth it, and did you ever get your gear back?
Bosco: Yeah, it was a Fender Bandmaster with a Piggyback. The light-coloured tan type.
Peter: Which at the time was the sound of "Bombora", so I guess we got our money's worth.
You guys had such a ferocious sound on "Bombora". Can you tell us a bit about your instruments and the recording process at that time?
Bosco: Well for a start, it was recorded on a mono BTR…
Peter: Huge machines which came from England, like washing machines…
Bosco: They looked like dirty great washing machines, only bigger, like dirty big commercial fridges like you'd see in a shop, just to do a mono recording, you know? (laughs)
As you revisit and re-record some of your classic material, what impact is modern recording technology having on the classic sound of The Atlantics?
Peter: Aaah, well we'll let Martin, our resident chief producer go into that technical area…
Martin: Well the thing with recording is that you have to keep changing with the times. You have no choice. You can't go back and do it as it was done in 1963. It's just not available anymore, so I think the advantage is you get more time.
The original was probably done, from what I can gather…the first session was over an hour or two, and three tracks recorded in that time. You can't over-dub anything, you can't drop in, it's all done live. The band doesn't even get to hear the playback till they hear it on the radio! Whereas now you have a bit more hands-on, if you like.
"Bombora" broke for you worldwide in 1963. Given the resurgence of surf music in the last decade, what sort of exposure have The Atlantics had internationally of late?
Peter: Apart from a lot of interest in Spain, we've got tracks on three special projects recorded around the world. One is a tribute album to Ennio Morricone, the guy famous for the spaghetti westerns.
Bosco: We do the title track for that, "The Good, Bad and the Ugly"
Martin: We've got the "American Graffiti Revisited" out of Italy.
Bosco: On which we play The Big Bopper's "Chantilly Lace"…like a surf rockabilly version of that…and there's "Jesus Christ Surferstar" on the OmOm label also out of Italy. And we do sell a lot of our product on the Internet. We're getting a lot of feedback from all over the world, people buying CD's and making comments.
Jim: That's really been the biggest breakthrough recently, hasn't it? To get international access on the Internet straight away.
Yes, it's been a breakthrough for all sorts of bands, to get their music to their niche markets worldwide.
Bosco: Indeed, and this has led to us performing in Spain in November and December, on the Costa De La Sol, where they have a big music festival called the "Wild Weekend", and we're going over there to perform at that.
Thunderbirds drummer Harold Frith has told me about the notorious post-gig carpark punch-ups you had with jealous boyfriends, and gangs. Would you tell us a little of the Sydney scene and what it was like for you at the peak of your popularity? Did the Atlantics ever have to rumble and run?
All together: No! Yeah! Aw, wait a minute!!
Bosco: You've forgotten about the Royal Hotel!
Peter: Aw, it's the only time it ever happened!
Bosco: I can still feel my chin, man! I got my ribs fractured! I've still got a scar on my chin where I was kicked with a big pointed stiletto boot.
Peter: But they were out socially at a pub; it had nothing to do with the band!
Bosco: We went to watch the RJ's or the Rajahs, they were the band who backed Dig Richards, and they were in this dodgy little pub called The Royal at Bondi, on Bondi Road, and there were about 20 or more guys, we found out later, after we were belted to pieces and dragged ourselves off to a hospital to get patched up and sewn up. I had to take time off work for a fair few weeks! I still drive past there and the same house is still across the road from the pub, there's a doorway, like a Spanish arch, it's still there, that's where I was kicked into by all these guys.
Peter: Give us the shorter story!
Bosco: Kicked into this door, kicked to death, it's still there you know, every time I drive past (laughs) I think about that, and that was 40 years ago!
Jim: I was the lucky one; I got king hit and went…(wipe-out!)…I was down, they didn't bother with me anymore!
Bosco: And the reason this started was because we were watching this band, they were friends of ours. We were leaving the venue, crossing the road, and our singer, Kenny Shane, had his girlfriend with him, and all these guys were swearing near him, and he said' 'Hey, don't swear in front of my girlfriend' 'and within about two seconds, we were all on the ground, getting kicked to death by this mob of guys, and we found out later they were the Paddington Boys, one of the notorious rocker gangs at the time'.
Peter: Probably all grandfathers today! (laughter)
With your second album '"Stomping Time" you were credited as the first Australian band to record an album of totally original material. In retrospect that's a significant landmark. Was it perceived that way at the time?
Peter: No, because even "Bombora" had trouble being accepted because initially it was knocked back by anyone who heard it. The only person was a Sven Libaek, who was the new A&R man for CBS, and he'd come out from Sweden, anyway, he had a fresh mind, fresh outlook. He heard "Bombora" and was jumping 10 feet in the air.
Bosco: Yeah, he was a real open-minded guy.
Peter: And he said, 'I must have you boys, I must have you, and sign you right away.
And you guys played live in his office?'
Bosco: Yeah, we did play live in his office, after we'd sent him a demo, which we recorded on a little Philips mono recorder at rehearsals. We auditioned live also, and that's how it broke.
Peter: Our compositions were not really perceived as being phenomenally original back then, but obviously after "Bombora" kinda snuck through on that secret wave of people believing we were an overseas band.
Bosco: And we didn't see any point in being a cover band really.
Peter: Well that was it really, we wanted to create our own sound, and we spent months creating the sound which is now the "Bombora sound" and which we carried through to some other tracks as well.
Bosco: And that was an exciting new era, when electric guitars were only just hitting the scene, and people were getting Fender and Gibson guitars, trying to get their hands on them here, they were really hard to get hold of, (as were) the amplifiers: Vox, and the Fender amps. And there was a lot of experimenting going on, and I think we were one of the forerunners of that and a lot of bands followed suit, and then The Beatles hit, and the whole scene changed and went forward, it just changed and went way ahead.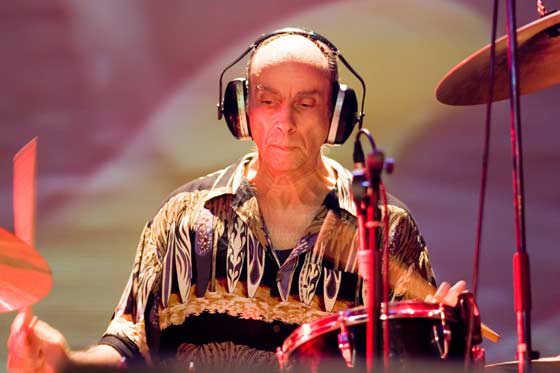 R.I.P. Peter Hood: 26 June 1943–22 September 2021