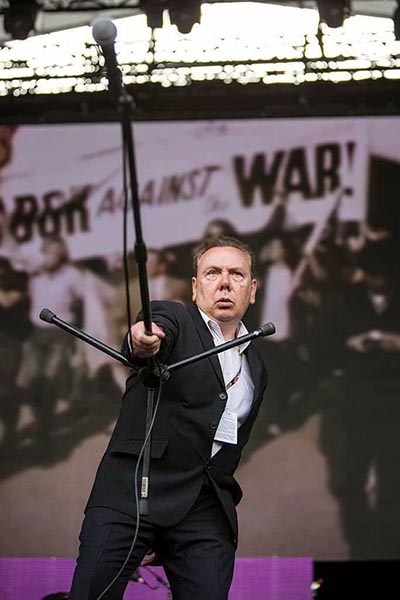 The ruling class, powers that be took good music off the public airwaves years ago and replaced it with insipid lifestyle programming, fake news, and bullshit unreality shows. They tried and tried to kill authentic rocknroll, but the latest Godfathers side, "Wild & Free", bursts boldly outta your shitty headphones fulla wide awake, bristling and lacerating Stooges riffs, tempestuous Thunders leads, irrefutable energy, and a pulverizing, powerhouse vocal: "Gonna start a war against ignorance and hate!"
This is essentially everything you can ask for, from a never say die, present day rocknroll band you can trust. Even after all these years, vocalist Peter Coyne and company are still conquering the forces of negativity and oppression and banality of evil with anthemic truth, and fully alive soul power. Play it now!
The bootboys and pint hoisters of the world already know what you get with the Godfathers. Memorable melodies, scream along choruses, visceral, passionate emotions, sneeringly defiant lyrics, and a heavy beat you can dance to. I dunno the names of the other guys in the Cure right now, but I'm pretty certain I know what they're all about. Same holds true with the Godfathers, who have always been about critical thinking, fierce independence, breaking the chains, the underground railroad, fully committing, and holding fast to your own guiding principles, even and especially when it means trudging against the ravages of time and hard winds and useless trends and popular currents of manufactured consensus.
Throughout the many storied incarnations and always evolving reinventions of Godfathers lore, many of the top guns in the business have flown under the proud Godfathers banner. "I'm Not your Slave" is golden pop you're gonna love. The "Hey Hey Hey Whoos" were made for you and me-it's gonna stay in your head for days. Peter's got a freshly rejuvenated lineup of reliably stone cold hit-men, but it's honestly like he has never missed a beat. The new Godfathers sound a whole lot like the original Godfathers, and that's almost maybe more than we should even hope for, in these perilously volatile and turbulent and unpredictable times, when there's so little to believe in.