The Sunsets were formed in 1964 by Eric Connell (bass) Dannie Davidson (drums), Gary Johns (rhythm guitar) and Alex "Zac" Zytnik (lead guitar) at Merewether Board Riders Club near Newcastle, north of Sydney. Originally known as the Four Strangers (later the Strangers.) Bjerre replaced Johns on vocals and they moved down to Sin City (aka Sydney) to be championed by Billy Thorpe, a group of guys still in their teens. They underwent a name change and evolved into The Sunsets.
They were a major drawcard and playing alongside the Easybeats, the Missing Links and The Creatures. There single "Hot Generation" is a bona-fide garage classic. Put out in 1966, it stands alongside any classic garage rock classic record released across the globe. It has been covered by many including The Pandora's, Celibate Rifles and Psychotic Turnbuckles.
It was "The Summer of Love" and it drove a change in music direction as The Sunsets evolved into Tamam Shud. The Shud were ahead of pack a mixture of surf, garage and acid rock. They were like the Dick Dale meets the 13th Floor elevators meets Syd Barrett's Pink Floyd - with a dose of Grateful Dead. Their first two albums are unique documents and only could have come out of the Australian underground music scene and the surfing community.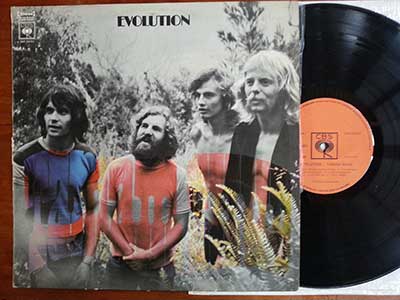 "Evolution" (1969) and "Goolutionites and the Real People" (1970) are recognised on the world stage as unique, Holy Grail progressive albums. "Evolution" is widely accepted to be the forst Australian album of all original compositions. Then there was their contribution to "Morning Of The Earth", renowned Aussie surf movie.
Tamam Shud was a highly influential band in shaping the Sydney sound. Peter Garrett claims they were the first band he saw and had a massive influence on Midnight Oil. The Celibate Rifles' Damien Lovelock has always championed the band as a personal favourite.
I have known Lindsey Bjerre for years Iso was really happy to sit down and get him away from surf for an hour, and get some words down about a new album and the upcoming show in Manly this weekend.
Edwin Garland: So Lindsay, how about about that transition period of The Sunsets before Tamam Shud formed?
Lindsay Bjerre: The Sunsets arrived back in Sydney after a longish stint on the Gold Coast. We worked six nights a week at Digby Wolf's night club in Cavill Avenue. This was around 1966. Some of the guys went back to Coogee but I had hooked up with a group of surfers from the Gold Coast who decided to uproot and come to Sydney. We felt Manly was the place to be and grabbed a house on the Queenscliff beach front.
EG: Lobby Loyde told me about the Northern Beaches and that it was a wild scene. I was told by him that Tamam Shud used to pull thousands of people with an acid light show and it was a real event with surf movies, and that we had our own Summer of Love on the Northern Beaches.
LB: Yes, It was the Summer of Love in 1967-68 and Manly was abuzz.
EG: What about Tamam Shud's link with surfing?
LB: My housemate Slab began work at Keyo Surfboards as Bob McTavish was creating the Plastic Fantastic Machine (the beginning of the short-board revolution). Previously, Bob gave me directions on the music he required for the soundtrack of Paul Witzig's movie "Hot Generation". I could write a lengthy book just on these days.
EG: So after the Sunsets how did Tamam Shud come about?

LB: Our bass player Eric Connell moved back to the country as there was very little work for the band at that time. I saw this guy riding around on a motorbike and someone said 'Oh yeah..that's Peter Barron.one of the best surfers around here and he plays bass'.
We were trying out a player or two who had far more experience but there was something in Pete's vibe that was really new and relevant. We rehearsed all new material. Played a few gigs but something wasn't right. The name had to go. Something to complement the new acid rock direction.
Meanwhile, back at the new house near Manly Wharf, the crazy bunch were going through album covers and books to help find a new name (over several "hot ones") when Robbie looks at me and says 'Tamam Shud'. Instantly I knew we had it. When I saw it written, there was no doubt. Pete loved it too but Dannie and Zack wanted something in English..they couldn't agree on anything so Tamam Shud it was.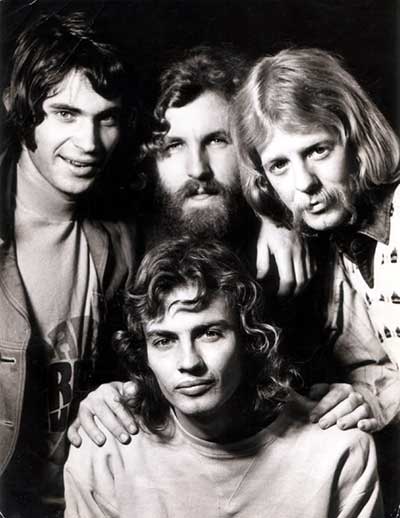 EG: The Shud were on the bill with legendary gigs including, as I recall you telling me, The Beach Boys. But you guys were surfing and caught in a rip and were late for the Beach Boys gig with thousands there..
LB: We were always late for gigs. Was it the Beach Boys gig? Not too sure. Pete and I got becalmed on his catamaran off Lion Island. Had to lay on each hull and paddle into Pittwater's Sandy Point. The stars came out and we knew we were unbelievably late for a gig at the Arts Factory.
Yes, the gig with the Beach Boys was at the same time as the Easybeats' return to Australia. The three groups played in Wollongong at a stripped-out bowling alley. We opened, then the Easy's. Loved what was then their new stuff. The Beach Boys started up and they were infectious. Catchy rhythms you couldn't be still to and perfect group harmonies. A gig not to be forgotten.
EG: It is hard to fathom that in 1969 an underground band with no airplay was pulling at least two thousand people to a gig. Can tell me about your audience.
LB: We didn't really consider who our audiences were or where they came from. We just played and people showed up. I think it all began when we played universities. Playing a live soundtrack to the "Evolution" film, lunchtime concerts and formals at places like Mandala Theatre and Paddington Town Hall. We hadmany people coming to hear us. Mad Mel's Giant Stirs were gigs that pulled many thousands outdoor. One beneath Sydney Harbour Bridge was a standout. We didn't need the Top 40 to find an audience. It just evolved.
EG: Tell me about the current lineup and the new album, "Eight Years of Moonlight".
LB: Our current lineup is that of our last album in 1995, "Permanent Culture". (EDITOR: Peter Barron on bass guitar, Lindsay Bjerre on vocals and guitar, Tim Gaze on guitar and Nigel Macara on drums.I

This album was a late decision as I had been archiving material at John Cobbin's Moonlight Studios for a stretch of around eight years. Hence the title "Eight Years of Moonlight". I was riding motorbikes and had a few scrapes. I wanted all the music I cared about to be recorded properly in case one of my scrapes was more serious.
Nigel would always put his hand up for a session and Peter slipped in as well. Tim would do his magic when in Sydney gigging after I had sent him roughs off my iPad. This was all for fun until last year when it was decided we had a new Shud album in the making. More serious sessions went down at that point. Re-recording and more attention to detail.
John Cobbin and I went hard into the mix downs and we're all chuffed at the result. Nigel's son Lochy (of radio station Triple J) advised us to release it on vinyl with a download as it's just eight tracks and we wanted the pressing to be maximum quality. There are at least eight more tracks which will surface later this year on CD. Plus another album is planned in 2017.
EG: You are playing this Saturday (June 25) in your old stomping ground of Manly.
LB: Our first gig will happen next Saturday for a Surfriders 25th Anniversary and awards night. North Manly Bowling Club. We kick off with three "Morning of the Earth" tracks, two from "Evolution" and "Stay" off "Permanent Culture". Edited footage from "Morning of the Earth" will be projected behind us. After the awards are given out we'll belt out the new album plus some of the yet to be released tracks.
Peter couldn't rehearse the new material in time so John Cobbin has joined us, playing bass and guitar as well as Paul "DC" DiGiacomo on bass, keyboards and vocals. We refer to them as JC/DC.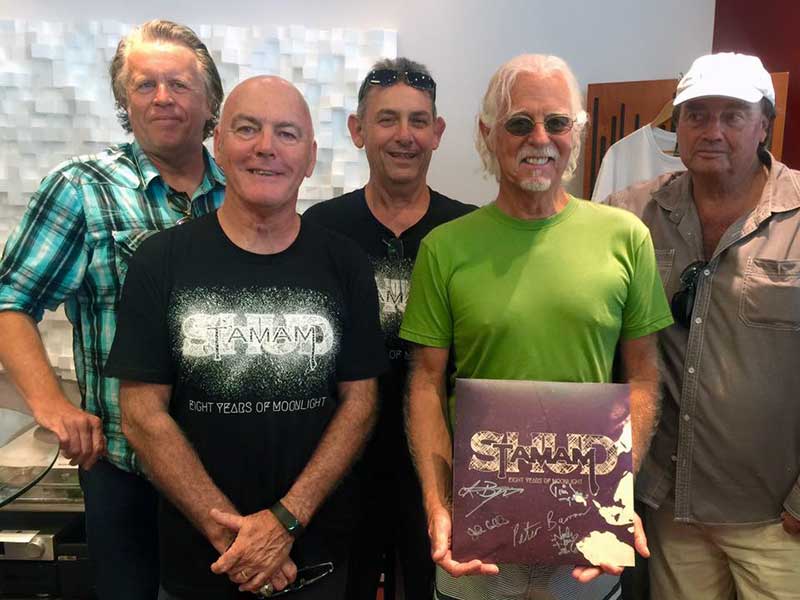 Tamam Shud 2016: John Cobbin, Nigel Macara, Tim Gaze, Lindsay Bjerre and Peter Barron.
- - - - - - - -
With Tamam Shud launching a new album and the first of a few gigs coming up, you have your chance to see one of Australia's most significant bands still kickin' from the '60s. Pre-Radio Birdman, Australia had thriving garage and psychedelic scenes. It was completely underground and alternative. Taman Shud was one of its most significant and important bands.