FLASHBACK: Tomorrow Will Be Fine: Reflections on the Sunnyboys with Richard Burgman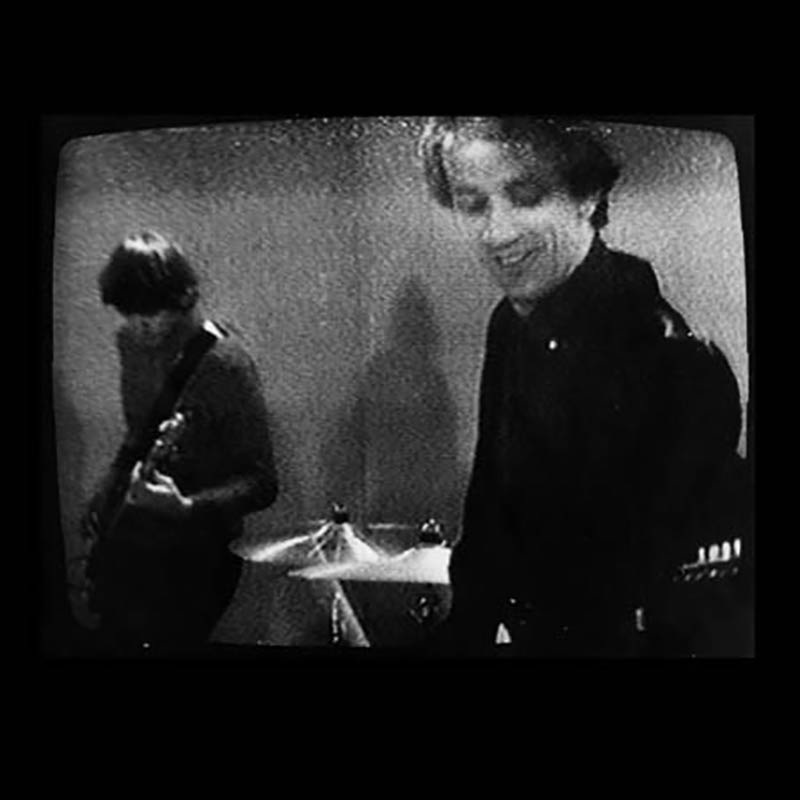 FLASHBACK: September 21, 2004 - Short-lived but incredibly influential, Sydney's Sunnyboys were one of the first 1980s Australian bands to bridge the commercial gap between inner-city hipness and a wider audience. Coalescing from the ranks of several inner-Sydney bands whose brief existences spanned the turn of the decade (more on that later), they bobbed their heads up on an exploding music scene with a debut EP on the Phantom label.
Mixing gritty '60s-influenced rock songs with the "wise beyond his years" melancholic lyricism and exuberant pop hooks of songwriter-guitarist Jeremy Oxley, they almost immediately signed to a major label and hit national status with their self-titled debut album.
Jeremy, Peter and Bil were brash country kids from the Kingscliff coast of Far Northern New South Wales. Richard was from Wagga Wagga, about six hours south-west of Sydney. Jeremy Oxley's prodigy status is beyond debate - a prolific songwriter in his mid-teens, he was also a budding artist and a national junior surfing champion - but this was a band every bit a sum of its parts.
Jeremy's brother Peter (bass) and their schooldays bandmate Bil Bilson (drums) formed a formidable bedrock. Guitarist Richard Burgman, slightly older than the others, was a sharp foil to Jeremy's warmer guitar tones. He had cut his musical teeth after coming to Sydney with the Kamikaze Kids (whose ranks contained future Flaming Hands vocalist Julie Mostyn) and the Shy Impostors (fronted by Penny Ward and containing Peter Oxley on bass and Lipstick Killers/Screaming Tribesmen Michael Charles on drums).
The Sunnyboys' debut show in 1980 (a paring with the Lipstick Killers) was a runaway success and they never looked back. Their shows were packed-out from the beginning. Promoters bragged of being the one who "broke the Sunnyboys" in pubs all round Sydney.
This was a band that, for once, earned the tag "hard-working". The explosion of the Aussie pub live music circuit and availability of venues was a factor, but more telling was that every Sunnyboys show were an exercise in sweat, always packed with delirious fans with as much energy as the band. These were good times personified and the soundtrack to countless Australian adolescents' growing up.
The Sunnyboys' signing to a major label only accelerated the hectic workload. Hit singles ("Alone With You" and "Happy Man") followed. The Sunnyboys were literally everywhere. A gruelling live schedule was only interrupted for the recording of their second album (the underdone "Individuals"), and from that point on the relationship between band and label started tailing-off. The difficult second album was clearly rushed. The label appeared not to know what to do with the band.
A move to England to record what would be the final studio effort, the compressed and slightly awkward "Get Some Fun", left the band no happier - and one step closer to an eventual split. Unbeknown to all, there was another dark and irresistible force at work....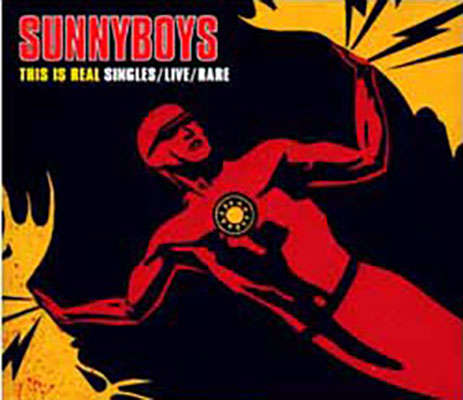 Two live albums and a best of have appeared since the band ground to a halt in 1984, but with the release of "This is Real" - a double CD on Feelpresents that showcases all the A and B sides, rarities and a host of live tunes - has the full story been told.
A 10,000 word booklet accompanying the disc lifts the lid on Jeremy's slide into schizophrenia and the toll that the disease, and road pressures, took on the Sunnyboys. The story is told sympathetically and from first-hand perspective and it's clear that no-one saw it coming. It also puts stories of Jeremy's erratic behaviour after the original break-up in perspective.
The farewell tour didn't close the story. Two reunion mini-sets for their former label, a fullblown 1991 tour and even a shortlived Sunnyboys (with Jeremy the only original member present) kept the name alive, at least. Jeremy went on to front the Fishermen and the Chinless Elite and issued a solo EP before more or less fading out of high-profile music to manage his condition.
Peter played with sister Melanie in The Sparklers before moving into the pizza business. Bil Bilson played with The Sparklers and the fab Dr Stone (acid punk with some ex-Lipstick Killers) before moving back to the country. Richard Burgman did a few other high-profile gigs - among them spells with a mid-period Saints and charting folk-rockers Weddings Parties Anything - before settling in Canada.
"This is Real" is one of the most-anticipated Australian music releases of 2004, so it seemed a good time to collar Richard and toss him a few questions. THE BARMAN did so in early September 2004, via the wonders of trans-Pacific email. Here's the result.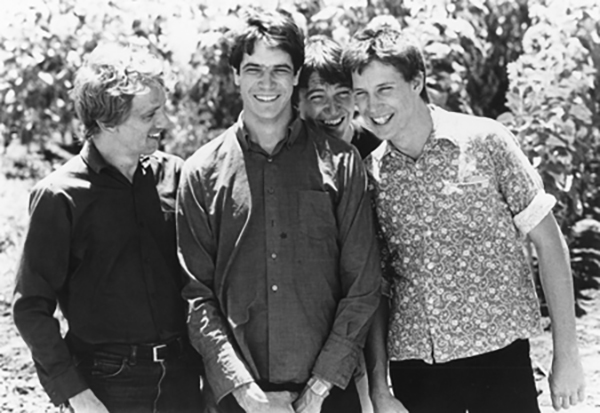 Q Thanks for the chance to bounce a few questions your way, Richard. How's Canada and what are you doing work-wise and/or musically?
Canada's cool. Literally. The weather mostly sucks, it's far too cold for far too long, but it's a good place to live. I am working full-time as a computer programmer, I'm raising two kids, I teach guitar every Saturday and I play every day.
Q Congrats on the CD release. It's long overdue that someone did those songs justice and the live stuff is sensational. How did the compilation come about?
The compilation is Tim Pittman's (Feelpresents) baby. It was his idea, his hard work and his energy that got it done.
Q Backtracking way further...what brought you to Sydney in the first place and how did you get into music? Had you been playing in Wagga Wagga?
I came to Sydney in March 1973 to be a first year university student at the University of New South Wales. I was studying economics. I had begun playing guitar in high school and I kept it up when I moved to Sydney.
Q Charlie was a short-lived band that you played in with Chris Masuak. How did you find your way into that band and what was it all about? And who was Charlie?
'Charlie' was a band I put together with some friends and an ad in the paper. Chris Masuak came along with his friend Alf and we played a couple of times together. It was just a covers band.
Q Did you realise he was the same kid who made his way into Radio Birdman's ranks? Did you follow that band?
Chris and I were playing in 'Charlie' the night Deniz, Rob and Jules came along to check him out. I already knew exactly who Radio Birdman was. I had at that point seen them play many times. I was a regular at The Funhouse on Taylor Square.
At that time they were not a great band to stand down the back and listen to, but they were the best band I'd seen to be down the front and dance to. They were unruly, undisciplined and wild. They were looking for another guitar player because Pip Hoyle (keyboards) wanted to concentrate more on medical school than playing.
Q How did you make the move into the Kamikaze Kids? Did that band ever record anything that wasn't released?
I was good friends with, and sharing a house with Ron Blake, the bass player in Kamikaze Kids. Ron also played bass for the Model Husbands. He got me to come along to practices. It was pretty basic stuff. There was Julie Mostyn (vox), Ron Blake (bass), Peter Gormly (drums), Peter Coutanche (guitar) and me. Julie used to plug her mic into my Marshall. I don't know of any recordings not released.
Q I never saw the Kamikaze Kids live so I'd be interested to know what you were like. Julie was certainly a great singer in the subsequent Flaming Hands.
Kamikaze Kids live were OK. Lots of intensity, not enough songs.
Q You were lucky to play in another band, Shy Impostors, with an equally great female vocalist in Penny Ward. How long were you and Peter Oxley in that band and did you record anything else besides that posthumous single on Phantom?
Shy Impostors were around for about six months. The first gig we did was January 24 1980; the last was June 12 1980. We played less than 30 shows. The line-up was only ever Penny Ward on vocals, me on guitar, Peter Oxley on bass and Michael Charles on drums.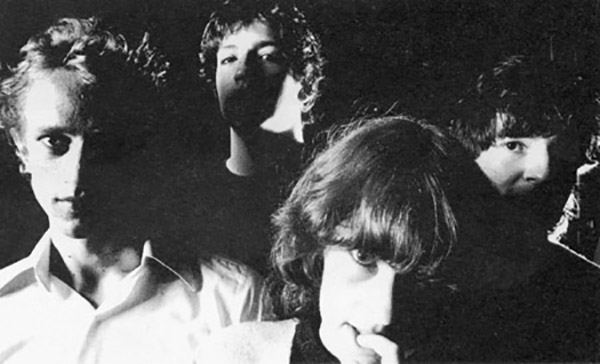 Shy Impostors. Patrick Bingham-Hall photo.
We recorded seven songs to eight-track in February 1980. Phantom released two of them on the single in late 1980, they also put another song on a compilation LP some years later. It was a good band. (ED: All the soings have since been released on CD on Citadel.)
Penny had some great songs and was a wild front woman. The first gig we played I was surprised by how much she threw herself into the performance. She danced full on for the whole set. She'd made no allusion to this in rehearsals, she just went for it.
Q That brings us to the formation of the Sunnyboys. The fact that Rob Younger was in an early rehearsals version of the band is one fact brought out in the booklet that accompanies the CD. How different would the band have been if he'd stuck around and what sort of public expectations would you have had to contend with?
How different? Completely different. Rob was feeling the pressure then of Radio Birdman being a hard act to follow, at least in everyone's minds. Popular opinion had it that Radio Birdman were god, hence the name 'The New Christs' for his next project. If he'd been our vocalist we'd have all felt it. If he had a dollar for everyone who claimed they'd seen Birdman lots and been fans since … he'd be comfortably well off.
Q For people overseas that might not be familiar with iconic Australian ice blocks, can you explain the name Sunnyboys? Can you recall any other band names that you might have been tossing around?
'Sunnyboys' were an orange flavoured frozen ice treat. They came in a triangular pyramid shaped 'tetra-pack'. These ice confections were very popular as a summer treat all over Australia. We chose the name for our band because to us the name represented 'bright, happy, young, fun'. We had no trouble from the manufacturers or marketers of the ice-blocks, in fact people used to bring the things to our gigs by the dozen. I guess we were good for business.
Other band names? We considered a few others I'm sure. They're all forgotten now.
Q Your debut show was with the Lipstick Killers, another inner-city band that drew huge crowds. Can you recall the gig?
Oh yes I remember it well. We played at Chequers nightclub on Goulburn St in downtown Sydney on August 15 1980. A scant two months after Shy Impostors had imploded. We were on the bill with the Flaming Hands and the Lipstick Killers. It was a wildly exciting night. Sydney was abuzz with bands everywhere, the gig was full, we played well, we got an enthusiastic response, and we went home happy. It really couldn't have been better.
Q Phantom Records' Jules Normington was a huge supporter of the band and pressed up the debut release. How important was it to have supporters around like that? Who were some of the other important people in that circle?
Supporters, fans and friends like Jules Normington were (and are) everything to us. Things would have been very different if not for him. He was smart, savvy, loyal and trustworthy. He released the first EP because he believed totally in the band and its songs. If he'd had the resources at the time I'm sure he would have done an album.
There were others. Like Jules they believed in us, and were happy to help. These people included John Foy, Dare Jennings, Stuart White, Brian Jones, Rob Younger, Clyde Bramley, Jim Dickson, Darcy Condon, Pete Tillman, Mark Taylor, Liz and Kathy Croll, Karl Bergeson, John Needham and many others.
Q After the first EP on Phantom, you seemed to sign to Mushroom pretty quickly and I remember the buzz that was around for the band. What convinced you to go with them and were there many other offers around?
There were two or three real offers floating around at the time. We chose Mushroom because they could get us on commercial radio. We wanted someone with energy who wouldn't lose us in the crowd. We were a small band with a big buzz, we wanted a record company that was like that too.
Q It must have been a big step for a Sydney band to sign to a label that was so identifiably Melbourne?
It was a big step for us as well as them. There was a clear divide between the two cities and we were definitely a Sydney band. Still, we had ambitions of national notoriety and they definitely helped.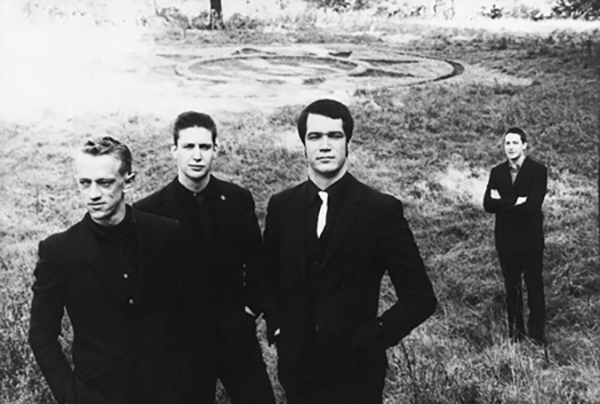 Promo shot for "Get Some Fun".
Q Tell us about the recording of the debut album. You'd all spent a little time in the studio prior to that but the recording process must have been a revelation.
We recorded the album in May and June of 1981, it was released on September 19th, 1981. The big 24 track, 2" tape all analogue studio was a wonder to behold. We finally had a studio to work in that sounded really good, at least to our ears. Trafalgar had been fine, but this was the real thing. (ED: The Trafalgar demos have been released a a bonus disc on a re-issue of the album.)
We loved it. We were all there every day. We were able to play and listen back with laser intensity. We could hear everything. It was a revelation in many ways. We had to learn to listen with different ears. We had to learn to be critical and responsive, to be our own best friend and worst enemy at the same time. You never listen to anything quite the same way after that experience.
Q The time between the first album's release and the recording of the second seems incredibly short. Just how heavy was the pressure on Jeremy to write and the rest of you to perform. Was that something you or your management were concerned about, or did you just go with tit?
The pressure to write, and to perform, was enormous. We were on a roller coaster after the success of the first album, and a lot was expected of us. We were concerned, but we thought we had enough songs.
Q I've always wondered why the second album was recorded in New Zealand. Can you shed some light?
As I understand it, it's called "Export Incentive". Back in the '80s, the Australian Federal Government, through the Department of Trade and Industry, was giving money to companies who took their goods, services or products overseas. The philosophy held by the government of the day was that music and fashion were what they considered to be "leading edge" industries, and if another country liked and bought our clothes and pop stars then they'd be willing to buy our coal/steel/iron ore/wheat/cars/shoes/whatever. So Mushroom, ever the entrepreneurs, packed us off to NZ, and sent the bill to Canberra. A win/win for them I'd say.
Q I read some interviews around the time of the last album in which you guys were scathing about Mushroom. At what point did the relationship turn sour?
It got sour when "Individuals'" failed. We blamed them for making us record too soon, for not getting behind the product, yada, yada, we blamed the world, we blamed everyone except ourselves. Mushroom in fact did what they could with the record, but it just wasn't good enough. They were disappointed and so were we.
We never regained the confidence or the momentum after that. They and we tried hard to get things right, but by the time we got to the last album it was a case of "Get us out of here!" on both sides.
Q The liner notes for the "This Is Real" set tells the story behind Jeremy's health problems in some detail for the first time. When did it become apparent to the band that he had schizophrenia and did it manifest itself in any particular incident?
Jeremy was (in hindsight) obviously ill by the time we got to England. He was drinking a lot. He used to drink so he wouldn't hear the "voices" and Peter was doing his desperate best to shield him from the world. We all worked very hard on "Get Some Fun". Jeremy was solid through it all, you can tell by his guitar playing and his singing. Especially his singing, he was getting better and better at that.
There were incidents all along the way, most of which could be explained as eccentric or high-strung behaviour, not as schizophrenia per se. His disease claimed him gradually. It was more a gradual disintegration than a catastrophe.
Q The Sunnyboys pulled the pin after "Get Some Fun" and did one final tour. How did Jeremy manage his health on that run, especially if he was in denial?
With Jeremy's consent, we hired a "minder" for him for the tour. This gentleman kept him constant company before and after shows and while traveling. It worked.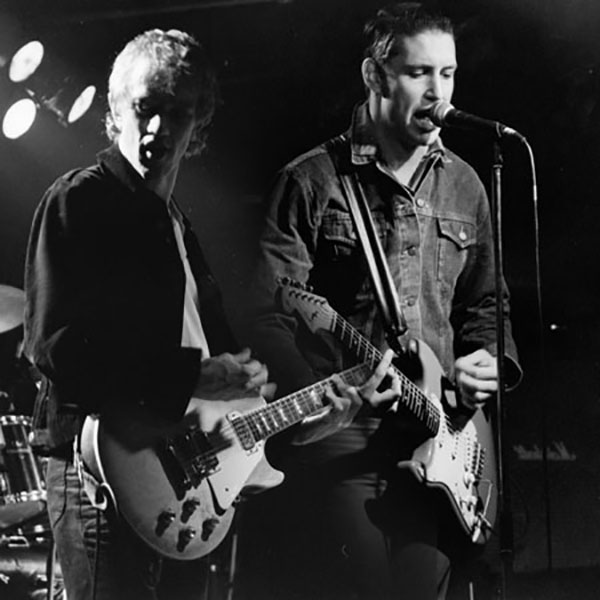 Richard and Jeremy in full flight.
Q Obviously, Mushroom had some sort of idea to break you in the UK. It seems to me that you would flying in the face of popular trends over there at the time. Could you enlighten us on the strategy and how you guys were received in London? The idea of the Sunnyboys sharing a stage with the Birthday Party or Bahaus just doesn't gel.
In England we played The Marquee on Wardour St in London. It was a hot, sweaty, crowded, raucously fun time. The place was full of Aussies. Other than that there was no obvious plan to do anything with us. There was some to'ing and fro'ing with Michael Gudinski, Gary Ashley and several English record companies, but it was mostly Kylie Minogue type stuff, and Bananarama on White Label that were discussed.
Q Why didn't they try and break you seriously in the US and how would you have been received?
I'm sure Mushroom ran us up a few flag poles in the USA, but no one saluted. We'd all had our hopes pinned on the second album, but it wasn't quite the calling card Mushroom was hoping for. After that it was a "wait for the third album and we'll see" situation.
By the time the third album was done it was too late. I think we might have gone down well, but who knows. We were released on independent labels in France, and they liked us in Scandinavia, but nothing ever happened in the USA.
Q Is there any worthwhile unreleased Sunnyboys material still around?
Not that I'm aware of.
Q With the Sunnyboys finished, Jeremy eventually launched another version of the band with new members and the same name. Was that with everyone's blessing? Were the rest of you guys committed elsewhere?
I personally had no idea he was doing it until after he was on the road. I was never consulted. I was busy then myself and didn't really care one way or another. We have an agreement now that there is only one Sunnyboys, with only the four original members.
Q Were you happy with the '91 reunion tour? I read a Sydney media story only today that said another reunion was a possibility. Can you cast some light there?
The 1991 tour was a blast. We were all happy with it. Will we tour again? I don't know.
Q How did you land a gig with the Saints? "A Little Madness to Be Free" was certainly a big stylistic departure for Chris Bailey. Tell us a little about that LP and your time in the band.
I got the gig with The Saints because I walked past their manager Richard Ortner's garage in Paddington one day. He said "Didn't you used to be in the Sunnyboys? What are you doing now. Do you want a gig with the Saints?" That was it.
"A Little Madness to be Free" was a good album, "Ghost Ships" is one of Bailey's best songs. However I didn't play on that album. I played on "All Fool's Day" with Ivor Hay and Arturo Larizza. I spent all of 1985 and 1986 in the Saints. We toured Europe and Scandinavia and we recorded the album at Rockfield in Wales.
I was lucky to be playing with those guys. Archie is a wonderfully talented musician and Ivor is a monster drummer and a gentleman. We released singles and EP's, we did videos, toured constantly, it was great. In my humble opinion we were one of the best lineups Bailey ever had.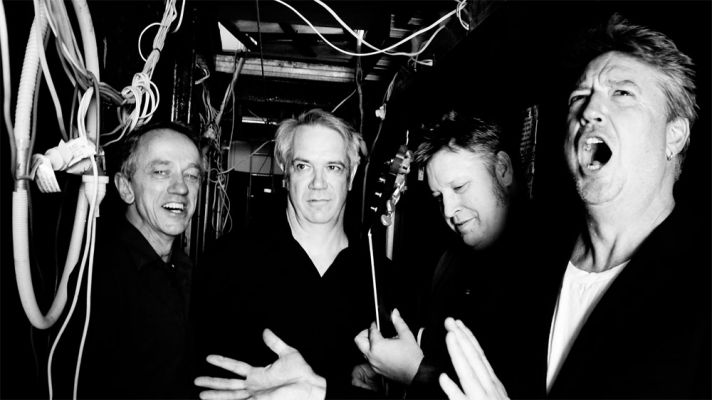 Sunnyboys in 2017. Richard Burgman, Bil Bilson, Peter Oxley and Jeremy Oxley.
Q I remember you from a Saints that had Arch Larizza on bass. Were you also in the line-up that had Ed Kuepper playing bass?
I started in the Saints with Bailey, Archie on bass, Jeffrey Weggener on drums and Louise Elliott on tenor, alto and soprano sax. Ivor Hay replaced Jeffrey, and Louise was replaced by a two-piece brass section. The core of Bailey, Archie, Ivor and myself recorded the album in Wales. I have never played with Ed Kuepper.
Q Tell me about The Joeys and who was actually in it? How does a covers band land a record deal?
"The Joeys" was a Ramones cover band. We got together as a change of pace from our regular singer/song writer bands and played for fun. The vocalist was the late, great Steve Connolly (Coloured Girls), I played guitar, Bruce MacDonald (Amazing Woolloomoolloosers) played guitar, Michael Barclay (Coloured Girls) played drums and Phil Hall (Drop Bears, Sardine v) played bass.
When Phil went overseas we asked Tony Robertson to play bass for us. We played around Sydney a bit but we most often used to play Tuesday afternoons at the Hopetoun Hotel in Surry Hills, the gigs were called "Rock Against Work". They were most often full houses. We played in Melbourne too.
We got a record out because Roger Gold of BigTime Records thought we were "fun" and as such he thought he could sell a few copies. We recorded 20 songs onto an eight-track Betamax tape in a basement in Bondi Junction, and we mixed it with Rob Younger somewhere in Campsie. It was released but didn't do much.
When I lived in England I went to see the Ramones play at the Brixton Academy in London. I took a copy of the Joeys album with me to give to them if I could. Tribute right? I managed to give it to someone who presented it to Joey Ramone who apparently promptly removed the album from its sleeve, broke it over a chair and threw it in the garbage. Oh well…
Q How long were you with Weddings, Parties, Anything? How did you come to marry a Canadian girl?
I was in Weddings, Parties, Anything from August 1988 until December 1989. The Weds were another of Australia's finest groups. I'd been with the band two weeks, we were in Canada touring, when I met Christina in Kingston, Ontario. Her friend Leslie wanted to meet our bass player Pete Lawler so Christina accompanied Leslie backstage. The rest is history.
Q I heard you took up the sax in WPA? Is that correct and how did it come about?
I did not then and do not now play the saxophone. In the Weds I played electric guitar, acoustic guitar, mandolin, bass and sang backups, but no sax.
Q OK, I just trashed my copy of "Who's Who of Australian Rock". Since we're in a bar, what are you drinking?
Guinness thanks.
As a postscript, I am fortunate enough to have played in three incredibly good, well-received, well-respected, creative, unique, influential Australian bands. I spent 10 years on the road and loved all of it.
Read a more recent interview with Richard Burgman here. The Sunnyboys are currently on tour in Australia.
FEEL PRESENTS...
SUNNYBOYS SUMMER 2018
special guests: The Celibate Rifles and Painters & Dockers.
Thursday 25th January 2018
The Tivoli, Brisbane QLD
with special guests The Celibate Rifles
Friday 26th January 2018
Twin Towns, Gold Coast QLD
with special guests The Celibate Rifles
Saturday 27th January 2018
The Shed, Sunshine Coast QLD
with special guests The Celibate Rifles
Friday 2nd February 2018
Melbourne Zoo, Melbourne VIC
with special guests Painters & Dockers
SOLD OUT Friday 9th February 2018
SOLD OUT Saturday 10th February 2018
The Factory Theatre, Sydney NSW
with special guests The Celibate Rifles
Sunday 11th February 2018
The Factory Theatre, Sydney NSW (6.00pm - 9.30pm)
special guests The Celibate Rifles
JUST ADDED Thursday 22nd February 2018
Canberra Theatre, Canberra ACT
with special guests Ups & Downs
Tickets via www.canberratheatre.com.au
JUST ADDED Friday 23rd February 2018
Anitas, Thirroul NSW
with special guests Ups & Downs and Mick Medew & The Mesmerisers
Tickets via www.anitastheatrethirroul.com
JUST ADDED Saturday 24th February 2018
Tanks Arts Centre, Cairns QLD
Tickets via www.Ticketlink.com.au or 1300 855 835