Spanning their rough-and-tumble R & B beginnings, psychedelic explorations, hard rock excursions through the stadia and concert halls of the USA and their modern Renaissance (late '90s and 2000s) period, it's a beautifully rendered trip through time that's filled out by various ephemera and a 10-inch vinyl single.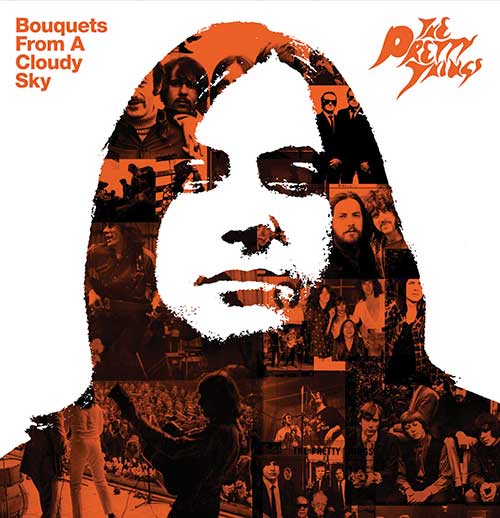 Equally Impressive is the fact that the band is still at work on the live circuit, with original members Phil May and Dick Taylor at the core. Of their '60s contemporaries, only the Rolling Stones and the Yardbirds (drummer Jim McCarty and guitarist Top Topham) are also still active.

Taylor is unsure whose idea the box set was but he's nevertheless chuffed to see it.

"I think the idea came from either the record company, Snapper, or Mark St John, our manager," Dick says down the broadband line from his Isle of Wight home in the UK.
"Probably the record company because we and they have the rights to everything we've ever produced. Apart from the 'Electric Banana 'stuff (studio and soundtrack material.)
"The whole thing, I must say, is brilliant,. And it's been gestating for a couple of years at least. It's a really cool idea. It's a limited edition, so you know you're going to sell all of them.
"I said to Phil: 'It's like seeing your life in a little box'. Well, a big, box really."
Like Taylor, Phil May is also very much still standing, some months after being diagnosed with emphysema following a lifetime of smoking. The news came last year while the band was on tour in Spain and stymied live work for a time. Taylor says things are on the upswing.
"Phil's very good. He's stopped smoking - which is one of the miracles of our age. When we went to play in Spain last year, I literally tackled him about his smoking because I could see he was not well. He'd been in the hospital already with chest problems.
"After he was in hospital off an on in Spain and England for almost three weeks, he had one last cigarette. The doctor said: 'You won't sing again if you continue to smoke and you probably won;t last very long'. I think it finally came home to him. He had an enforced cold turkey situation and he managed to stop.
"The improvement in his health is in lots of different ways. He's brighter and more like the Phil I used to know. We played a London gig since then and his singing was the best I've heard him for a long time."

The box sort is an emphatic underline to a body of work that started with their first album in 1965, when the then two-year-old Pretties were primal purveyors of a new strain of rhythm and blues that was infecting England from the USA.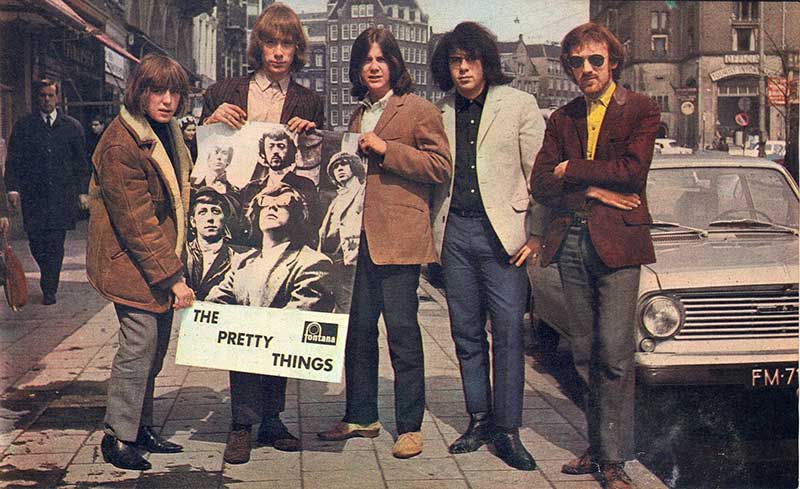 If you know anything of the history of the Pretty Things you should be aware that Dick Taylor was a member of the original line-up of the Rolling Stones. As Little Boy Blue and the Blue Boys, they took their first tentative steps onto the London live circuit.
Taylor played guitar and briefly moved to bass in the band - known as The Rollin' Stones, before adding the 'g' - to accommodate guitarist Brian Jones, before quitting to go to art school. Jones was the nascent band's leader but was usurped from the role by Mick and Keith when success hit, spiralling downwards in a whirlpool of drugs and alcohol and being sacked in 1969.
Jones was found face down in a swimming pool shortly five months later. Dick Taylor has fond memories of his former bandmate.

"My take on Brian is he had a very good sense of humour. That's one of things people (biographers) probably miss. It was also the thing about Hendrix. He was a nice, humorous guy. And an intelligent guy, The same with Brian.
"Brian seemed to have big mood swings - he was really optimistic one week and the next, 'Oh we're never going to get anywhere'.
"He lived in a flat underneath the Pretty Things in Chester Street, Belgravia. By then he was out to have a good time and he was a lot more troubled too. The problems he had with Mick and Keith were starting to show.
"A very talented musician, and ambitious…there was also a very difficult and moody side to him. Personally, i always got on fine with him and we always had a load of laughs. All of us did - Mick and Keith.
"The main thing I remember about rehearsing with the Stones probably was the amount of humour that went around, We did laugh a hell of a lot. God knows what about - incidents and stupid things.
"Brian was fond of his 'nankers' - making stupid faces. There are lots of photos of him doing them. That was the person i remember."
Taylor was at the heart of the Pretty Things for their first four albums. The first two ("The Pretty Things" and "Get The Picture?") were scorching slices of raw R & B - records that would be a template for what we now call garage rock.
This was the band that out-snarled the Stones.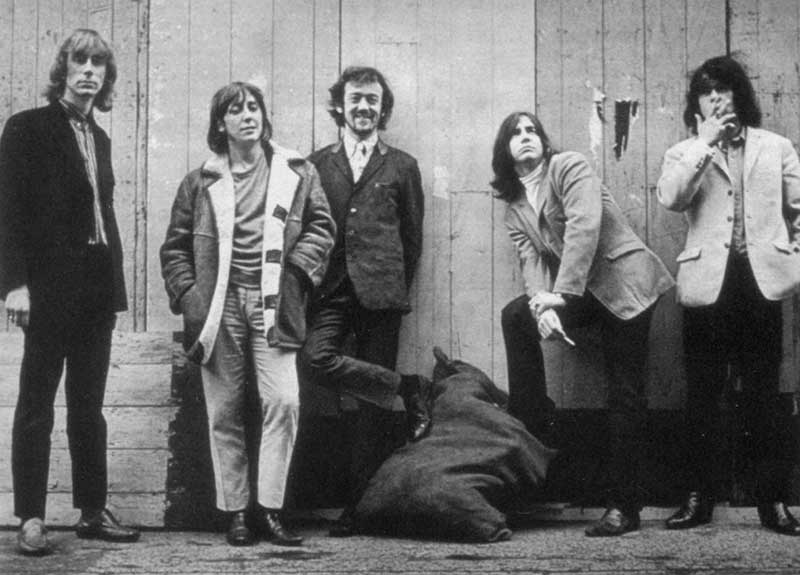 Dick Taylor is the man in the middle. 
The Pretty Things did an odd thing in 1965. Instead of touring the US, they went to New Zealand. The shows were well received but the authorities sent the band packing, in part a reaction to their wild music and long hair but also a side effect of the erratic behaviour of then drummer Viv Prince.
Prince spent the tour sozzled on any booze that was close at hand, at one stage setting fire to a bag of crayfish on an internal plane flight.  Prince - a role model for the young Keith Moon - and inevitably moved on. 
The British Invasion was soon in full swing with the likes of the Beatles, the Who and the Stones kicking doors wide open. The Pretty Things did make it to America - but not until many years later. 
Then came the soul-influenced "Emotions" album. Interference by their label - in the form of overdubbed brass arrangements - took the band in a wildly different (softer) direction...much to the chagrin of at least one band member.
"I don't have too much of a problem with the brass," Taylor says. "I think Phil doesn't really appreciate it. Both Mark St John and I think it's of the time.
"We weren't alone. When you think of Love and all the stuff (brass and strings) they had on their album ('Forever Changes')."
The LP regarded as their masterwork, "SF Sorrow", followed in December 1968. The first concept album, it was a year in the making and pushed the band into the musical domain of psychedelia.
Taylor readily admits some of the arrangements were a tip of the hat to Love: "Certainly, on 'SF Sorrow'. I can actually admit to bending some of the things I heard on 'Forever Changes'."
"SF Sorrow" should have made them the '60s equivalent of superstars but the Beatles, of course, had beat the Pretty Things to the punch with "Sgt Pepper's Lonely Hearts Club Band", a full six months earlier.
Taylor left the Pretty Things to get a day job and, in his words, leave the bubble that surrounded the band. The Pretties made another psych near-masterpiece in "Parachute" (Taylor's choice as best album that he didn't play on) and fell in under the managerial wing of Led Zeppelin's Peter Grant. Their focus was firmly fixed on cracking the US market.
Four albums on Warner Bros and Zepp's own Swang Song labels followed and although "Silk Torpedo" was rated Rolling Stone's record of the year in 1974, major success eluded the Pretty Things.
The band persevered until 1980 and folded. Until a reformation of sorts with May and some hired hands four years later, Dick Taylor was an onlooker rather than a participant.
"I could see the stuff that was happening with them. I must say, the way it all panned out was roughly what I thought might happen. I'm sure they had a good time doing it all…I was kind of pleased I came back to the band (1984) when I did.
"I think they kind of cracked the US in a way but by then the music scene had gone up its own arse. The thing that got me back in - not entirely by itself - was seeing the Clash. It was a breath of fresh air. Them and Joe Jackson, when he first came out.
"The music scene became so overblown. Don't get me wrong - there was some amazing music made - but there was a lot of things getting in the way of it as well."

Taylor produced some bands as punk and new wave washed over the old guard and even played guitar with The Mekons, but his 1984 reunification with May kicked off a new chapter for the Pretty Things.
A legal battle with EMI to recover royalties and rights to their own material, driven in no small part by now manager and sometime drummer Mark St John, ended up in a points decision to the band. Studio albums "Rage Before Beauty" (1990) and "Balboa Island" (2007) captured the spirit and scope of the band's history and were better than anyone was entitled to expect.

If the box set was a a career underline, the new studio record might be an exclamation mark that says: 'We're still kicking'. Watch out for it on Repertoire Records.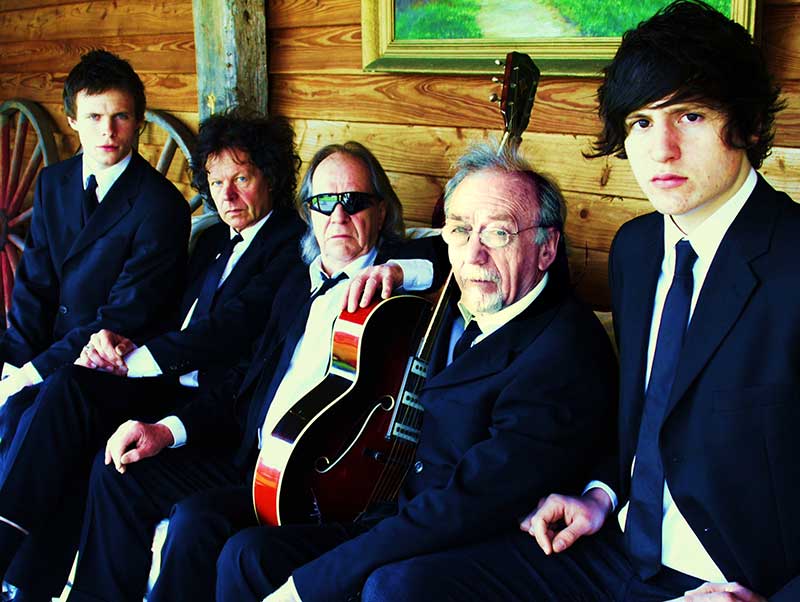 The Pretty Things in 2012.
"It's called 'The Sweet Pretty Things Are In Bed Now Of Course'. What's it like? It's interesting.
"On (last studio album) 'Balboa Island', we had quite a lot of acoustic stuff. This isn't like that. It' a but slightly psyche-ey…it's using the guys who are our rhythm section who've been with us nine years…George, the bass player has written a couple of songs. Everybody contributed.
"It's quite modern sounding - hopefully without being too much."
So does the box set put a lid on the past or is there anything else?
"There are a few things kicking around. There's definitely moire to come out of the vaults. There are (relatively recent) studio recordings we've done that haven't come out," Dick says.
Who's the hoarder?
"Mark St John has managed to acquire a lot of things. There's a guy in France called Bryce Baron who's supplied lots of things. (Ex-keyboardist) John Povey had the demo of 'Defecting Grey'. There's other demos
"The videos that Bryce Baron sends me amaze me. How could someone been at those shows a long time back, with a little Super 8 camera. There's all sorts of stuff clicking around. It's like having spies look at you!
"Phil and (guitarist) Wally (Waller) had some tapes of stuff they were writing. It comes from a lot of different directions.
"What I find fascinating is that Snapper have all the original quarter-inch tapes from our earliest recordings, all sitting there. They're bringing out a lot of stuff on vinyl so they're mastering them from the original tapes - they're the motherlode."
As a member of an act that's lasted, off and mostly on, for 50-plus years and been home to 24 members, Dick Taylor is something of an expert on the dynamics of bands. What does he think of the likely prospect of contemporaries the Kinks reconvening one more time on the back of brothers Ray and Dave Davies patching up their differences?
"Who knows? They don't have these falling-outs for publicity purposes. I know (drummer) Mick Avory and their relationship with him became quite difficult in the '60s.
"I knew Dave quite well and I really like him and Mick. Ray Davies I didn't know so much. He looks like he could be quite difficult.
"It would be good if they did get back together, but it might be one of those Pink Floyd moments where David and Roger said 'I don't want to do that again'!"
Europe is the touring backyard for the Pretty Things but 2012 had them sweeping as far afield as Australia and New Zealand. The band's original bass player, John Stax, lives in Melbourne so the Australian leg was a chance for he, May and Taylor to reunite on stage for the first time since 1967.
"I talk to John white regularly. He Skypes me quite often. He gave me a lovely cigar box guitar that he'd made. A three-string guitar. I must dig it out and do some stuff on it again.
"I'd love to come back to Australia - especially if someone says you can come out in our winter. I'd have to bring my wife because she was born in Melbourne, or else I'll end up in the divorce court.
"I liked New Zealand a lot. Seeing all these people saying: 'I saw you when you came here and you changed my life'. I apologised for that profusely."
NZ is positively on the beaten track as far as Pretties fandom goes. One follower checks in on the band's shows from Russia. A 50th anniversary tour gig in 2012 in England's backwaters sticks out in Dick's mind for the lengths some fans will go to.
"It was a funny little gig we did out in the sticks…there was a woman who came especially from Australia to see us. She had been to seven gigs. She flies out from Australia to see us.
"We have played Japan. There was a Japanese woman who'd been to see us five times. In Australia, there's Howard. He came to every gig in Australia - and went to New Zealand.
"He's an autograph hunter who shares the same birthday as me. He phones me up every year in that date to tell me who's died!"
Speaking of birthdays, Dick Taylor notched his 72nd on January 28. What does a living legend of rock and roll's most enduring acts do to mark such a milestone?

"I went out with my wife on my birthday and on the Saturday, I went out with my children (29 and 27) and stepson (28.) We and a bunch of their friends went ten pinbowling.
"We were going to go go-karting but the track was closed. And it was too bloody cold. We had great fun being stupid. I'm still waiting to grow up, by the way."
Long may it be thus.