So it should come as no shock that the former frontman for pioneering gutter rockers X and psych pop rockers Pubert Brown Fridge Occurrence (among others) is opening the latest phase of his long and storied career with launches for not one but two 45s.
"I love 'em," Lucas says up the vinyl single format from Saturday afternoon band rehearsal at Melbourne's Bakehouse Studios.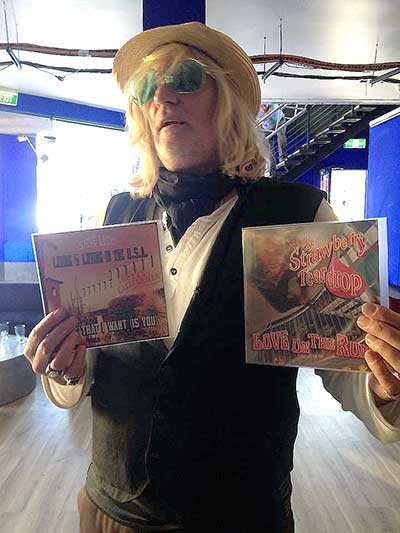 "I remember my first 45 that I bought. Oddly enough, it was Alker Bilk. Then I think I bought an EP by the Beatles. I was hooked. I used to hang out at the record store waiting for a delivery.
"The single became an art form in itself and I just love that aspect of if. You got one shot. Then it became a thing with the B side, it was something out of the ordinary for the band.
"Love On The Run" is the lead-off track from a single by Lucas' stripped back psych-garage rock band The Strawberry Teardrop. "Living & Loving In The USA" is the A side of the other, an ode to love and a slice of tidy guitar pop. They make for a pigeon pair of contrasts.
"I might end up with this parallel version of myself…the two faces of Steve," Lucas laughs. " I've painted myself into the corner before and if I did one single launch without the other, people would think I was going down one stylistic path."
Both singles will be limited run and sold through selected shops or online from the artist himself. Don't expect them to come out on CD in a hurry.
"You talk to a lot of young guys - the 20-30 years olds, vinyl is in vogue. But that wasn't my motivation, The way I heard these songs in my head, they were mean for vinyl. I'm totally over this fucking CD shit. The whole iTunes thing - fuck all that.
"You do an album and you're working that album for the rest of the year. Fuck that. I'll just do limited edition singles and then I can talk to the media every few months, carry on the story and the thread. If they do well enough, maybe do a compilation of the singles."
The releases are on Lucas' own label (SLXPress) and he was in the production seat. Which has obvious advantages.
"I did my bright poppy A side, 'Living & Loving In the USA', and the soulful, gospel song 'All That I Want Is You' for the B side. Because I could."
"Living & Loving" is about his recent marriage to Joey Bedlam (singer for Melbourne all-girl leather-clad rockers Dollsquad) and was written on their Califonrian honeymoon. The B side tells the tale of the proposal.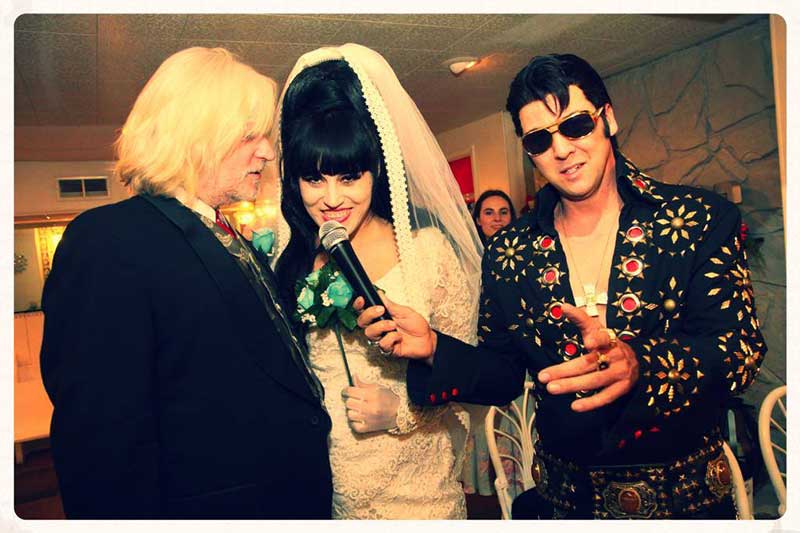 Love, and the new Mrs Lucas, were obvious inspirations for a fine slice of 45 action. The other was a vintage guitar Steve bought in the US.
"It's a 1957 Dan Electro. Just in a second-hand guitar shop in LA. It was a beautiful thing. Joey saw it on the wall and put it in my hand. I got it back to the hotel and started writing the riff for the song on the spot."
It's a long way from the visceral balls-out rock of X, one of the most spectacular (and star-crossed) bands to emerge from Australia's fertile late '70s underground scene. Lucas is the last man standing from X's earliest days - everyone else has passed on - and since the departure of bassist Ian Rilen, he has been fronting new line-ups and even exploring the band's music through acoustic solo outings.
So opening two new phases in the solo career means that's it for X?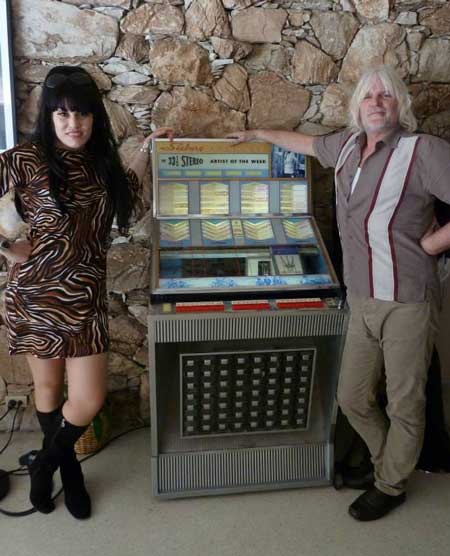 "I'm not over X, I'm over people's opinions of what I should do with it," Lucas explains.
"They say: I can't call it X without Ian in our or I can call it X because I was the singer and guitarist and co-writer. People who never saw the original line-up have an opinion on what I should do.
"I can remember a time when we sacked Ian. I can remember when I got sacked. Poor old Steve Cafiero got sacked every two months. Cathy Green got sacked and we brought back Steve. Spencer Jones was almost a member of X because he played with us so often. Chris Wilson too. We had so many people go through the ranks…"
A concerted re-issue campaign kept the band in the spotlight even when the band itself didn't exist.
"My main thing was to get everything (by X) under the name roof. That's why we did the releases with Aztec. Everything was brought up too date. It's done. Then we found the X-Spurts lost tapes.
"The only thing I'd like to do is get a hold of the two inch masters of 'And More' and mix it as it should have been mixed. Whatever happened to them, I don't know. I thought they'd turn up under (the late) Lobby Loyde's bed but they didn't.
"I'm starting a new life. It's time I got back to my own music.
"Having said that, I was cleaning out storage and found a whole pile of X lyrics from 1977-1983. So I'm teaching the guys in the Strawberry Teardrop some of these songs. I'm going to release them as B sides, as Rilen-Lucas compositions.
"They'll be cool songs, we'll do them as faithfully as possible, it will just give some more depth to what I and I used to do. Dark, horror stuff. Really funny stuff. Just X stuff. With a ray of sunshine int he darkest moments.
"It's got its roots back in the same place as Pubert Brown Fridge Occurrence but it's more in the garage, the punk version of it. Heavy riffs, storytelling."
So X - or more correctly, its legacy - will live on. While Lucas single launches in Brisbane, Sydney and Melbourne will be with a band (The Strawberry Teardrop) in tow, occasional shows of X songs (with northern NSW band the X-Aspirators) will continue.
There will also be a place in the schedule for Lucas solo shows.
"I'll always do solo gigs. These days I get more into reminiscing about where the songs came from. Playing them with a bit off a twist so people can see more to it….to me it's more human and more intimate."
Steve Lucas and the Strawberry Teardrop will launch the singles at Cherry Bar in Melbourne on January 31 and The Factory Floor in Sydney on March 7. Steve Lucas and the X-Aspirators play The The Underdog in Brisbane on February 20 and the Middle Bar in Mullumbimby, NSW, on February 21. Steve Lucas will do solo shows at Boogie Man Bar in Abbotsford in Melbourne on February 13 and 28 and March 14 and 28.
Buy the singles and lots of other Steve Lucas music here.