Details

By

The Barman

The Barman
Bandmates rally to help a seriously ill Spencer P. Jones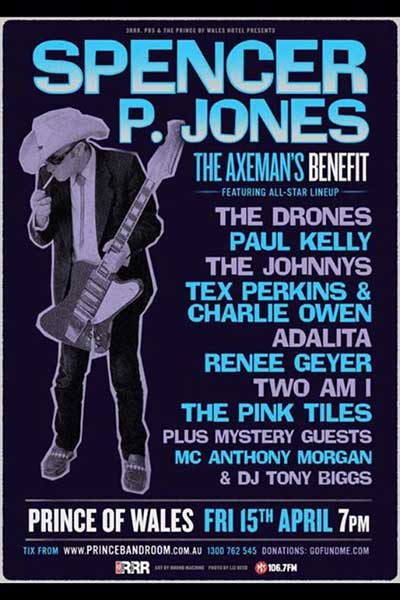 Living legend Spencer P Jones is seriously ill and in need of your support.
The storied veteran of bands like the Beasts of Bourbon, The Johnnys and many of his own outfits is under medical care and currently unable to work.
Mates James Baker and Tex Perkins have arranged benefit shows in Fremantle (March 20) and Melbourne (April 15) respectively. UPDATE: A GoFundMe account has been opened here for anyone unable to make the gigs.
Dave Faulkner (Hoodoo Gurus), KISStake, The Painkillers, Beautiful Losers, Midfield Legends (featuring members of the Bad Seeds and The Triffids, Soulfisters, Maurice Flavels Intensive Care and more will play the Fremantle show at Mojo's.
The Drones, Paul Kelly, Tex Perkins and Charlie Owen, Adalita, Renee Geyer, Two Am I, The Pink Tiles and mystery guests head the Melbourne line-up at the Prince of Wales Hotel in St Kilda.
A silent auction will operate in conjunction with the WA gig