Spanish label revives Birdman tribute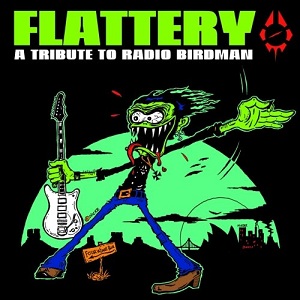 Fifteen years ago, US-based rabid rock and roll fans in Washington DC launched a mission to issue a tribute album to the songs of Radio Birdman played by what were then contemporary bands.
Reaction to the "Flattery" tribute was so positive that Jake Starr and Dave Champion were forced to package it as three standalone CDs through their Fandango Records and Nomad Records imprints.
Now well into the 40th anniversary year of Radio Birdman's first gig, Spanish label Ghost Highway has picked up the idea and will re-issue the cream as "(The Best Of) Flattery", a vinyl double LP, funded through crowd-sourced finance. The LPs will be accompanied by a 7" single.
The tracklist for the 29-song collection provides a who's who of the global '90s underground scene, with a handful of the bands (The Nomads, Streetwalkin' Cheetahs, The BellRays, The Sewergrooves) still around:
LP ONE
GLUECIFER: Monday Morning Gunk
The SEWERGROOVES: Smith & Wesson Blues
The HELLACOPTERS. Time To Fall
SATOR: Alone In The Endzone
The A-BOMBS: Crying Sun
The NOMADS: Hanging On
The DEAD CITY REBELS: Breaks My Heart
The CANDY SNATCHERS: Murder City Nights
The FINKERS: I-94
The YES-MEN: Anglo Girl Desire
The ONYAS: Snake
ADAM WEST: Burned My Eye
The STREETWALKIN' CHEETAHS: Iskender Time
The QUADRAJETS: Man With Golden Helmet
LP TWO
The DEADBEATS: Aloha Steve & Danno
HELLRIDE: Non-Stop Girls
BAD MACHINE: What Gives?
The NITWITZ: Dark Surprise
The LUCKY PUNCH: Love Kills
"DEMONS" Feat. NICKE ANDERSSON: Living Eyes Medley
The SPOILERS: Descent Into The Maelstrom
AMERICAN RUSE: Do The Pop
SILVER TONGUED DEVIL: TPBR Combo
The CRUMS: Hand Of Law
The LORDS OF GRAVITY: More Fun\
HELLENIC ZEAL: 455 SD
The BELLRAYS: If I Wanted To
7" SINGLE
The POWDER MONKEYS: Smith & Wesson Blues
The TIP TOPPERS: Hanging On
You can sign-up to funding the project and reserve yourself vinyl and digital versions of "Flattery" here.
The project has the blessing of Radio Birdman with both Deniz Tek and Chris Masuak lending supportive comments.

Deniz Tek: "It's fascinating to hear the familiar tunes from a new angle ... I learn something cool every time. We take from those who came before us, we try to add something, and pass the flame along. It can work in both directions. I'm very honored that these hard rockin' bands found my songs worthy of recording."
Chris Masuak: "The flag itself may be battle weary, ripped, and torn but I wear those colours proudly and have continued to celebrate the uniquely powerful music and glorious heart of Radio Birdman! It heartens and humbles me to see (and hear) how so many musicians have been touched by the band's indomitable spirit and moved to keep the legacy of Radio Birdman hanging on! Thank you, compadres! Yeh hup!"