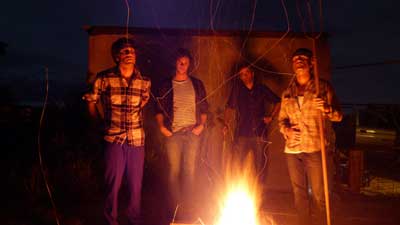 Infinity Broke's new album "River Mirrors" is out now via Jamie's own label Come to the Dark Side Luke and the band has kicked off a national album launch tour of Australia.
Infinity Broke is the new project of Jamie Hutchings and Jared Harrison of influential Sydney group Bluebottle Kiss, alongside Jamie's brother Scott Hutchings and long-term collaborator Reuben Wills.
Bluebottle Kiss were one of Sydney's most influential indie rock groups of the '90s and '00s. River Mirrors marks a musical transition for Hutchings and Infinity Broke – it's a return of musical electricity, particularly in Jamie's often improvised, jagged guitar playing. The album is notably heavy on percussion, with drummer Scott Hutchings playing on a gas tank, metal bin, snare and floor tom.
"River Mirrors" was recorded mostly live to one inch analogue tape with Chris Colquhoun over two long weekends in a former shearing shed on a rural property in Western NSW.
If you're sophisticated enough to love being hypnotized by early '70s improvisers like Can or On the Corner era Miles Davis, but you like getting beaten around by The Replacements or Hüsker Dü, we are told you will approve of Infinity Broke.
RIVER MIRRORS NATIONAL LAUNCH TOUR

Thursday 8 May – The Bridge Hotel, Castlemaine VIC with Machine Translations
Friday 9 May – The Gasometer, Melbourne with Machine Translations and Jacky Winter
Saturday 10 May – The Exeter Hotel, Adelaide SA with Jamie Hutchings (solo)
Friday 16 May – The Loft @ Chevron Island, Surfers Paradise QLD with Tall Tails and David Baker
Saturday 17 May – The New Globe Theatre, Brisbane QLD with The Stress of Leisure and special guests
Thursday 22 May – Yours and Owls, Wollongong NSW with special guests
Friday 23 May – The Lass O'Gowrie, Newcastle NSW with Indian Gun and special guests
Saturday 24 May – The Factory Floor, Sydney NSW with The Holy Soul and Lobsterman