Born Out of Time series kicks off in Sydney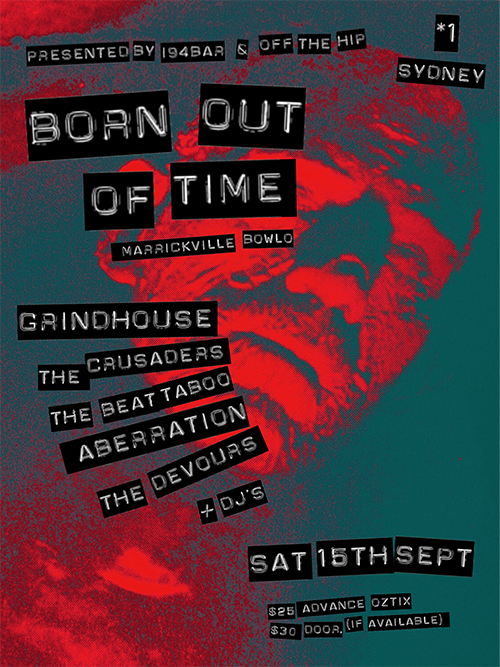 Call it a gathering of the garage rock tribe or a gig for underground music's disaffected, but the "Born Out of Time #1" bill of high energy bands is going to rock Sydney's socks off.
A mini-festival of awesome proportions at Marrickville Bowling Club in Sydney on Saturday, September 15, it's the first of a series of national shows to showcase the best REAL Rock n Roll in the land.
Presented by Off The Hip Records and I-94 Bar, "Born Out of Time #1" features a line-up of motor-headed Melbourne punks Grindhouse; kings of fat 'n' drunken stupidity The Crusaders; new voodoo crew The Beat Taboo; revived and resurgent Sydney punks Aberration; and young Melbourne band The Devours.
"The concept of Born Out Of Time is to take bands from the label, and others, to places where they might not otherwise play," says Off The Hip Records honcho Mick Baty.
"It's a value for money, five-band bill that echoes the sort of nights that made the Sydney Trade Union Club famous in the 1980s."
The Crusaders will be making one of their all-too-rare appearances and their first since supporting The Sonics in Sydney two years back.
The Beat Taboo
is a group of Melbourne veterans with a swamp-voodoo
album
"Dirry Stash" making noise in Australia and overseas.
The revived A
berration
, featuring ex members of the New Christs and Lime Spiders, mix power and melody to burn on their
"Tuckerbox"
album, a record that should have been recorded and released 25 years ago before the original line-up imploded.
The Devours are newcomers who are already being compared to Husker Du and GOD. They have an EP out and are a fixture in Melbourne venues but previous north will have only taken them to Newcastle and Wollongong.
Also appearing will be guest DJs Frank Cotterell and Madam De Silver, with a range of music and merch on sale.
Tickets for "Born Out of Time #1" are on sale now at oztix.com.au Pre-sales receive free Born Out Of Time CD comp at entry.
Born Out Of Time #2
Presented also by Going Steady Music
Saturday 13th Oct
Crown & Anchor, Adelaide
Lineup TBA
Born Out Of Time #3
Presented also by Munster Times Zine
Saturday 10th Nov
Old Bar, Melbourne
Lineup TBA
Tags: grindhouse, the crusaders, beat taboo, aberration, the devours, born out of time