Celibate Rifles back home for mini-festival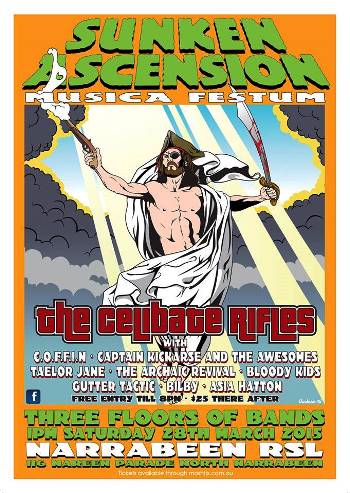 There was a time when Sydney's northern beaches beaches were a hotbed of high energy rock and roll.

Since the decline in the Sydney live music scene (and the demise of the Manly Fisho's Club) the opportunity to enjoy local bands under one roof has been rare. An event at Narrabeen RSL on March 28 is trying to revive those days.
Sunken Ascension is a mini-festival, headlined by the home-grown Celibate Rifles, and running across three levels of the club.
It's free from 2pm and all-ages until 8pm, after which it's $25 (or $20 pre-sale.) For that you get cheap beer, inexpensive food, a downstairs cocktail lounge and a local shuttle bus.

Celibate Rifles, C.O.F.F.I.N, Captain Kickarse and The Awesome's, The Archaic Revival, Gutter Tactic, Bloody Kids, Taelor Jane, Bilby and Asia Hatton are playing and tickets are here.