Compilation, deluxe re-issues spotlight birth of Melbourne's underground scene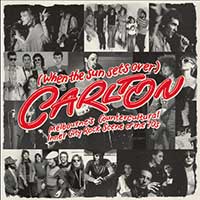 Following acclaimed compilations like "Boogie!", "Dirty Jeans" and "Down Under Nuggets" and deluxe reissues of classic albums and material by Sunnyboys, Archie Roach, Frente! and the early Bee Gees, Warner Music's hertitage imprint Festival Records continues its excavation of great Australian music with a number of releases focussing on Melbourne's influential '70s scene, to be released on October 3.
"(When The Sun Sets Over) Carlton: Melbourne's Countercultural Inner City Rock Scene Of The '70s" is a deluxe 2CD set that documents the arts and politics-infused rock scene that gave Australia cultural icons like Paul Kelly, Joe Camilleri, Stephen Cummings, Jane Clifton, Peter Lillie, Ross Wilson, Ross Hannaford, Greg Macainsh, Red Symons and Shirley Strachan, as well as author Helen Garner.
Taking its title from the famous song by the scene's best known band Skyhooks, the album traces the countercultural scene's development from its beginnings in venues like the TF Much Ballroom and Carlton's La Mama and Pram Factory theatres through Skyhooks breakout success to the thriving pub scene found in legendary venues like Martini's and the Tiger Lounge. It presents also a glimpse of the birth of Melbourne's hugely influential 3RRR-FM, which was born out of this scene.

Rarities and unreleased material featured in the 44-track collection includes Daddy Cool covering Skyhooks in '74; an unreleased Skyhooks demo featuring original singer Steve Hill; two unreleased studio recordings by Paul Kelly's first band The High Rise Bombers and two little-known tracks from the self-released 1979 EP by his next band The Dots; an unreleased early Jo Jo Zep & The Falcons demo from '76; a pre-Sports demo by Stephen Cummings with Dave Flett; the first track ever released by Wayne Burt's pre-Falcons Band (with Pat Wilson) Rock Granite; and an unreleased Bleeding Hearts demo produced by Greg Macainsh and rare material from the Pure Shit soundtrack.
It also features a mix of classic and lesser known other material from the likes of The Sports, Stiletto (featuring Jane Clifton), The Bleeding Hearts, The Pelaco Bros (featuring Stephen Cummings, Peter Lillie, Johnny Topper and Joe Camilleri), Eric Gradman Man & Machine, early Mondo Rock, Company Caine, Spare Change (featuring John Dowler), Parachute, Mark Gillespie, The Millionaires, The Indelible Murtceps (alter-ego of the legendary Spectrum), Peter Lillie & The Leisuremasters and more. The collection comes in a slipcase and with a lavishly illustrated 52-page booklet featuring 15,000 words from musicians including Martin Armiger, Paul Kelly, Jane Clifton, Johnny Topper as well as esteemed rock writer Jen Jewel Brown.
The album's eye-popping logo/title design was drawn by legendary '70s Australian cartoonist and cover/poster artist Ian McCausland. To coincide with "Carlton", Festival will also be releasing Expanded Editions of the classic albums by two of Melbourne and indeed Australia's most-loved bands of the late '70s and early '80s period; the first two albums by The Sports - "Reckless" and "Don't Throw Stones" (from '78 and '79 respectively) - and Jo Jo Zep & the Falcons' breakthrough album from '79, "Screaming Targets'"
All three albums, which were originally released on Mushroom and have been long out of print on CD, have been remastered from original tapes. Each of these three titles takes the original album and adds a bonanza of additional high quality studio and live material, tripling or even quadrupling the original playing time to really give the listener a broad sense of what the bands were about at the time.
With Sports singer/main-man Stephen Cummings, and Jo Jo Zep himself, Joe Camilleri both currently in the spotlight again with new albums (Stephen with his latest solo album, Joe with a new Black Sorrows album) and with Stephen the subject of a new documentary film, itself called 'Don't Throw Stones', these particular releases provide a timely chance to revisit the seminal early work of two Australian music icons and their bands of the time.
Tags: melbourne, when the sun sets over carlton, festival records, jo jo zep, sports, stephen cummings, peter lillie, camilleri, skyhooks