Details

By

The Barman

The Barman
Even saves the Queen (and her long weekend regime)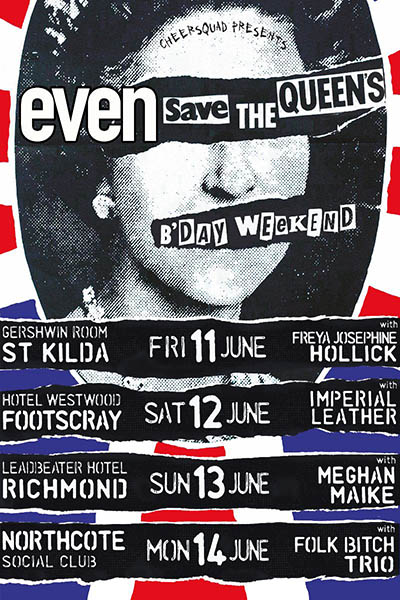 Melbourne's royal rock'n'pop trio Even - who did include a stonking cover of the Sex Pistols' "Pretty Vacant" on their recent "Down The Shops" covers collection - reckon that the Queen's Birthday is worth celebrating. Indeed, they reckon it is their Antipodean duty to do so, especially given that Prince Philip is now no longer around to start the party.

But with four shows across the holiday weekend at great venues in the city's inner north, south, east and west, "Even Saves The Queen's Birthday Weekend" is not just a celebration of a fabulous public holiday, but of the great rock'n'roll city that is Melbourne.
Even's Friday to Monday run is gonna provide some right royal rocking with four hand-selected support acts adding a unique flavor to each show.
New Cosmic Country queen Freya Josephine Hollick opens proceedings at the Gershwin Room on Friday, June 11. From then it's the tres glam Imperial Leather, featuring entities from both RRR and PBS-FM at the Westwood on Saturday the 12th; stranded Mississippi-based Canadian-Australian bluesy country singer-songwriter Meghan Maike on Sunday the 13th at the Leadbeater; and melancholy and melodious young trio of singer-songwriters the Folk Bitch Trio on Monday the 14th at the Northcote Social Club.
Monday's show is a matinee and under-18's are allowed in if accompanied by an adult.
ESPY - GERSHWIN ROOM
Friday 11 June
With Freya Josephine Hollick
Tickets here

HOTEL WESTWOOD
Saturday 12 June
With Imperial Leather
Tickets here
THE LEADBEATER HOTEL
Sunday 13 June
With Meghan Maike
Tickets here

NORTHCOTE SOCIAL CLUB
Monday 14 June (Afternoon)
With Folk Bitch Trio
Tickets here