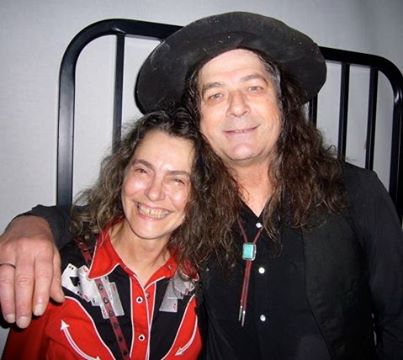 In a post on the band's Facebook in March, the veteran garage rock guitarist said: "I go in for heart surgery April 2. They have to cut out part of my heart and rebuild it with new valves and shit. I'm like an old car."
A follow-up message from the husband-and-wife team says: "Fred's heart operation went very well, he's recovering faster than expected and should be released this Monday.
"All we need now is the time it takes to heal all wounds. Your support has meant the world to us, it's just too amazing to have lifelong friends & extended family out there all over the world."
The Coles and their bands have been fixtures on the Portland, Oregon, scene for 35 years.
Fred, 65, started his musical career in the '60s as "Deep Soul Cole," singing blue-eyed soul with an all-black backing band. After that he fronted The Weeds, who produced a regional hit in the Northwest (Fred's adopted home) with the slate-hard "It's Your Time."
Dead Moon rose to prominence in the '00s with their dark, tightly-wound garage rock and Pierced Arrows continues in a similar vein.
Dead Moon's homespun approach was the subject of a documentary, "Unknown Passage", and the band operated as a proudly independent unit, releasing its own records and touring the world.