Last Gang in town brings the entertainment! 40 years later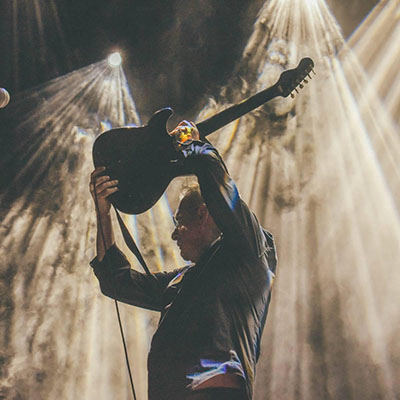 If you subscribe to the popular notion that post-punk started in 1976, Gang of Four are to blame. Established in Leeds in England's north, Gang of Four - or Go4 - are widely recognised as originators of the genre with their potent political lyrics and stripped-down blend of funk, punk, dance and dub.
Originally singer Jon King, guitarist Andy Gill, bassist Dave Allen and drummer Hugo Burnham, there have been many G04 line-ups down the years. Founding member Gill is the only one remaining and he'll bring the band to Australia and New Zealand in November, marking the 40th anniversary of the debut album "entertainment!"

While we don't want to encourage you to read it these days, Rolling Stone magazine rated their debut album "entertainment!" as the fifth greatest punk album of all time. Pitchfork (it's a hipster bible but don't hold that against Go4) ranks it the eighth-greatest album of all time.
Go4 will play "entertainment!" In full plus selected songs from the band's other nine studio albums.
Our resident post-punk devotee ROBERT BROKENMOUTH is a dyed-in-the-wool Go4 fan. He spoke to Andy Gill about the band's history, recent output and what makes its music tick.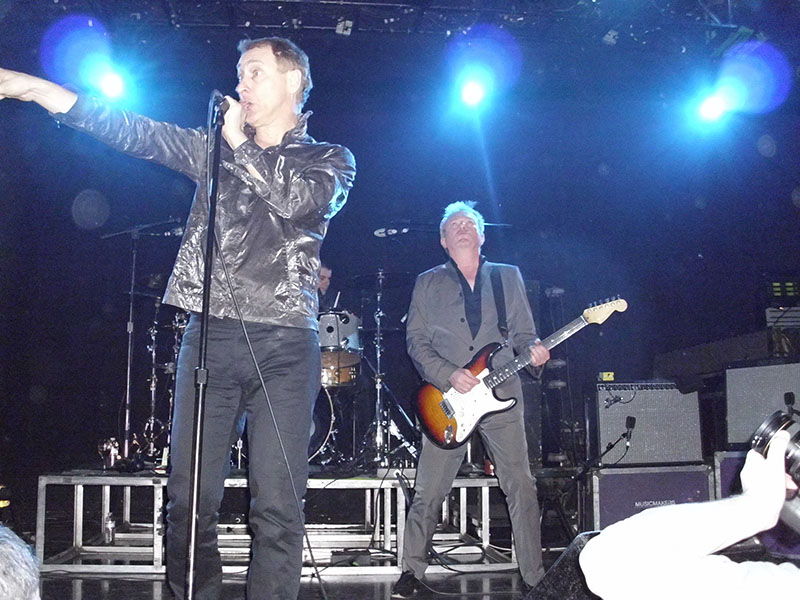 Live in Chicago.
Q: Could you tell me about the current LP, "Happy Now", how it came about?
Andy Gill: In the beginning, I had quite a few rough ideas that I'd been working on for the previous 12-24 months. These ideas developed once I started working in earnest. The thing that was different this time was that I wanted to work with co-producers so that I wasn't doing everything myself. In the first place that provides a level of discipline which keeps you on the job without the ability to be distracted and, secondly, it means there is somebody with strong production ideas who can disagree with me which is a very powerful creative situation in the studio.
In the early phase of the recording I decided to put out the EP "Complicit" in the spring of 2018 as a kind of preview / prequel of the album.
Lyrically, the way I approach these things is quite similar now to when "entertainment!" was written. There are a lot of stylistic differences, but the core is consistent. It is frequently noted that the observations and perspectives of the debut album feel like observations and perspectives on today's world. I suppose that's a testament to the prescience of "entertainment!" and to the ways in which the songs reflect and analyse their context.
Of course, the last thing you want to do is just bang on about Trump, but he's impossible to ignore. He tells his own story, and you've got the Fox News-Breitbart right-wing media that goes along with him and amplifies him. But most people can see what he's like - they don't need me to tell them. So I suppose the kind of backwash of recent activities has some sort of analysis in some of the songs. It actually gets specific in the song 'Ivanka'; it's more interesting getting her point of view and the things she says; "I don't know what it means to be complicit" is such a fascinating line, [the Trumps] tell their own story, they wrote the song for me. I want to let the characters speak for themselves. I don't need to say whether it's good or bad or voice my approval or disapproval. That's the power of it.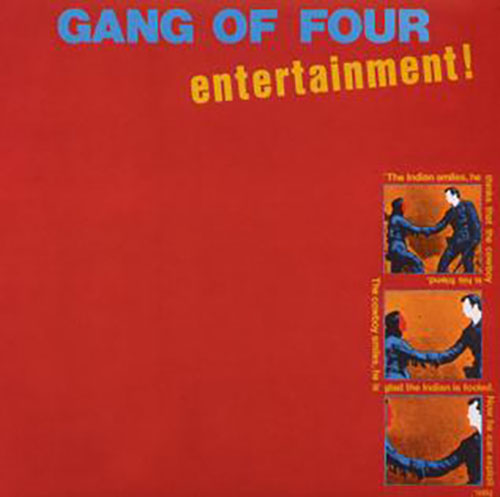 I was never interested in just pushing a political party line. Never interested in telling people what they should think. It has always been much more about describing ideas, ideology, history and the world around us on both a micro level and a macro level so essentially it's observational. People can take from it what they want, they can draw their own conclusions from it.
Q: There are a lot of reasons why Go4 appear a very different animal these days; while I expect you cop a certain amount of flak for playing music which isn't what initially brought the older crowd in, I find myself wondering what the younger crowd make of it. (particularly enjoy "Ivanka: My Name's On It", and "I'm a Liar", by the way.)
Andy Gill: Well, we have a very mixed bunch of people coming to our shows these days. Ages from 19 to 69. Actually most people are under 35. I'm glad about that because it shows how we have remained very relevant. I think a lot of the younger fans almost see us as another new band ... funny isn't it?
Q: I remember when I first saw seeing Wilko Johnson in the Feelgoods on the TV, it was quite a moment to see his movements, how he was playing. I assume you saw Dr Feelgood with Wilko back in the day, and I can only remark (jealousy aside) that you were one lucky bastard. Could you tell me a little of what got you so utterly excited about the possibilities of guitar - because I'm sure it wasn't just Wilko.
Andy Gill: I started playing in bands when I was about 14. I loved Hendrix but even back then I was playing a very rhythmic style.
Most of the music that I really loved from my teenage years and early 20s was American. So; Motown, Stax, Jimi Hendrix, Velvet Underground, Bob Dylan, The Band. And, as you point out, the very British Dr Feelgood who were an enormous influence. The mechanistic approach. Tight. Always direct with the audience. Fantastic rhythm guitar playing.
In a nutshell, the electic [sic] guitar was this lump of wood and metal from which I could make extraordinary noises – noises that could move people and make them feel different emotions and thrill and excite them. I still shake my head in wonder.
Q: And, while I'm at it, what music really thrills you at the moment?
Andy Gill: Let's Eat Grandma are great. "hot pink" is a cool song. And the slightly loony SLOWTHAI is a current fave.
Q: Because the current tour focuses on 40 years of 'entertainment!', I wonder what you think of the long-term impact the LP has had - it's certainly different from the reaction the band received initially? And it also seems to be a bench-mark of expectation.
Andy Gill: The late 70s were a pretty interesting time I think. Certainly in Britain it had become a very politically charged atmosphere, very polarised. Jon King and myself were at Leeds University doing art. There were some great tutors there; feminists like Griselda Pollock and Marxists like T.J. Clark. A lot of that fed into the ideas that we had about songs and constructing songs and lyrics.
Part of the beauty of Gang of Four is that it never sounds like a genre. I was thinking about many things in the period leading up to the Gang of Four's first album; I was thinking about modern art like Frank Stella and old art like Manet. Also thinking about James Brown and Jimi Hendrix and Dub reggae. Jon King and I watched a lot of films and talked about them often. Jean Luc Godard was a favourite, while I was very keen on Powell and Pressburger. Jon was into situationalism while I was kind of obsessed with the idea that nothing we do is "natural", that what we do, and how we act are man-made constructions. I suppose that's an idea which might have come from Marxism/feminism.
The record got very mixed reviews when it came out; nobody raved about it and many were quite damning. But I think it was definitely a line in the sand, people knew something had changed with that record.
At the time I said to the band and Rob Warr (our manager) "this is a new language - people will talk about this in the future, it will get taught in universities". I was roundly guffawed at, but then I was kind of right.
(ED: Most of you will have at least heard of Jean Luc Godard (he made a film in which incomprehensible French folk interrupted the making of a Rolling Stones song); Powell and Pressburger, on the other hand, were a British film-making team (called 'The Archers') mostly famous in the 1940s and 1950s. If you've ever had a female in the same house as you, you'll probably have seen their "The Red Shoes".)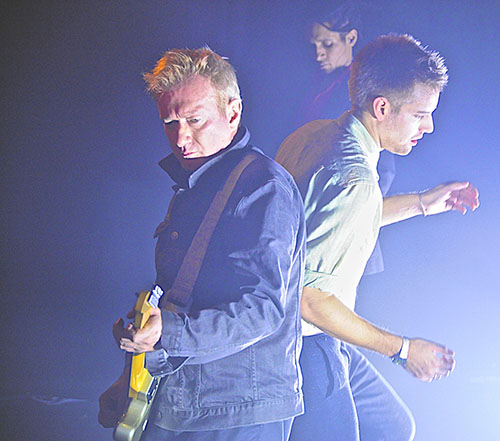 Andy Gill with current Gang of Four singer John "Gaoler" Sterry. DJ Larkham photo.
Q: Just how different was the UK of 1978/9 to today?
Andy Gill: In many depressing ways it's rather similar to today, in the sense that it's still the left pitted against the right, and the institutions of government are totally inadequate; then as now.
Britain has been relatively successful in creating jobs and renewing some of the rundown town centres; Leeds is practically unrecognisable today when I go back there.
Q: While "entertainment!" is still relevant, but ... to people under (say) 35, who the media portray as confused, frightened, and weak?
Andy Gill: I certainly wouldn't say that people under 35 are confused, frightened or weak. And it's that age group which is the fastest growing section of gang of four supporters. So I feel they really understand what we are on about both now and on "entertainment!"
Q: When I was a student, it occurred to me that many of the early Go4 songs were written in a Brechtian way - you know, the 'alienation effect', where the viewer is dragged along by the dramatic flow of the song, but brought up short by the discordant aspects, coupled with unexpected lyrics which forced consideration of a topic - 'At Home He's a Tourist', for example. Am I completely wrong?
Andy Gill: Yes, I would totally agree with you about the Brechtian approach. When I constructed the song 'He'd Send in the Army' I thought of it very much as a drama, a play on the stage involving different characters . . . one character would say something, another character would pass commentary on what the first character had said and then a third character would chip in. Gang of Four songs are full of unexpected twists and turns both musically and lyrically, sometimes taking you up a blind alley and then presenting a joke. Or a melancholic meditation on what may have gone wrong followed by the destruction of a microwave.
Q: When the Go4 were starting there was a huge terrace culture, often involving violence, at gigs in the UK. Some people don't seem to be able to appreciate violent music without being triggered into violent actions (or acting out) themselves. Does this still happen in the UK (I gather Sleaford Mods have a similar following) - how did you cope back then - and now?
Andy Gill: We didn't have violence at our gigs, or at least very rarely. In my opinion our music was often very exciting but that did not seem to trigger violence.
There was violence elsewhere in Leeds at the time with far right activists attacking pubs where they knew artists, musicians, Bohemians, homosexuals would gather and also sometimes attacking the university campus where there would be fights. I'm not sure that that happens so much now
Q: I thought "entertainment!" absolutely reeked of belligerence (not just anger) and a rather bleak humour - I loved that complexity, it just seemed to be made up of interlocking meshes. How does it feel playing the songs after so long?
Andy Gill: Yes, I suppose it is belligerent and it is full of bleak humour, as you say. It feels normal to me playing the songs. There have been periods, sometimes of a few years, when Gang of Four has not been operational and then I have to relearn how to play them properly. One of the interesting things for me is playing those old songs next to the new songs in a set and the way they seem to inform each other to create a context for each other.
Q: You did an interview earlier this year; "Jon and I liked to say that Gang of Four were like a committee and we were all involved. That was living a bit of a fantasy and did not do us any good. "There are four people - there are no leaders here." All bollocks. Me and Jon were running the show. We invented it, but we pretended it was all four of us. Basically Hugo [Burnham, drummer, 1977-1983] and Dave Allen [bass, 1977-81] were really lucky to be in the right place at the right time. The band was me and Jon King: we had the concept and we wrote the songs" The rhythm section are incredibly important to the structure and drive of the songs - what happened?
Andy Gill: Dave Allen himself is on record stating that Hugo didn't come up himself with the drum parts, but that I did. And Dave's bass essentially works around the guitar part.
Q: In that area, then; we're all different as we get older. What things would you do differently if you knew then what you know now?
Andy Gill: As you can imagine there are many many things I would do differently. Jon didn't seem to be that bothered about getting good management which is something that really held us back over the years. Also, I should have been clearer about who was really contributing and who was dead wood. And I should've acted on it.
Q: And lastly - chance of a few live recordings making it out? Perhaps a box of several gigs down the years?
Andy Gill: Well, recently we made a record called "Live… In the Moment". It's a couple of years old but it's a really strong intense album recorded at the Islington assembly hall in London. Available at all good retailers.
Gang of Four
Australia-NZ
NOV
2- PERTH Rosemount
5- ADELAIDE Lion Arts Factory
7 - BRISBANE The Zoo
8 - SYDNEY Manning Bar
9 - MELBOURNE Croxton
12 - AUCKLAND Tuning Fork
13 - WELLINGTON San Fran
Tags: australian, new zealand, gang of four, andy gill, entertainment!