Green Circles head stellar line-up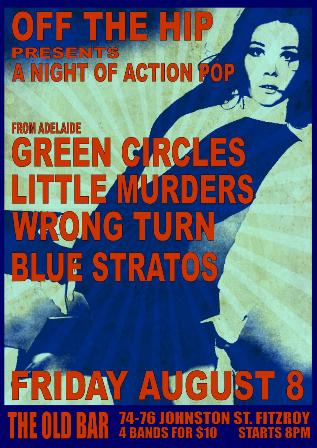 Adelaide's fab Green Circles have announced a rare gig outside their home town, heading a mighty fine line-up at the Old Bar in Melbourne on August 8.
Joining the Circles are similarly credentialled mod veterans Little Murders, Ian Wettenhall's superbly gritty Wrong Turn and the bracing garage duo, Blue Stratos.
Green Circles? It's garage. It's psych. It's beat. It's four men, a guitar, a bass, drums and some vocals.
Green Circles have released four albums in Australia-, "Mr Cocking's Descent" (2013), "Tavistock Street" (2008) and "Brass Knobs, Bevelled Edges" (2003) - all released by the wonderful Off the Hip Records - and "Get On The Outside Of This" released by Sexy Diablo in 2001.
Early 2006 saw the release of the album Black Vinyl Heart a UK compilation of 17 songs from the first two Australian albums, plus an extra track, released by Biff Bang Pow. The band has also been on many comps released around the globe. They've often travelled the well-worn rock and roll path to Melbourne and can't wait to get back.
Tags: blue, green circles, stratos, little, murders, wrong, turn