Details

By

The Barman

The Barman
Leadfinger heads a heroic Friday night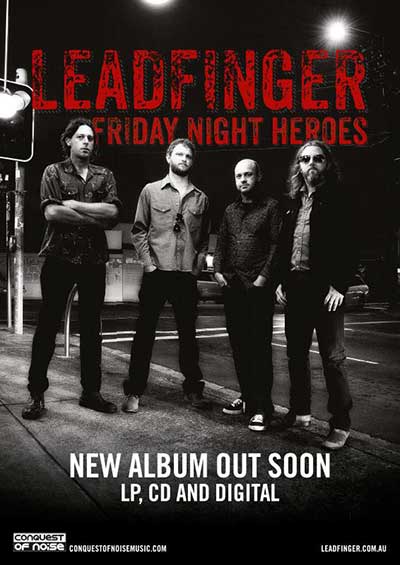 One of Australia's most soulful rock and roll bands, Leadfinger, is unleashing its new album "Friday Night Heroes". The Sydney leg of the launch tour is at The Factory Floor in Marrickville on July 15...which, fittingly, is a Friday night.
Leadfinger's fifth album was recorded in mid to late 2015 at Sydney's Linear Recording with Wade Keighran (Wolf & Cub, Steve Smyth Band) behind the controls. It is out now on vinyl, CD and digital through Conquest of Noise Records.
Supports for the Sydney launch will be Melbourne band Powerline Sneakers making their first trip to the Harbour City and Newcastle's Rangers of the Universe.
Powerline Sneakers feature Sly Faulkner (Splatterheads) on vocals and John Nolan (ex-Powder Monkeys) on guitar, Katie Dixon (ex-Ripe) and Mark Hurst (Guttersnipes/Yes Men) on drums.
Rangers of the Universe is a new band featuring Scott Nash (ex Asteroid B-612/Carrie Phillis & the Downtown 3) and Jason Maljers (ex-Jim Cobain) on guitar.
Tickets can be procured here.