Live debut for well-credentialed trio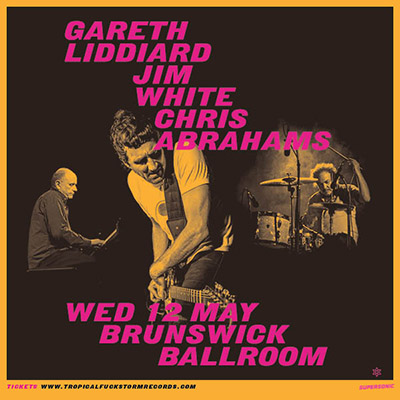 Remember when supergroups were a thing? The remarkable musical talents of Gareth Liddiard, Jim White and Chris Abrahams are to be combined, refined and recorded. Merging elements of free-jazz, lyricism, improvisation, avant-garde and experimental noise from three of Australia's finest music makers for an album due out towards the end of 2021.
The trio will play an exclusive warm-up show at the Brunswick Ballroom in Melbourne on May 12, before heading into the studio.

Chris Abrahams, known for his masterful keyboard playing for avant-garde free jazz trio The Necks, described by the New York Times in 2017 as "the greatest trio on Earth", has also played with the Laughing Clowns, The Church, The Triffids and Midnight Oil among others.

Jim White plays drums for legends The Dirty Three, "one of the world's best living bands" according to The Guardian, and fans across the globe. He has also played with names like PJ Harvey, Marianne Faithfull, Cat Power, Bonnie Prince Billy, Smog, Nick Cave, Xylouris White and many others, and is soon to tour nationally as a duo with Ed Kuepper.

Gareth Liddiard is a solo artist and the founding member, singer-songwriter and guitarist of The Drones and sci-fi experimental mud pop group Tropical Fuck Storm, who Iggy Pop described as "nice band" and "a good fuck".Tickets are on sale from Moshtix.



Tags: dirty three, jim white, gareth liddiard, chris abrahams, the necks, brunswick ballroom