Love really is calling with our latest release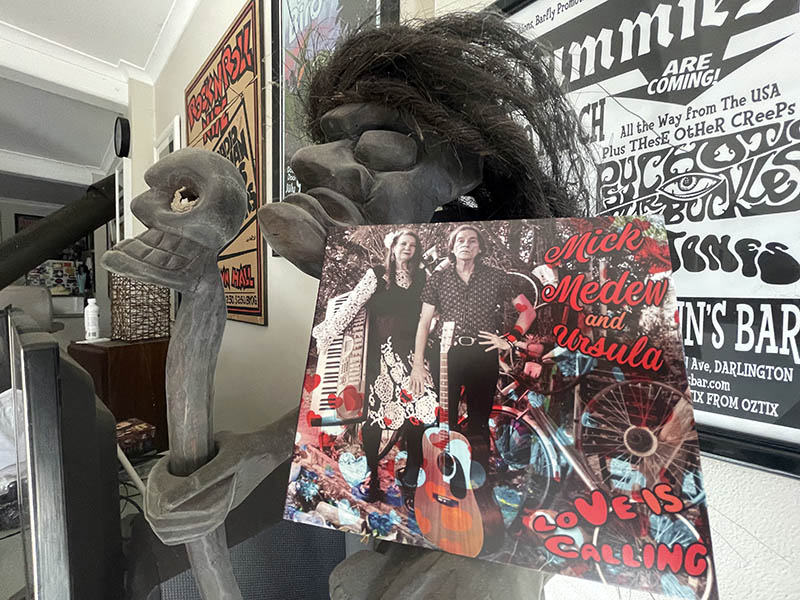 Excuse this blatant plug but we're proud to announce that "Love is Calling" - the debut album for Brisbane duo Mick Medew and Ursula and one of the special records to emerge from the fog of COVID, has fnally been released in physical form (CD) on our own I-94 Bar Records.
"Love Is Calling" has already been featured as 4ZZZ's Album of the Week in Brisbane. Mick Medew and Ursula is rock and roll legend Mick Medew (Screaming Tribesmen) and musical and life partner Ursula, formerly of underground Brisbane synth pop band Ironing Music.
"Love Is Calling" was conceived from a series of live Sunday afternoon lockdown streaming shows the duo delivered from their northern Brisbane suburbs home at the height of the pandemic. You can hear the tracks on our label
Bandcamp
and the Brisbane launch is at Platform 5 Cafe & Bar, on Junction Road in Lutwyche, Brisbane, at 2pm on July 9.
Deliberately stepping away from (but not abandoning) the power-pop of his regular band, Mick Medew and the Mesmerisers, Mick penned the 10 songs with a varied collection of musical textures in mind.
With Mick on vocals and guitars, Ursula on keyboards and assistance from various collaborators in the studio of producer Brian Mann (Memserisers, Screaming Tribesmen, Ed Kuepper), the result is a record of astonishing breadth.
It spans synth-pop, Motown, alt-country and pop-rock masterfully, underpinned by Ursula's washing keys and Mick's guitar and distinctive vocal. In some respects, "Love Is Calling", continues the sonic explorations of Mick's 2020 solo album "Psychopharmacologist", but the autobiographical lyrics and thoughtful arrangements take it to other places.
Sweeping opener "White Star" sets the mood with its beckoning call. The title track is wrapped in ice-cool synth, acidic guitar and a throbbing backbeat. You can taste the Queensland humidity in "36 Degrees" and feel the burning bitumen underfoot in "Evidently Boundary Street", a story of time not standing still.
There are moments of darkness but they're mostly of light. "Dream Come True" provides a soulful dose of uplift, propelled by extra guitar by producer Brian Mann. The yearning "Goth Night At The Synth-Country Ball" matches moody synth to lilting guitar. The reeling "I Am Home" belts through the front gate with swing and the smell of freshly-cut hay.
Tags: i-94 bar records, mick medew, ursula, love is calling