Mick Medew scores top Queensland honour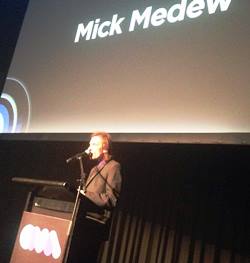 Ex-Screaming Tribesmen Mick Medew has been awarded the Grant McLennan Lifetime Achievement Award by Queensland's peak music organisation, QMusic.
Mick received his honour at last night's Queensland Music Awards in Brisbane.
Previous recipients include the late GoBetweens member Grant McLennan, indigenous artist Kev Carmody, producer Mike Chapman, the Bee Gees, Railway Gin vocalist Carol Lloyd and Ed Kuepper of the Saints and solo fame.
Mick has been on the Queensland music scene since the days of the seminal underground group The 31st, whose membership included future members of Died Pretty and the Hoodoo Gurus.
He went on to mainstream success with the Screaming Tribesmen, who touched the US Biillboard charts in the late 1980s and toured the US and Europe. Medew reformed the classic line-up of the Tribesmen for The Gathering festival in hometown Brisbane in 2011, and short Australian and European tours followed.
More recently, he's been fronting long-running Brisbane institution The Rumours and The Mesmerisers, as well as working as a solo artist.
Mick has been a mentor and friend to many rising Brisbane bands and is renowned as one of the scene's nicest guys. Mick Medew and The Rumours recently went into pre-production for a second album. The first, "All My Love", was on our own I-94 Bar Records.
Tags: Medew, Tribesmen, rumours, mesmerisers, Mick, screaming, QMUsic, grant, mclennan, gobetweens