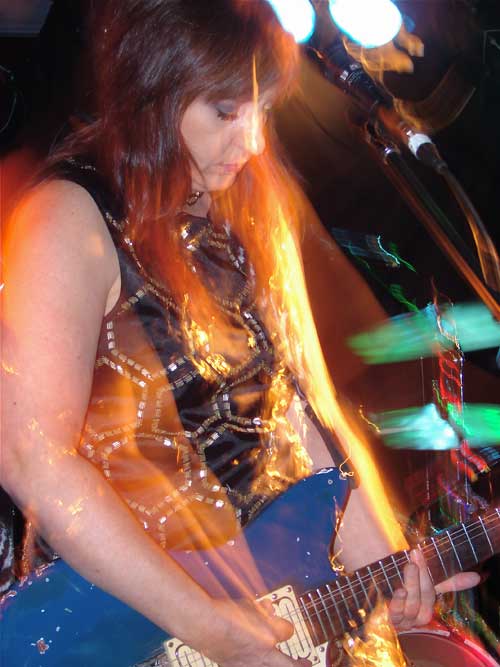 Penny will play shows at The Rosemount 459 Bar North Perth on Friday May 23rd and Mojos Bar North Fremantle on Sunday May 25th.
Penny Ikinger kicked off as guitarist in Sydney band the Wet Taxis in the early '80s, peddling an acrid brand of '60s punk and spawning a number-one Australian independent single ("C'mon" b/w "Clock on the Wall") on Hot Records.
Now re-located to Melbourne, as a guitarist Penny's been a frequent participant in Louis Tillett's recordings and backing bands, as well as a member of a string of Melbourne acts like the Sacred Cowboys, Salon Baby and Red Dress. She's also recorded with Tex Perkins and Perth's own wild child, Kim Salmon, and the Surrealists.
Penny finally broke out as a solo artist in her own right with the extraordinary 2003 album "Electra" on Career Records, the label co-owned by Radio Birdman's Tek and Donovan's Brain leader Ron Sanchez.
"Electra" is a stunning combination of breathy vocals and overdriven, feedback electric guitars that moved one critic to call her "Nico defrosted".
Former Divinyls singer Chrissie Amphlett and guitarist extraordinaire Charlie Owen contributed, as vocals and guitar coach respectively, and the record attracted a rave review in the US edition of Rolling Stone and other international press and featured in Top Ten lists for 2003 in the USA, Canada and Australia.
Penny assembled an impressive coterie of friends for the making of her last album "Penelope" on Citadel. The album includes contributions from locals Tek, Ron Peno, Dave Graney, Clare Moore, Mark Ferrie and Charlie Owen with French notables Dimi Dero and Vinz Guilluy also making their presence felt.
The WA shows will find Penny flying solo – a mode that throws her work into sharp relief and affords maximum audience interaction.