Pig City becomes a label, signs Some Jerks and Sabrina Lawrie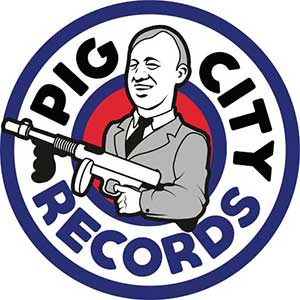 It started at a Some Jerks gig at the late, lamented Beetle Bar in Brisbane. Journalist Andrew Stafford, author of Brisbane rock history "Pig City", approached his friend Sean Clift, of Red Dust Music Management and drummer with local thug-rockers Lords of Wong.
"Listen," he said. "This band is great. Everyone here loves 'em. If we can't sell a few hundred of their records we're dumber than I thought. Maybe we'll lose a bit of money but fuck it, let's do it anyway."
Several months later, Some Jerks asked Staffo if he'd write them a bio for their new record. "Well, yeah," he said, "But, funny you should mention it. Would you like to be on this new record label Sean and I are putting together? Then I'll have to do it!"
And so, after a fair bit of planning and a couple of false starts, Pig City Records was born – a vinyl/digital only model, with Some Jerks' second album, "Strange Ways", to be the first official release in October, with the vinyl limited to a special hand-numbered run of 300 copies.
Stafford says Some Jerks sound "like Lee Hazlewood and Nancy Sinatra pashing in the surf, or like the house band in 'Monster Beach Party'…The album's real quick – 10 songs in 24 minutes. But hey, albums by the Byrds and Ramones aren't much longer! We reckon the length is a strength."
Strange Ways' glorious mix of pop, '60s garage and surf, topped by the honeyed vocals of Victoria Watson, is already getting serious attention, with the first single The Hunter being thrashed on community radio 4ZZZ, as well as being spun on Triple J Unearthed as well as on the main station's Short Fast Loud program.
Pig City Records has launched its website www.pigcityrecords.com and will be taking pre-orders for Strange Ways later this week. It's also announced that one of Brisbane's best-loved performers, Sabrina Lawrie will be releasing her long-awaited first album through the label, after breaking her back in a nasty fall early in 2016.
Both "Strange Ways" and Pig City Records will be launched jointly on October 28 at Black Bear Lodge in Fortitude Valley, with support provided by Sabrina Lawrie and the legendary Mick Medew. Tickets go on sale via Oztix on September 2.
Tags: brisbane, pig city, andrew stafford, sean clift, some jerks, sabrina lawrie