Rarest Hydromatics album joins the re-issue ranks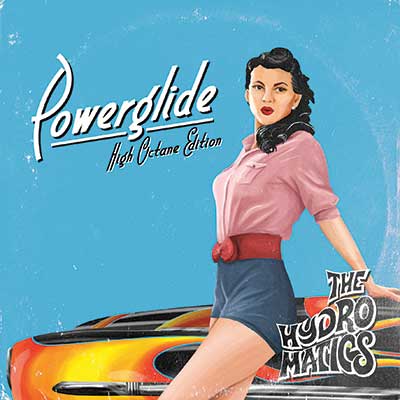 More on the Hydromatics re-issues we told you about a couple of days ago: Third in the series - and possibly the best and most well-rounded release by the band, the impossibly hard-to-find "Powerglide" album - is coming out on CD, with a generous array of bonus cuts.
It will be the first in the series.
Easy Action Records has paired the 14 Sonic's Rendezvous Band and original compositions that were on the album with half a dozen live songs cut for radio, plus a bonus disc of 14 rehearsal tunes. This is the line-up of Scott Morgan, Tony Slug, bassist Theo Brouwer and Andy Frost (Powertrane) - it was a killer band and this is a powerful and soulful collection of recordings.
The Italian label that originally released "Powerglide" went belly-up soon after issuing it so copies of the original are next to impossible to find.
Here's a summary from the liners that'll give you an idea what this album is about:
"Ready To Ball," "RIP RnR," and "Soulbone" make for a smashing three-way introduction to this disc, leaping out of the gate, one after the other, with a garage rock fury that would make the White Stripes poop their little red and white panties. "Tumblin' Down," "Love and Learn," and "Green Eyed Soul" delves into rootsy Motown for influence but rock nonetheless, often sounding like Van Morison's Them if covered by, well, the Hellacopters! We also get three SRB remakes in the form of "Do It Again," "Electrophonic Tonic," and "Asteroid B-612," which is cool considering how hard the original versions are to come by these days.
Morgan sings his ass off and the band provides much sonic firepower to back up his massive vocal gusto, switching gears effortlessly between kick ass hard rock and smoky soul. It's a potent cocktail for sure and one that fans of this genre would be foolish to pass up on. Not for diehard punk or metal fans, this is a treat best enjoyed by cats who like to rock n' roll and dig the swingin' sounds of the '60s…albeit as pounded through walls of Marshals and a thick curtain of horns and noise.
That ain't empty rhetoric. You can order a copy from of the Hi Octane Edition of "Powerglide" from Easy Action here. They're also taking pre-orders for the other two in the series.
Tags: easy-action, scott, hydromatics, powerglide