Revealed: Ed and The Aints delivering two albums for the price of one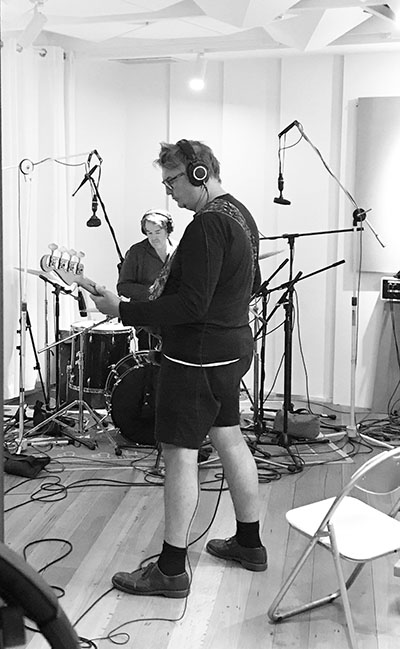 By the time you read this, Ed Kuepper and his new favourite band The Aints will be ensconced in Phil Punch's Sydney studio, recording their new album.
"The Church of Simultaneous Existence" was previewed on the recent runs of Aints shows across Australia, and will consist mostly of old songs intended for a fourth album by the early (definitive) version of the Kuepper-Bailey Saints.
The Aints lineup is Peter Oxley (bass), Paul Larsen (drums) and Alister Spence (keys) with Kuepper on vocals and guitar, backed by a three-piece horn section. The photo at right of Peter Oxley in the studio yesteday is courtesy of Feelpresents.
Last Friday night at Sydney's Marrickville Bowling Club, The Aints played a bracket of the album songs in their entirety. They backed up that blistering show with an appearance the following night at the Gumball festival in the Hunter Valley..
Did we say recording "a new album" (singular)? The Aints are also recording a new Ed Kuepper album - with strings.
It's the same "electric trio" configuration that appeared with Ed and the Nonsemble Strings at Leftys Old Time Musical Hall in Brisbane in December 2017.
No release dates have been announced for either album but mixing sessions have been scheduled, so watch this space.
Tags: saints, feelpresents, ed kuepper, peter oxley, the aints, paul larsen, alister spence, studio, phil punch