Schizophonics back for Round Two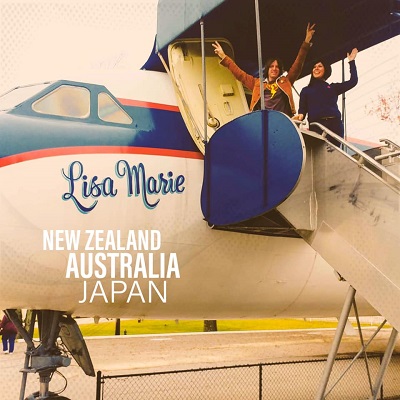 Explosive trio The Schizophonics are inflicting their unique rock and roll show on audiences in Australia and New Zeraland for a second time in 2020 as well as Japan.
The San Diego band - essentailly singer-guitarist Pat Beers and drummer wife Lety - have both a new album, "People in The Sky",and a new bass player, Kiwi Takumi McIntyre (formerly of the Cavemen), in tow and made a huge impression on their 2019 tour of Australia and New Zealand. .
Antipodean audiences had seldom (if at all) witnessed the likes of levitational front man Pat , whose sweaty splits , 720 degree spins (all before completion of the first song!) had local audiences gagging!! The Schizophonics combine the swagger of James Brown breakdancing to the Stooges, with the sonic attack of Hendrix and the MC5 in their hooky garage pop.
I-94 Bar will co-present the Sydney gig at Marrickville Bowling Club (shifted from the Hideaway Bar) on March 12. The Facebook event is here and tickets for that show are on sale here.
The Schizophonics
NZ-Australia-Japan Tour
FEB
NZ
21 - Leigh at Leigh Saw Mill
22 - Tauranga at Woodcock (Not) - ask Austin
24 - Wellington at Valhalla
25 - Takaka at Mussell Inn
26 - Blenheim at The Plant
27 - Christchurch at Space Academy
28 - Dunedin at The Cook
29 - Raglan at The Yot Club
MAR
1 - Whangarei at The Whangarei Club
4-- Auckland at Neck Of The Woods
6 - Napier at Paisley Stage
7 - Upper Hutt at Obey The Spliff
AUS
8 - Hobart @ The Brisbane
10 - Brisbane @ Netherworld Arcade - FREE SHOW
11 - Newcastle @ The Badger's Lair
12 - Sydney @ Hideaway Bar
13- Wolllongong @ La La La's
14 -Melbourne @ The Tote
15th - Melbourne @ TBA
JPN
19 -Shimokitazawa Three, Tokyo
20 - Namba Mele, Osaka
21 - Higashikoenji UFOclub, Tokyo
22 - Club Heavysick, Tokyo
Tags: live, australia, new zealand, schizophonics, japan