Mark Steiner brings "Saudade" Down Under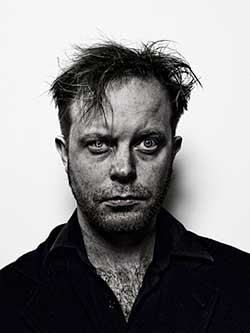 Norwegian musical troubadour Mark Steiner has had a ongoing love affair with Australia since 2008 when he first visited our shores, fulfilling a self-promise after hearing the music of Rowland S. Howard when he was a teen growing up in New York in the '80s. He's now making his fourth trip Down Under, playing songs from his latest album, "Saudade", in and around Melbourne in January.
A purveyor of melancholic lounge-noir compositions, Steiner's commanding voice and dark, sinewy rhythms of electric guitar have been described as "the epitome of a booze-soaked evening in a dirty clandestine bar and an ashtray full of pain"
"Saudade" recently made it to PBS FM's Top Ten list and is being well received elsewhere. HIs band (The Problems) includes Argentinean Henry Hugo, Melbourne-based Rosie Westbrook, and Valentina Veil (ex-Italy).
Wednesday, 7. January, The Public Bar, Melbourne + The D Grades, Michael Plater & The Exit Keys + Andrew McCubbin duo + Michael Plater & The Exit Keys
Thursday 8th January Bridge Hotel Castlemaine + Rosie Westbrook, Entry $10 Doors open 8.30pm

Friday 9th January The Eastern, Ballarat + Matt Malone, Entry $10 Doors open 8pm

Saturday, 10. January, Robarta, St. Kilda, + The Originals

Sunday 11th January The Grande Hotel, Daylesford 2 sets. Free Entry Doors open 2pm, 2.30pm start

Wednesday 14th January Bar Open, Fitzroy + Tex Napalm & Penny Ikinger, Entry : $10 Doors open 8pm

Friday 16th January Tago Mago,Thornbury + Eden + Henry Hugo, Entry $10 Doors open 8pm
Tags: melbourne, live, tour, mark, australian, steiner, saudade