Stooge in talks to team with Texas Terri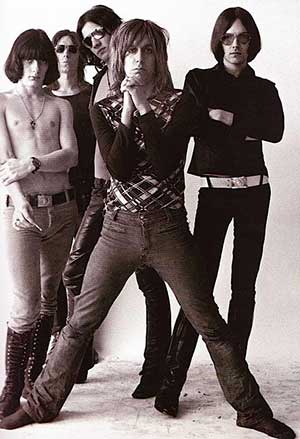 Ex-Stooge Jimmy Recca (picured at the left in the 1971 photo) continues his return to stages on Friday with a gig at Empire club (formerly JAXX) in Springfield, Virginia, with plans for more US touring and a European visit.
Talks are underway to team Recca with confrontational vocalist Texas Terri and her band in Germany later this year, and a US tour is in the works for October with an ex-member of The Doughboys.
Recca was bassist in the 1971 line-up of the Stooges - a notable configuration because it (briefly) paired Ron Asheton and James Williamson on guitars.
The sole tour of that twin-guitar line-up is documentted on the Easy Action box set "You Don't Want My Name...You Want My Action."
Recca has been living in Los Angeles for many years, working in a studio for bands including Alice In Chains and Red Hot Chilli Peppers, but is currently based in Virginia.
He returned to gigging in May at a local club to a positive reception as he reprised some Stooges nuggets and songs by New Order, the ill-starred band he was in with Ron Asheton and ex-MC5 drummer Dennis Thompson.
Currently his band is Bob Craver on guitar, Richard Romero El Dey on drums and Sean Epstein on vocals (also owner/operator of label Poorly Packaged Products.)
Friday's gig starts at 7.30pm sharp and you can check out the venue here. Jimmy Recca's website is here.
Tags: iggy pop, stooges, live, texas, terri, jimmy, recca