Straightjacket Fits mainman set for Australian shows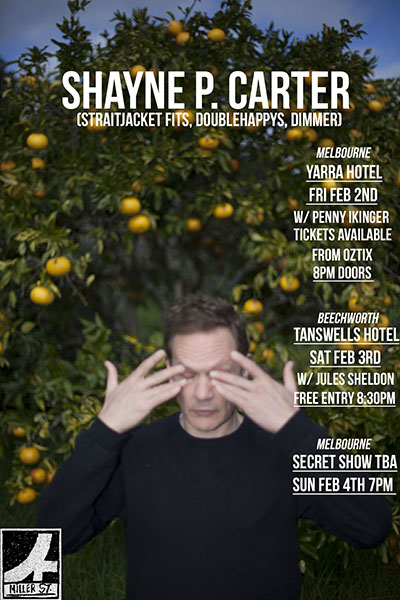 Shayne Carter first emerged on the New Zealand rock scene in the '80s with his high school punk band Bored Games and their "Who Colonel Mustard " EP, which was one of the first releases on Flying Nun Records.
Part of the original "Dunedin Sound" scene, Carter went on to become a major player in the Flying Nun independent rock story as the singer-songwriter and guitarist in outfits such as Straitjacket Fits, Doublehappys and Dimmer.
Carter is Melbourne-bound for three shows in February - hist first since 2016 when he and his band played a searing three-night residency at the Yarra.
Regarded as one of New Zealand's greatest alternative rock figures, Carter has carved out a distinctive and innovative body of work that places him in the top pantheon of that country's best songwriters.
His band Straitjacket Fits - a group that became well known to Australian audiences in the '90s - produced a blend of rock dissonance and melody that became hugely influential; predating both the shoe gazer movement and the angular rock of bands like Radiohead and others of a similar ilk that followed in Straitjacket Fits' wake.
With Dimmer Carter, he explored a claustrophobic cross of rock minimalism and soul noir that with releases like the classic "I Believe You Are A Star" album and the pyrotechnic instrumental "Crystalator" (released by Sub Pop).
Carter is playing solo shows this time around. The stripped-back set features Carter on guitar and piano and covers material from right across his three decade career and provides proof that great songs stand up in any setting as well as concrete evidence of another musical truism - that Space is your friend !
YARRA HOTEL ABBOTSFORD
FRIDAY FEB 2ND W/ PENNY IKINGER - Tickets available from Oztix and on the door.
TANSWELLS HOTEL, BEECHWORTH
SATURDAY FEB 3RD W/ JULES SHELDON - Free show and 8:30pm start.
SECRET SHOW, MELBOURNE
SUNDAY FEB 4TH, 7PM. TO BE ANNOUNCED.
More info on Shane Carter

More info on Straightjacket Fits
Tags: melbourne, live, new zealand, flying nun, straightjacket fits