Details

By

The Barman

The Barman
Sunnyboys and Ups & Downs issue split single to mark the gigs that never were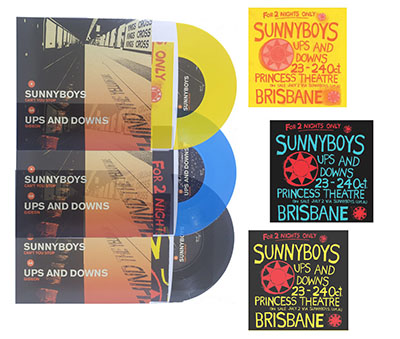 When the Sunnyboys and Ups and Downs were announced to play Brisbane together back in October 2021, locals couldn't believe that they'd see the cream of Aussie guitar pop playing a pair of back-to-back gigs at a newly refurbished Princess Theatre.
COVID had other ideas and those shows, and rescheduled dates in March 2022, never came to fruition.
Boutique label Soundpressing has released a split Sunnyboys/Ups and Downs seven-inch single to mark the gigs that never were, just in time for the farewell Sunnyboys tour.
It's a limited edition of 300 copies in three different coloured variants.

And it's two modern-era songs – "Can't You Stop" by the Sunnyboys and a new mix of Ups and Downs' "Gideon" - that clearly show the bands have not lost their love of driving guitars and soaring melodies.
Get yours here before they run out...just like Sunnyboys live shows.