Tav Falco announces US tour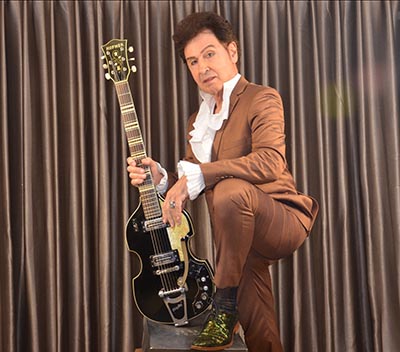 Swamp garage master and multimedia artist Tav Falco and his band Panther Burns have announced dates for a summer American tour. The "Rogue Male" tour will run from August through October and include favorites from throughout Panther Burns' four decades of recordings.
The man who started his musical career playing alongside Box Tops/Big Star frontman Alex Chilton in the first line-up of Panther Burns in 1979 lived in Australia in the '80s and more recently has been domiciled in Europe. . In January, he relocated to Bangkok, Thailand.
Falco is the only comnstant member of Panther Burns and has recorded 14 studio albums and dozens of singles for such legendary labels as Rough Trade and New Rose, and been cited as an influence by Primal Scream, The Fall, and Spiritualized.
Falco's Italian band played on the most recent addition to Falco's discography, last November's "Club Car Zodiac" EP, which was released for Record Store Day by ORG Music. Its five tracks include a cover of "House of the Rising Sun" and the same musicians - producer/guitarist Mario Monterosso, bassist Giuseppe Sangirardi, and drummer Walter Brunetti - will appear on the following live dates:
08/25: San Francisco, CA — Great Northern / TICKETS
08/26: Los Angeles, CA — The Airliner / INFO
08/27: Palm Springs, CA — The Alibi / INFO
08/28: Las Vegas, NV — Sand Dollar / INFO
08/30: Flagstaff, AZ — Orpheum Theater / INFO
08/31: Phoenix, AZ — Rhythm Room / TICKETS
09/01: Tucson, AZ — HOCO Fest Club Congress / TICKETS
09/03: Austin, TX — Sagebrush / TICKETS
09/04: Houston, TX — Under the Volcano / TICKETS
09/05: San Antonio, TX — The Lonesome Rose / TICKETS
09/07: Dallas, TX — Club Dada / TICKETS
09/08: Memphis, TN — Lafayette's Music Room / TICKETS
09/09: Little Rock, AR — White Water Tavern / TICKETS
09/10: Chicago, IL — Reggies / TICKETS
09/11: Detroit, MI — Tin Roof / INFO
09/12: Buffalo, NY — Mohawk Place / TICKETS
09/13: Rochester, NY — Photo City Music Hall / INFO
09/15: Woodstock, NY — The Colony / TICKETS
09/16: New York, NY — No Aloha / TICKETS
09/17: Providence, RI — Askew / INFO
09/18: New Haven, CT — Café 9 / TICKETS
09/19: Philadelphia, PA — Ortlieb's / INFO
09/20: Asbury Park, NJ — The Saint / INFO
09/21: Washington, DC — The Runaway / INFO
09/22: Richmond, VA — Fuzzy Cactus / INFO
09/23: Atlanta, GA — The Earl / TICKETS
09/24: Asheville, NC — Fleetwood's / TICKETS
09/25: Chattanooga, TN — Cherry Street Tavern / INFO
09/27: Nashville, TN — The Basement / INFO
09/28: Oxford, MS — Proud Larry's / TICKETS
09/29: Pensacola, FL — The Handlebar
09/30: New Orleans, LA — One Eyed Jacks / TICKETS
10/01: Natchez, MS — Locust Alley / INFO
10/02: Lafayette, LA — Feed & Seed / INFO
Tags: tav falco, panther burns, american tour